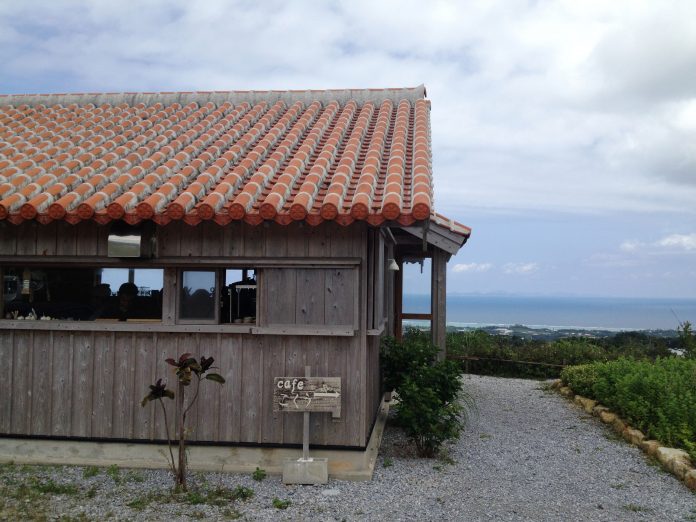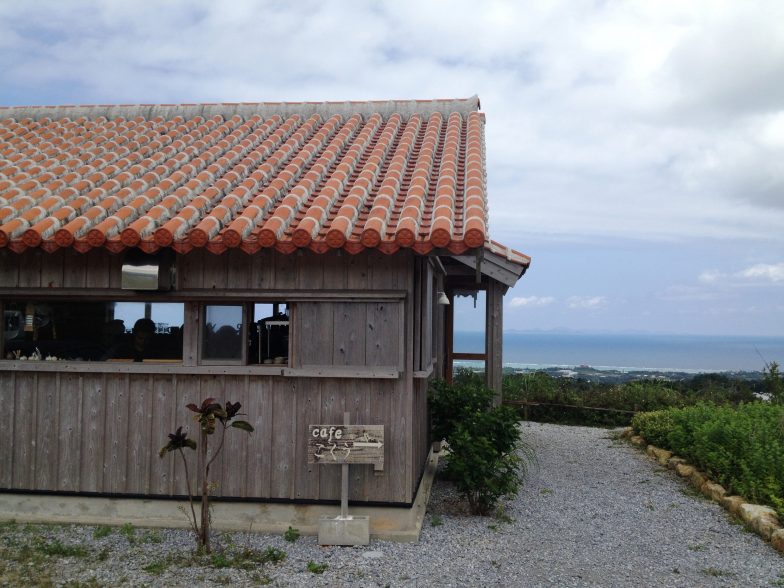 CONTRIBUTED BY KATHRYN STRONG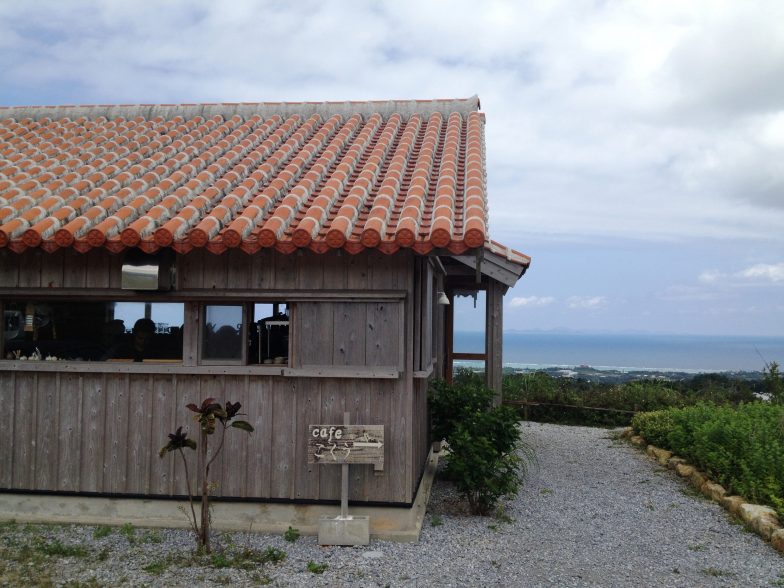 When I first arrived in the northern part of Okinawa three years ago, vegetarianism was a little known and often misunderstood concept. Since that time though, I've seen a remarkable transformation take place right in my backyard. Restaurants that previously had no meat-free offerings have added dishes to their menu or expressed a willingness to accommodate vegetarian requests. More than that, in the past year several veggie restaurants have popped up seemingly out of thin air. One of this new wave is Café Kokuu.
Café Kokuu lives in a beautiful and airy pale wood structure in the "Wellness Community" of Hope Hills in Nakijin. Set high up and on a cliff, it offers stunning views of the village below and the ocean. Plenty of people first stop for the scenery, but it's the food that keeps them coming back.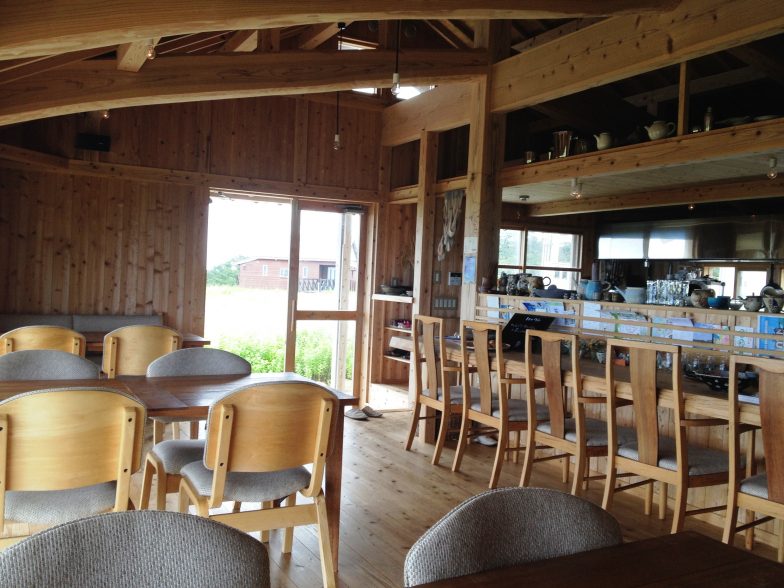 The menu is simple. There's the Kokuu plate for 1200 yen, which is my constant recommendation. While 1200 may seem a bit steep, the portions are generous. A typical meal includes a large plate with a salad in the center and four to five side dishes, miso soup, rice, a hot vegetable dish with tofu, and tempura. It's almost an overwhelming amount of food. All of it is exquisitely flavored.
The salad is accompanied by the perfect amount of light dressing; the side dishes each bring out the best taste of the different vegetables they contain; the tofu is cooked to perfect firmness; the rice is mixed with vegetables to create richness and texture; the tempura is light, crispy, and fresh. Whenever I come here, I have to coach myself to take my time and savor the food, because I'm always tempted to scarf it down as fast as I can. When I finish, I always feel content and pleasantly full, but never heavy or greasy.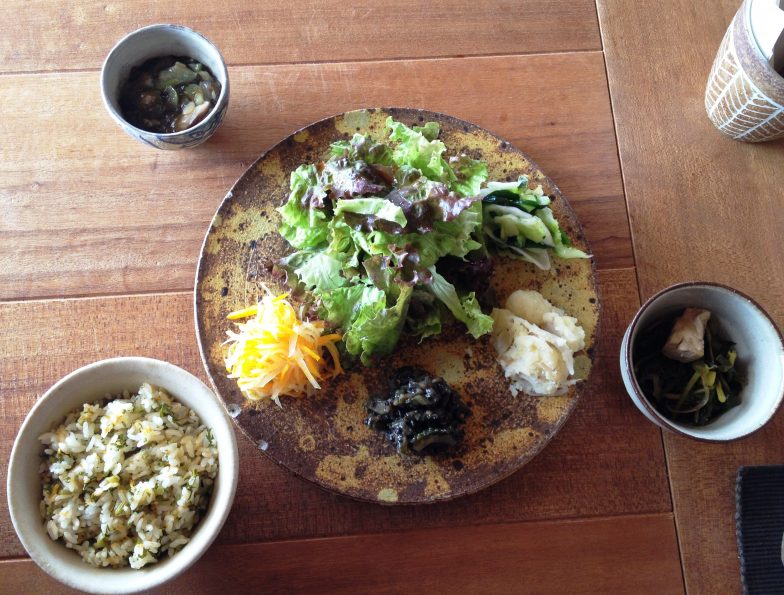 Of course, this is just an idea of what you might be served. As the name suggests, this is a plate, which means that each time I go, even though I order the same thing, I get a different selection. The owners are very conscious of what is currently in season, and plan their meals accordingly. The vegetables are always picked and served at the height of freshness, and are often sourced locally, meaning that you can learn a lot about the surrounding area by looking at your plate.
Rounding out the simple menu are a drink set, which features smaller portions of the same food but is paired with a drink, a selection of healthy desserts, and a variety of organic coffees, juices, and teas. You can't go wrong.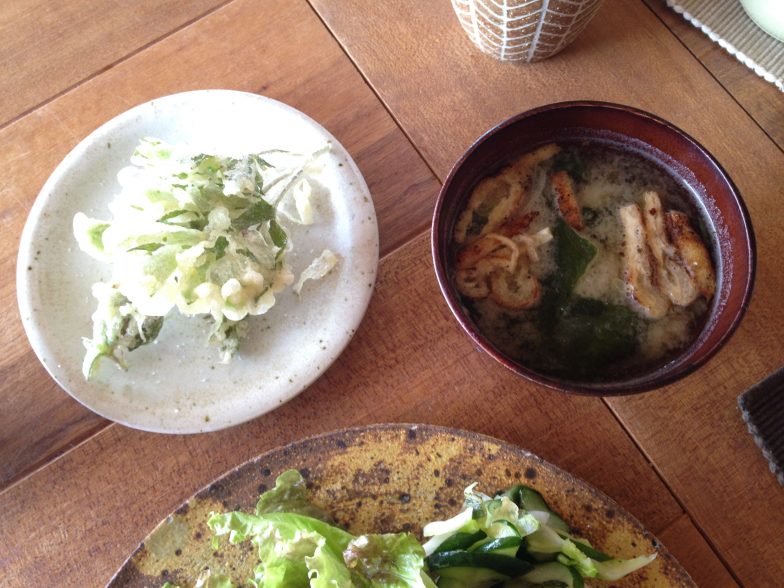 The owners are a young couple with an adorable child and they're always happy to see foreign faces. Their English is limited, but they're able to convey their point. More than that, they go out of their way to make the atmosphere comfortable. When the weather is good, large walls are open allowing an uninterrupted view of the ocean. Soft music plays, and dishes are served on beautiful handcrafted plates and bowls. Children are encouraged, and small toys are provided for their amusement. Everything about the experience encourages relaxation.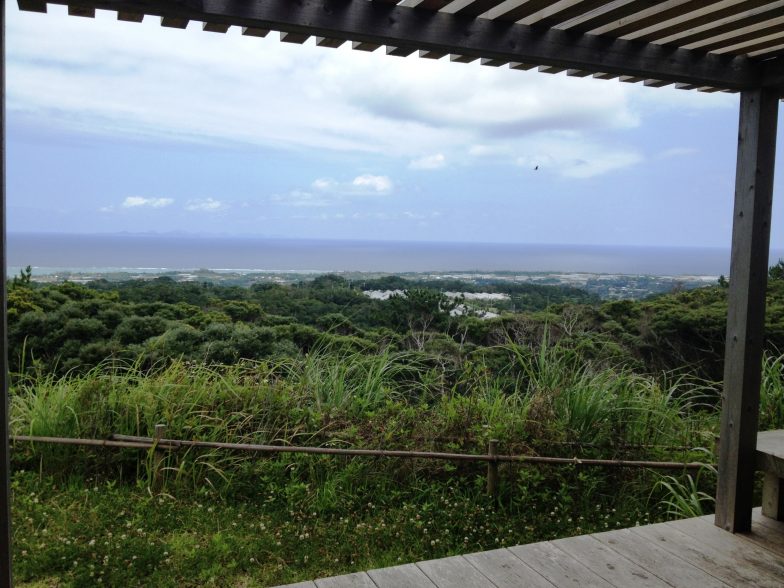 With easy access from the aquarium, and food and a view that can't be beat, next time you're up north, definitely check out Café Kokuu!
Directions: There are many ways to get to Café Kokuu. I think the easiest way is to head towards Nakijin from the Churaumi Aquarium. At the first light turn left. Shortly after that there will be a small sign in Japanese that says こくう as well as a big sign for "The Green Room." Turn right. Follow these signs up the mountain until you get to Hope Hills. From there, the two paths diverge, so follow the signs for こくう. The building sits at the end of the road. The café is searchable on google maps, so I'd recommend that as the easiest option.
Address: 今帰仁村字諸志2031-138
Hours: 11:00 a.m. – 6:00 p.m. They close early if they sell out (which has been known to happen) and occasionally are fully booked, so calling ahead is recommended.
Phone: 0980-56-1321
Website: Café Kokuu
Payment: Yen please!