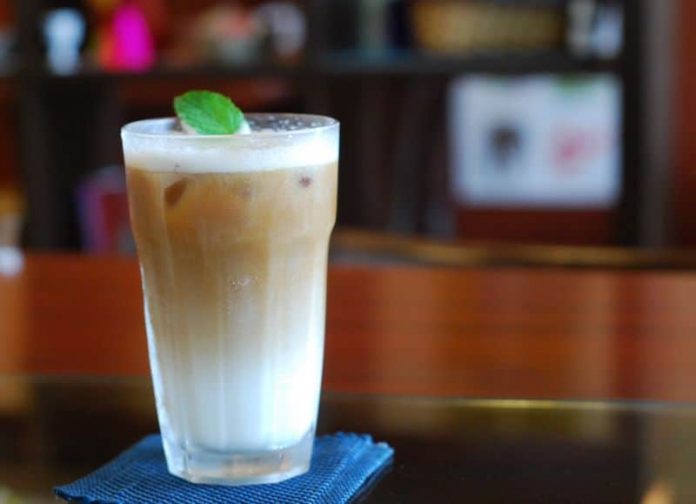 CONTRIBUTED BY REBEKHA SMITH

Since I am a Seattleite at heart, coffee is pretty much central to my existence. Not only do I have a caffeine addiction that even hypnotherapy couldn't cure, I love to savor the entire coffee experience–from the gentle aroma, to the gurgling sound of percolation, to the comfort of simply holding a hot mug in my hands.
Therefore, my foremost quest here in Okinawa is to find a quality cup of coffee, and, even more than that, a cafe that encapsulates the relaxing, cozy atmosphere of a Seattle coffee shop–a place where I can take some grading or a good novel and soak up the atmosphere for hours.
So far my quest has driven me to quite a few caffeine-havens, from Henza Island to Itoman City,  but the one place I find myself returning to again and again is Cafe KUGAFU in Nanjo City.
If your not looking for it, you might miss this efflorescent entryway tucked away on the bottom floor of an apartment building. However, once you know it's there, you won't be able to drive by without involuntarily salivating. Whether it is the variety of locally-roasted, hand-drip espresso drinks, the selection of healthy meals, or the homemade bagels and breads, I am certain that anyone with functioning taste buds will find a reason to lean back in his or her chair with a grin of satisfaction.
The carefully crafted atmosphere further adds to the captivating experience of this little cafe. Soothing lamplight and cool jazz music are just a start: they also have bookshelves piled with colorful titles–some even in English!–and decorative cloth banners hanging between the tables.  These details all add up to create the peaceful, welcoming environment I'd been searching for.
Open 7 years this August, Cafe KUGAFU was started by a local Okinawan woman named Kazumi-san, her sister, and her daughter. The latter, a woman named Kazuno, relates to me–in English–her mother's vision for KUGAFU: "The main concept for the cafe is 'safe, healthy, organic.' […] We're just trying to serve really healthy, traditional Okinawan food."
From my experience, KUGAFU more than lives up to that standard: everything I've eaten has been fresh and loaded with vegetables, all of which are either grown in their own English-style garden or purchased from local farms. Their commitment to local product extends even further: most of their dishes are locally made pottery from an artist in Nanjo city.
At Cafe KUGAFU, you can choose any of the menu items and be pleased, but my personal recommendation is the bagel sandwich. Kazuno-san makes the bagels herself and tops them with a generous amount of cream cheese, vegetables, and either peppered or cured ham or mozzarella and tomato.
The mozzarella and tomato bagel sandwich.
Also, if you come to Cafe KUGAFU for lunch on a Wednesday or Friday, they offer all-you-can-eat bread for only 150 yen. It is served freshly made, sometimes hot from the oven, with a side of olive oil for dipping. Your lunch order also comes with a drink (tea or coffee–iced or hot).
Cafe KUGAFU is in Nanjo City and probably a bit of a drive for most, but if you are in the area visiting Okinawa World or the Peace Park, or if you just want to spend the day at some of the fantastic natural beaches in the south, Cafe KUGAFU would be the perfect place to complete your day.
Hours:  Cafe KUGAFU is open everyday except Monday from 11:30 to 7:00 but may occasionally close early depending on the weather.
Menu:  There is no English menu but Kazuno-san works everyday except Thursday and can explain the dishes if you have questions.  There are also helpful pictures for most of the menu items.
Kugafu Zen: a set of dishes including pork, salad with onion dressing, mimiga (pig's ear), and asa soup. 
Phone: 098-948-2559
Payment: Yen only.
Address: Horikawa-569 Tamagusuku
Google Maps Coordinates: 26.1322027, 127.76176179999993
Directions:  Take the Naha Airport Expressway to exit A2 for Yaese Town. Turn left onto the 507 and follow it to the 48 (you will see an exit ramp to your left). Turn left on the 48 and follow it all the way to the 331. Take a right on the 331 and look for signs to "KU GA FU" on your right (about 15 minutes).  The cafe is on the bottom floor of a white apartment building with pink trim.
Website: kugafu.ti-da.net for daily updates, in Japanese, and pictures