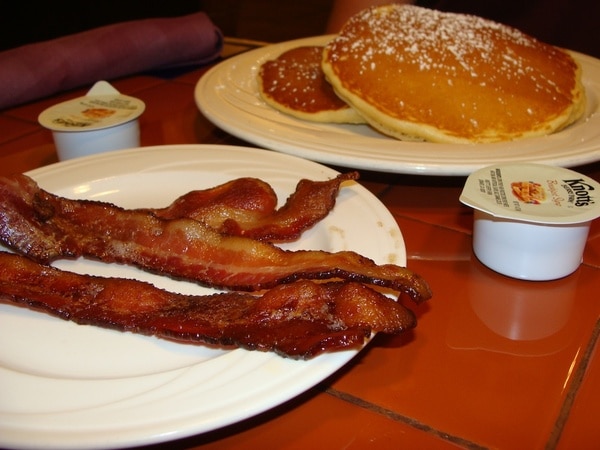 CONTRIBUTED BY MELISSA RUISZ NAZARIO
Remember that scene in Big Daddy when Adam Sandler's character and little blonde "Frankenstein" try to order breakfast at McDonald's, but find out they're too late? Huge tantrum ensues. We can relate–why not just serve breakfast all day? Who doesn't love "breakfast for dinner"?

Cafe Latte Pancakes Bacon
Enter Café Latte, located inside Kadena's Officers Club. They offer their breakfast menu all day, and it's not only good, it's affordable–even more so with an Air Force Club card discount (score!). Kids and adults enjoy the big, fluffy pancakes, with butter and syrup on the side, or slathered with strawberry or blueberry topping, powdered sugar, and whip cream. Be forewarned: the short stack of three with a side of sausage, ham, or bacon, is enough for a pretty good appetite. It's a good idea to "split" the regular order of 5 cakes, or plan to take some home.


Cafe Latte Omelette Cheesy Grits
On the other hand, the omelets are not enormous, seven-egg monstrosities, but a bit more proportionate, so there's enough room for the included hash browns (which can be substituted with toast), side of sausage, ham, or bacon, and maybe even an order of grits or chorizo hash. The omelets are $7.95 or less, and three kinds are available: Ham & Cheese, Western (cheddar, green peppers, onions, tomatoes, and ham), or Veggie (onions, bell peppers, tomatoes, and mushrooms).

Cafe Latte Breakfast Burrito
As for me, I heart the Build Your Own Breakfast Burrito, so much so that even when I plan to try the waffles or cream beef on toast, I walk up to the register and still order the burrito. The basic burrito is filled with egg and hash browns, with salsa on the side for dipping. Additional toppings of cheese, mushrooms, or sour cream are 40 cents each, and chorizo, bacon, sausage, or guacamole will set you back 95 cents each. Since the basic burrito starts at a whopping $2.95, I don't feel bad splurging for chorizo, guacamole, mushrooms, and cheese.
If you don't have a lot of time for breakfast, you can also order food to go, or even just grab a coffee or chai tea from their cafe menu and pick out one of their decadent looking desserts behind the glass counter.

Cafe Latte Taco Salad
Café Latte isn't ONLY a coffee and breakfast joint; they also offer up lunch starting at 10:30 Monday through Friday, and at 11 on Saturday. Menu items include sandwiches, wraps, and local favorites like yakisoba, stir fry, and taco rice for under $10. The taco rice is nearly identical to the Banyan Tree's: a taco salad with white rice underneath, nestled in a crispy, fried tortilla bowl that can only be described as "scrumptious." Other items I'm tempted to try are the Reuben and the Tequila Lime Chicken sandwiches. The kids' lunch menu consists of grilled cheese ($2.25), chicken nuggets ($3.50), or hamburger ($4.50), which all come with fries and drink.

Cafe Latte Buffalo Chx Pizza

Cafe Latte Interior
And now, I'm going to share with you a secret, as a thank you for reading this far: Cafe Latte's pizza is one of the best on base. The crust is on the thick side, though not as huge as, say, Pizza Hut's pan crust. I recently tried the Buffalo Chicken pizza, with chicken, hot sauce, and shredded carrots–pretty yummy, though I would have liked a bit more chicken and maybe a side of bleu cheese for dipping. The BBQ Chicken pizza is an absolute must try, topped with BBQ chicken, alfredo sauce, mozzarella, and Monterey jack cheese. Traditional favorites like cheese, pepperoni, and sausage pizzas are offered, as well as more intriguing flavors, like Taco and Mediterranean. The pizzas come in one size, consisting of 8 large slices, enough to feed two to four adults, depending on appetite. The specialty pizzas are just shy of $13, so it'd probably be worth it to overestimate and have extra for leftovers.

Phone:  959-7333
Hours:  Mon-Thu 6:30 am – 10 pm, Fri 6:30 am – 12 am, Sat 7:30 am – 12 am, Sun 2 pm – 10 pm
Website:  Links to breakfast, lunch, and pizza menus can be found on the Kadena Officer's Club website
Payment: Dollars, Debit Card, Credit Card
Directions: Cafe Latte is located in the Kadena Officer's Club, near the Shogun Inn and Temporary Lodging Facilities (TLF). From Gate 2, continue on Kuter to Club Street; make a left and continue until you must turn right or left. The Officer's Club will be on the right corner. When you enter the Officer's Club, Cafe Latte is to the right of the Information Desk.

Cafe Latte Exterior