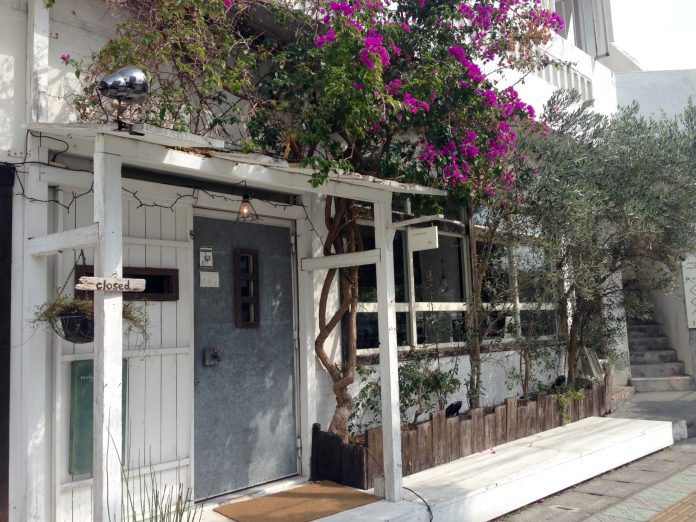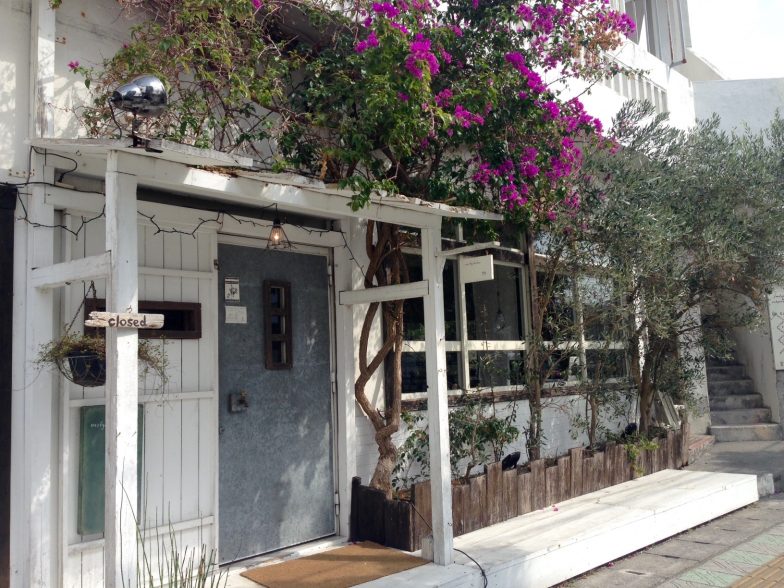 CONTRIBUTED BY LIZ MCGINNIS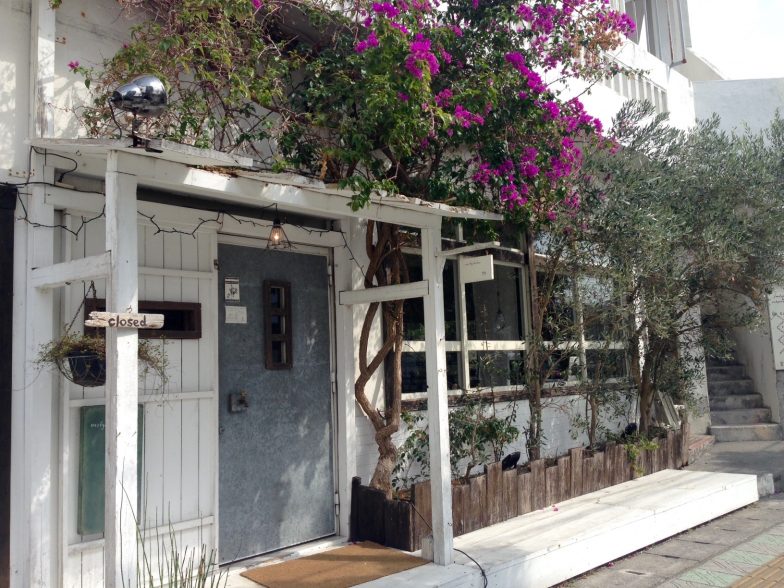 Café Mofgmona is a hidden gem in Ginowan. My husband and I decided to search for a new lunch place. We were feeling adventurous and decided to drive around. We came across this quaint café just before opening time but decided to walk around until it opened at 11:30am. I am so glad that we decided to wait because it was truly a great find.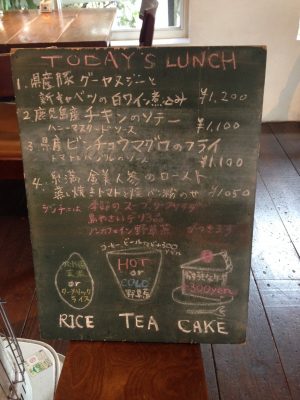 The café opened promptly at 11:30am. The menus are only in Japanese and neither the lady nor the gentleman working there spoke English. That did not deter us. The lady brought a board to our table with 4 lunch items listed on it in Japanese. I randomly chose number 2, while my husband chose number 1. The meals come in sets with rice and tea. There were 2 options for the rice and I just pointed to one and selected the hot tea. We also decided to add a dessert to our set for an extra 300 yen.
Not long after our order was placed, a bowl of soup arrived at our table. It was hot, creamy and delicious! It tasted like pumpkin soup. Our soups were served in handmade pottery bowls that are sold there at the café. Just as our empty soup bowls were taken away, the gentleman came to our table with our main dishes. My husband's dish came with a bed or rice, crisp salad, vegetables and chicken. He was also served a beef and cabbage broth. My dish was similar except that it did not include the chicken or beef broth, so it appeared that I had ordered the vegetarian option.
The food was amazing! We ate everything on our plates. After our meal, our hot teas arrived in the beautiful handmade pottery mugs and soon after our desserts also arrived. My husband had ordered a sponge cake and I had ordered a chocolate cake. It was pretty exciting not knowing what to expect but even more exciting when we discovered that the food was so delicious!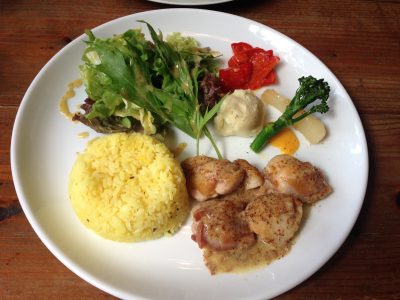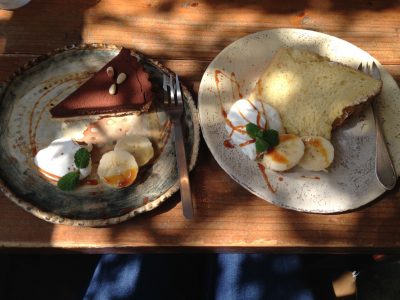 We will definitely be going back to Café Mofgmona and would like to try their dinner menu next. If their lunch menu is any indication to what we can expect, we will be sure to enjoy dinner there as well. We learned that we shouldn't be afraid to try new places, even if there aren't English menus available. We were pleasantly surprised by our experience!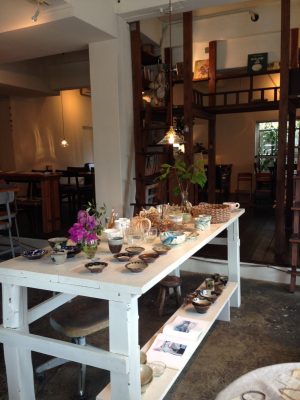 The Café is quaint and filled with antique furniture, their handmade pottery and lots of interesting books. The cool doorknob is a water faucet. Located upstairs on the third floor of the building, is the pottery shop (Mofgmona No Zakka). The stairwell is located on the outside to the right of the café's door.
The shop's hours differ from the cafe. The restaurant is open Fri-Sun from 2:00pm to 8:00pm.
Hours: Monday to Friday 11:30 a.m. – 1:30 (Lunch)  Monday to Friday 5:00 p.m. – 12:00 a.m. (Cafe Hours/Dinner)
Saturday 3:00 p.m. – 12:00 p.m., Sunday 3:00 p.m. – 10:30 p.m. Closed Tuesday for Cafe/Dinner
Phone: 098-893-7303
Payment: Yen only
Address: 2 Chome-1-29 Ginowan, Ginowan-shi, Okinawa-ken 901-2211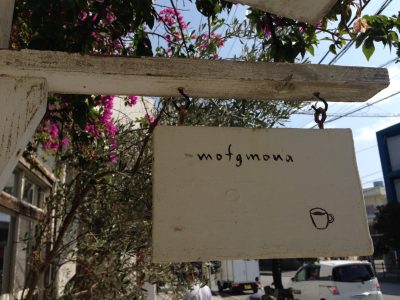 Directions: 
From the Foster Legion Gate, take a right onto 330.
As 330 turns to 81, take a left to continue on 330.
Go about 2.4 miles. You will come to an intersection where 330 and 32 meet.
Make a slight right at this intersection.
Café Mofgmona will be on your right hand side. Just a few feet from there, you will find the parking lot for the café.
Map Coordinates: 26.2627319, 127.76024230000007
Website: http://mofgmona.com/