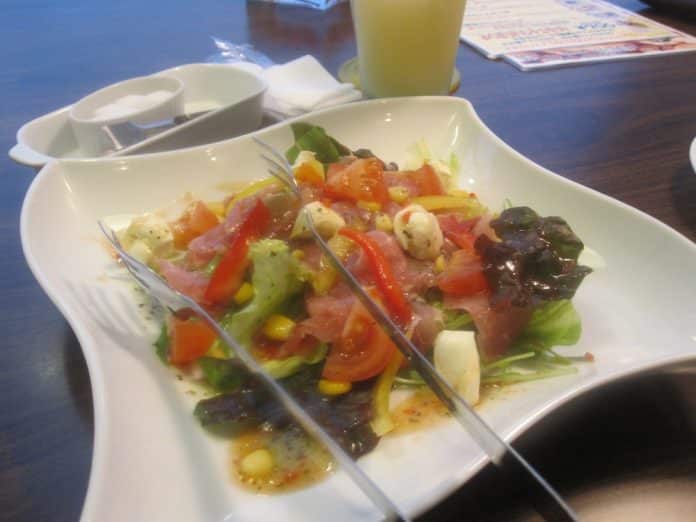 CONTRIBUTED BY MONETTE EAMES

Cafe One Bar View

Cafe One Bar Front
Imagine yourself being in a little tree house, high atop a lookout over the sea. Then imagine someone serving you a seven course meal with drinks while you sat by the window looking out into the ocean. No peanut-butter and jelly sandwiches here, but healthy, quality, yummy food including soups, pastas, chicken, fish, salads and smoked ham or even duck! And if you're in the mood for just a dessert and drink, they have that, also.
When we found this little gem near the Awase Seawall, we first ventured to the downstairs of this tepee shaped building. The workers there told us the ground level is the bar section of the Cafe Bar One, and they directed us to the cafe upstairs. We climbed up the stairway and found a nice dining area with four or five tables and a long wooden table right against the window overlooking the ocean. We decided to sit there and enjoy the scenery. The restaurant is kid friendly with high chairs on the side and a few baskets of toys. We decided to order the 1800 Yen set which was a seven course meal. Thinking it would be seven courses of mini plates, we were very wrong. We were so stuffed by the end of the night that we could hardly move. The set course included dishes such as stir-fried fish fillets with chili sauce, tandori chicken with mozzarella, cream pasta with fish eggs, and fried rice.

Cafe One Bar Salad

Cafe One Bar Meal
The staff was incredibly nice, the food came quickly, and the taste and quality was superb. As soon as we were done with one plate, the next was served immediately, and we were never waiting.

Cafe One Bar

Cafe One Bar Fried Rice
After we were finished with our courses, we barely had room for the delectable desert, a scrumptious, not too sweet cake with raspberry frosting. Wow!

Cafe One Bar Dessert
This is the perfect spot to take your husband and wife on a date, or even to bring the kids if you want to. We love our little get away, and hope you will too!
Phone:  098-975-8828
Payment: Yen
Hours:  Weekdays 11:30- 22:00; Saturday 11:30- 25:00; Closed on Sundays
Directions: Go straight out of the Legion Gate onto 81 and continue straight for about 5 km where you'll go through two tunnels. You'll see a San-A on the left. Take a right here and drive along the Awase sea wall. Drive until you see a tepee shaped building on the left.