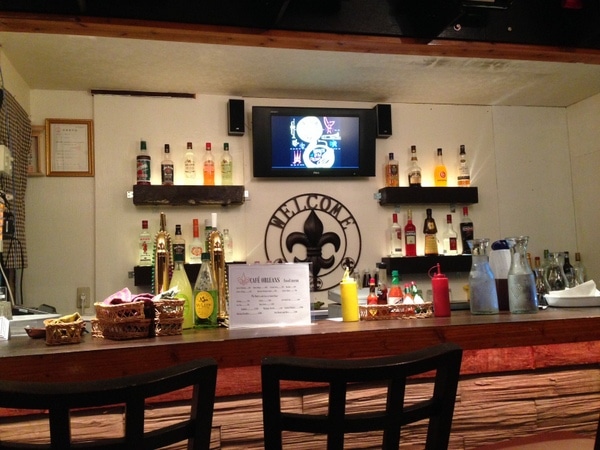 CONTRIBUTED BY LACEY SOILEAU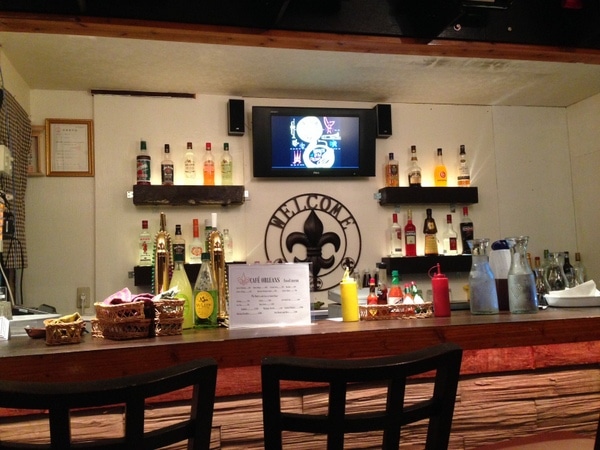 Married to a Cajun man and having lived in Louisiana for several years, I'd like to think I know what good Louisiana style food is. Before I start, and as anyone from Louisiana will tell you, depending on which part of the state you are in, the food changes: Southern, Creole, Cajun… it's all different. Of course, there are some staples though, and that is what we found at Café Orleans.
If you haven't been there, you are missing out. While the menu is not huge, what is offered is sure to be delicious!
I was surprised with Café Orleans for my birthday dinner. My husband made reservations knowing that being a new restaurant and having great reviews, it would be busy. Glad we had them too because sure enough, the tables were full and stayed full until we left around 9:30 pm.
The menu hosts a variety of po'boys and traditional New Orleans style cuisine. We started with the wings. There were 5 for a small appetizer and they were served with the most incredible dipping sauce. I don't know what it was, but I saved it for my meal. For dinner, I ordered the soft shell crab leg po'boy. It was on point! The crab was perfectly seasoned and fried; crisp on the outside and soft flakey crab meat inside. A key factor in having a good po'boy is the bread it is served on.….bad bread, bad sandwich. Not at Café Orleans. The bread had the perfect crunch on the outside and the soft fresh inside you would expect. On the side I chose the onions rings and wished that I had ordered more; they were perfectly paired with the sauce I hoarded from the wings.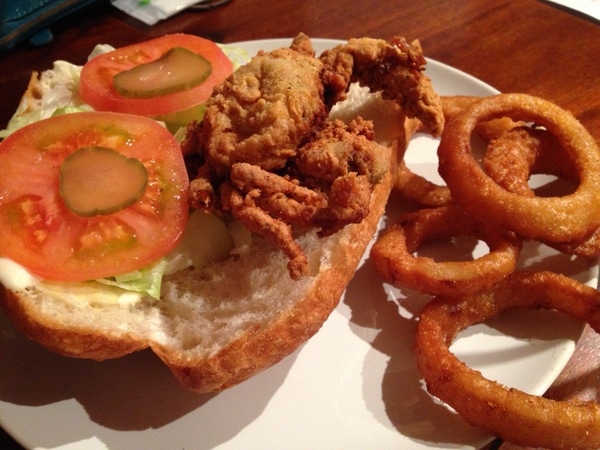 My husband ordered the Shrimp Etouffee. While it is different than an etouffee you would get in south central or southwest Louisiana, it was exactly what we would expect from a trip to New Orleans. It was full of shrimp, seasoned to perfection with a little kick, and served over rice. YUM.
We finished the night with Chicory Coffee and Beignets.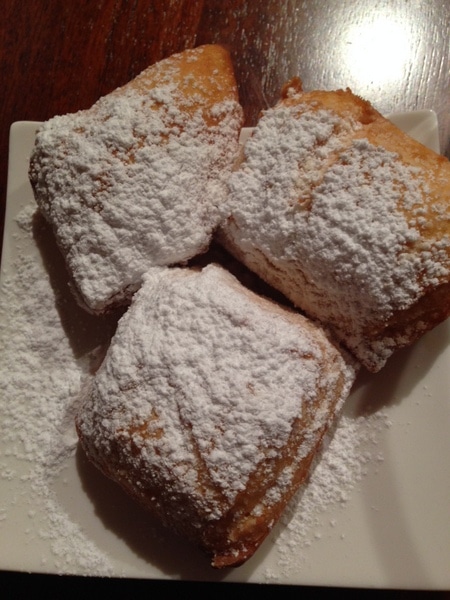 Before we left we spent a long while talking to the owner, Mr. Al, originally from Louisiana. What a genuinely nice person, with a deep desire to bring only the most authentic cuisine to us here in Okinawa. He shared with us his love for the food, which I think is what really makes a meal, and he also shared some of his ideas for what is to come and how the menu will expand.
A few days later, having been so excited about the amazing dinner we had, I gathered up a few of my co-workers and we went for lunch. The lunch menu is simple, Po-Boys and Gumbo. We each tried a different poboy; I had the shrimp which was loaded with jumbo fried shrimp (and not that frozen pre-battered kind, but real shrimp); we also had at our table: blackened chicken, fried oysters, soft shell crab, and fried chicken. All were on point. I couldn't live with myself if I didn't order the onion rings again, so of course, I did (and I devoured them), but we also had the fries at our table; much to my liking they were real potatoes (again, none of that frozen packaged stuff).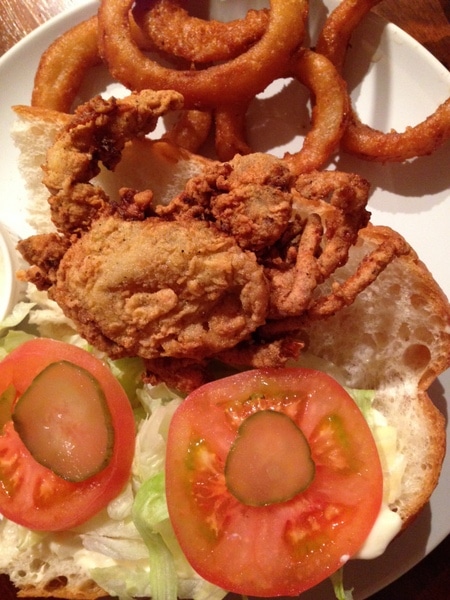 I've saved the best for last. My all-time FAVORITE Cajun dish is gumbo; and I am picky picky picky about my gumbo (gumbo is not one of those things you order because it's always better homemade), so I was skeptical. We each ordered a bowl with our po'boys and was I surprised and delighted at how absolutely perfect this gumbo was. I've been missing a good gumbo, so if there is one thing I will go back to Café Orleans for, it will be the gumbo. My favorite part was the added touch of a giant succulent shrimp set on top of each bowl… Heaven in my mouth.
We finished again, with coffee and I was too stuffed to eat an order of beignets at that moment, so I took them back to work and ate then the moment I felt I had enough room. Even room temp they were great!
I have to give big props to Mr. Al for his efforts and his wonderful food; can't say enough how much his quaint little place just feels like home.
For all those who are expecting to walk in and have a meal like you would get in the French Quarter, might I remind you that you are in Okinawa. With that said, and while Mr. Al does an absolutely phenomenal job in the kitchen, resources for the ingredients needed to make truly authentic Cajun/Creole foods are limited (to say the least). Somehow Mr. All pulls it off with flying colors.
---
Cafe Orleans
Hours:
Tue-Thur 1130-1300 and 1800-2100
Fri-Sat 1130-1300 and 1800-2200
Sun 1130-1300
Payment: Yen and Credit Cards
Phone: 098-892-8677
Website: www.cafeorleansokinawa.com
Address: 2-33-16 Ginowan, Okinawa
GPS Coordinates: 26.2910715, 127.77534809999997
Directions: To get to Café Orleans from Foster, exit the Legion Gate and turn right at the light. The café will be on your left-hand side next to the San-A.