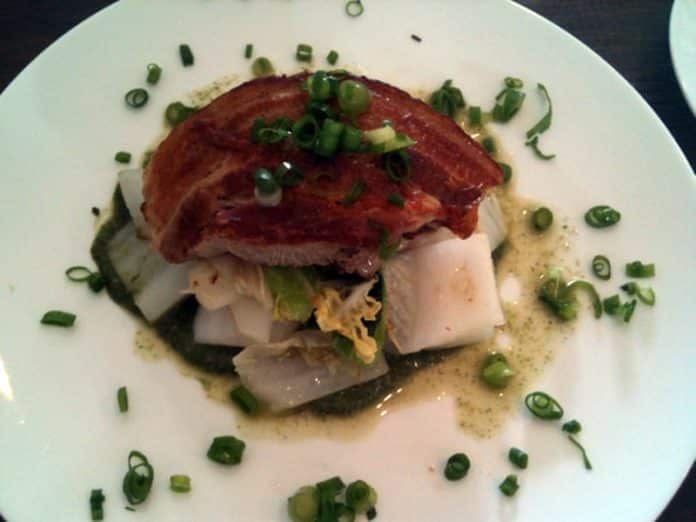 CONTRIBUTED BY KATIE CLARY
Cafe Pipi Neo is hidden away from the main roads, near the bird watching park in Tengan. Given that their logo is a flying bird, and "Pipi" is the Japanese onomatopoeia equivalent to "Cheep-cheep," I think it's actually named for the park. Whatever it's named for, they are a very cute little cafe with a good selection of food, and some very delicious-looking baked goods. If you're looking for a peaceful place to relax and read over lunch or tea, this is a great spot!

Pipi Decor
I love the calm, quiet atmosphere here. Each of the tables here seems like it's in its own little private nook. There is even a selection of magazines available on the shelf this seat is backed up against, though most of them are in Japanese. And I loved how they break up the sterile white walls with plants. It makes the space feel clean but comfortable. Every time I come here I have to comment that if I didn't think my puppy would eat it, I would love to have a tree like this one in my house. I love the way a house plant can liven up a room.

Pipi Seating
As you can see, this cafe is set up for more intimate groups. I would recommend this cafe for adult-only outings, but older children would do fine if they aren't picky eaters.
The menu is extremely limited; there are two menu items offered all the time; Squid Ink Curry, Okinawn style pork in wasabi sauce, and a daily special–usually fish. All lunches cost ¥850 and include a choice of bread or rice and a drink. You also have the option to include dessert for ¥150, for a total of ¥1,000.

Pipi Food
I chose the special this time- white fish in cream sauce with a Caesar salad. The fish was perfectly cooked, and while the cream sauce was a little thicker than I'm used to, it tasted good. I especially liked the little bit of mashed potatoes- I wished there had been more! Overall, I thought the meal was a perfect portion, but when my husband had a similar dish the last time we visited, he said he could've eaten two orders. (Marines. Sigh.)

Pipi Food 2
My friend Christina tried the Okinawan pork with wasabi sauce. She raved about it, and I believe she is in the process of trying to find a recipe for the sauce so she can try it on pasta. (I'll definitely update if she'll share what she finds!) This particular dish includes sauteed cabbage, scallions, and the fatty Okinawan pork that is famously popular in these parts.
If any of you are brave enough to try the Squid Ink Curry, please let me know how it is! I have been wary of trying it, but I think it would probably be really good. I've had squid ink before on a pasta dish, and I really liked it.

Pipi Food 3
There are usually two dessert options, and they vary from time to time. Christina and I both chose the cheesecake over the Soy Custard. This cheesecake was delicious! Even though it's such a small piece, it was so rich and dense that it was the perfect serving size. (I have tried the custard before, it tastes like vanilla pudding with a hint of soy, with a texture just a little more gelatinous than creamy like pudding normally is. Very good.)
Cafe Pipi Neo also has a small selection of bakery items available for purchase. They had a few fruit tarts and muffins and scones, and some absolutely gorgeous cinnamon rolls. They were huge and ooey gooey and if I hadn't just stuffed myself at lunch, I would've bought four. The Cinnamon Rolls cost ¥300, and I didn't see prices for anything else.

Pipi Sign
Hours:  Cafe Pipi Neo is open from 11:30 am until 5:00 pm. Lunch ends fairly early, I believe at 2:00 pm, but they are open later for tea.
Phone:  098-974-1727, but be aware the staff does speak mainly Japanese. They can speak a little English, and they'll help you as best they can, though.
Address: 230 Akano, Uruma-shi, Okinawa-ken 904-2212, Japan
GPS Coordinates: 26.372792, 127.873014
Directions:  A thousand apologies to those of you who get a little lost on the way, but I promise this place is worth hunting for! To be perfectly honest, I found this place just by following the signs. They are all brown and white, like the one in the picture, and I would highly recommend that you keep an eye out for them as landmarks so you know you're taking the right direction. Or, if you have an iPhone, use the map function to help navigate using the map below.
From McTureous, turn right on Route 8, then continue until the Lawson intersection. Take a left onto Route 75. Continue through two stoplights (the second one is between Essence Salon and Family Mart), then turn right at the third stoplight, which is just past the Mos Burger. Continue straight until you see the sign for Cafe Pipi Neo pictured above. It will be on the left hand side across the road from you. (From here, skip the next paragraph and then continue reading the directions.)
From Courtney housing gate, just turn right onto Route 224. Follow this around the bend, until you go under a very short tunnel. After this, you'll come to a bridge. Turn left immediately after you cross this bridge. The sign pictured above is on that street corner.
From there, continue straight as the road bends slightly to the left. You will end up driving parallel to the Tengan River alongside a small dam. (You will also be able to see the "bird cage" overlook from the bird park I mentioned earlier.) This road will soon turn into a T intersection. There will be a bridge to the left, but you'll turn right here. From there, pass the first left turn (a dead end) and take the second left. There will be another sign for the cafe.

Pipi Entrance

Whew. For those of you still following, congrats! This next part is easy. Just keep to the left, and continue straight for a block or two, and look for Cafe Pipi Neo on the right. There is parking inside the wooden retaining wall pictured above.

Pipi Ferns

On a completely unrelated note, while I was out taking photos of the front of the building, Christina and I found these sleeping ferns. If you touch them, they fold up to protect their leaves! We both remembered playing with these as kids, so we were really excited to find them! They grow in random places around Okinawa, and they are a huge hit with kids, so keep your eye out for them if you have little ones.