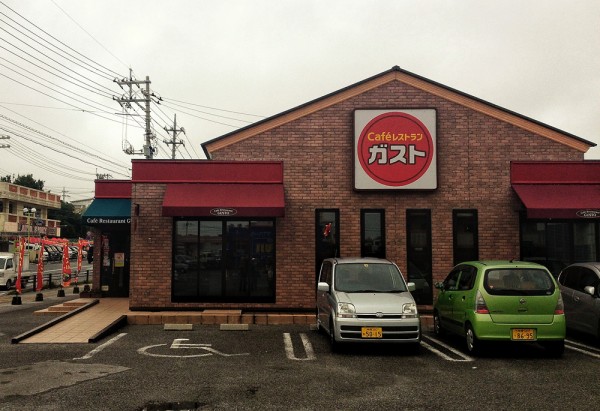 CONTRIBUTED BY SHELL BURGER
On my way home from work almost every day I pass by a building that has a sign out front mostly in kanji, but stating they are a "café." I have mentioned to my husband several times that we should try it sometime to see what they have, but we never seemed to remember it when we wanted to go out to eat. I decided to make a plan for us to go, but before that I wanted to be a little prepared. Since we have a 2-year-old, I wanted to make sure I could find something for her to eat.
I fired up Google maps, found the building, and zoomed in to get the kanji name of the building. I copied the name, switched over to Google translate and found out the name translated to Café Restaurant Gusto. Once armed with the name, I started my Google search to discover more. I ended up finding out this Café is actually part of a chain of family restaurants. Once I read that, we made plans to give them a try.
The Café reminded me a lot inside of Denny's back in the states.
It definitely was family-friendly, as several Japanese families were eating away. The lady who greeted us did not speak English, but directed us to pick where we wanted to sit.
As with most Japanese restaurants, the menus were on the table, and there was a doorbell button on the table to push when we were ready to order. We started flipping through the menu and realized they offered a wide variety of food (the menu is several pages long – too long to post the entire thing here!)   
They had hamburger-steak, chicken, tonkatsu, noodles, salad, tempura, pizza, pasta, curry, and an assortment of desserts. They offered a kids menu, take-out options, and a lunch menu. With the wide assortment of options they offered, we were certain we could find something for each of us to try.
My husband ordered a sliced pork set that included miso soup, rice, pork, and salad that was right around 700 yen.
I ordered a shrimp alfredo pasta dish that was 400 yen. Although I wasn't quite sure what I was ordering, since the menus are not in English, I rolled the dice and I came up a winner.
 For my daughter we ordered what looked like a chicken and curry set. Her set came out pretty fast, within about five minutes. It included two pieces of boneless chicken, curry with rice, French fries, sweet corn soup, green veggie, and jello for dessert. Her set was 500 yen.
For the price, the amount of food we received was great. We ended up leaving full and feeding three people for about 1600 yen. If you are out adventuring, find yourself hungry and see one of these Café signs, know you can stop in and know they should have something for everyone. Happy Eating!   
Hours: Monday-Friday 9:00 a.m. – 5:00 a.m. (Yeah you read this right – they are open from 9:00 a.m. to 5:00 A.M.!) Satuday-Sunday 7:00 a.m. – 5:00 a.m.
Phone: 098- 931-1177
Payment: Yen or Credit
Directions: From Kadena Gate 2 go straight on route 20, you will go through the 330 intersection. Once you get to 329,  turn right onto 329. Follow 329 down a block or two and you will see the Café sign on the left side of the road. The entrance to parking is just past the traffic light in front of the Café.  If you get to the 329 and 85 intersection you have gone too far. (There is a McDonald's on the corner of the 85 and 329 intersection.)
Address: 7-20-11 Takahara, Okinawa
Website: Café Restaurant Gusto