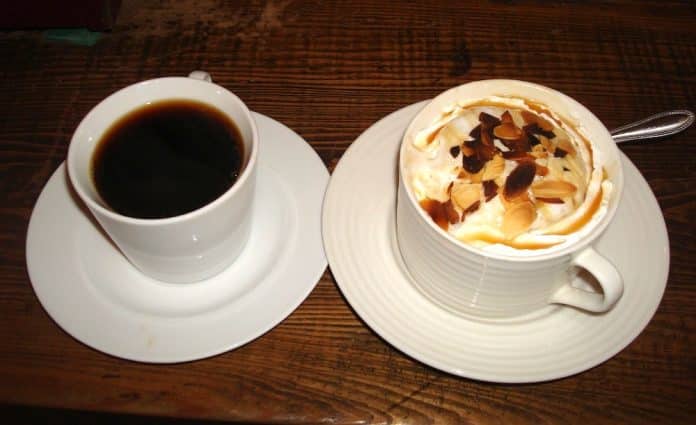 Chatan Coffee Drinks
CONTRIBUTED BY ALEXIS KNUTSON
Sometimes one of the best things about going somewhere new is the thrill of the hunt. You know, those obscure places in Okinawa where you drive out Gate 2 street until you pass three soda machines, then turn right at the Lawsons next to the Coco Curry place and you should see it just past the brown building? Well that is how Café Street Chatan Coffee will be. It is located in the heart of Makishi Public Market off Kokusai Dori Street in Naha. If you have ever wandered into this market you will know that you can get turned around pretty quickly. Then add the goal of finding something specific within that market and you have a challenge. But let me tell you, if you are a coffee lover, Café Street Chatan Coffee is worth the hunt!
My husband and I found this location with another couple a few months ago. It wasn't until last month that we tried to find it a second time with my parents. There was a lot of, "No, I'm pretty sure it's this way…" and "Wait, haven't we been here before?" but finally we found our target tucked back in one of the alleyways on the outer edge of the market. Success!

Chatan Coffee menu
The service there is fantastic. The owner, Katsuaki, will make you feel right at home. There are English menus and most of the staff speak English. And if they don't they have a handy service through their phones where you video chat with someone… somewhere… tell them your order, and they translate for the barista. Very cool!
The coffee shakes with coffee jelly at the bottom are amazing. If you have never tried coffee jelly, try it here. The almond mocha I ordered had toasted almonds on top and you will savor every sip! They have many different kinds of coffee as well as smoothies and some sweet snacks.
The best thing about Katsuaki's coffee is that he roasts it himself in a small roasting room in Chatan in a homemade bean roaster. Apart from the brewed coffee, you can also buy coffee beans by the bag that Katsuaki roasted. Talk about local!
Payment:  ¥ only
Hours:  9:00 – 20:00
Directions: To get to Kokusai Dori Street take 58 south into Naha and take a left onto 39 (Kokusai Dori Street). There are parking lots on the street but they can be very expensive so make sure to check the rates per hour or try parking off the main street and walking in.
From Kokusai Dori Street there are a number of entrances to Makishi Public Market on the South side of the street and it looks like a large covered market. It may be easiest and less confusing to try to just walk and enjoy the market until you stumble across Chatan Coffee since the market is large but not unmanageable.
Here is my attempt at some directions if you would like to try to find it this way. Once inside, find an alley that you can head West on since Chatan Coffee is in the far West side of the market. Keep your eyes open overhead for the sign pictured below which points the way to Café Street Chatan Coffee. Take a right down this alley and you will see Chatan Coffee on the left side (there is usually a red umbrella set up outside).

Chatan Coffee Sign