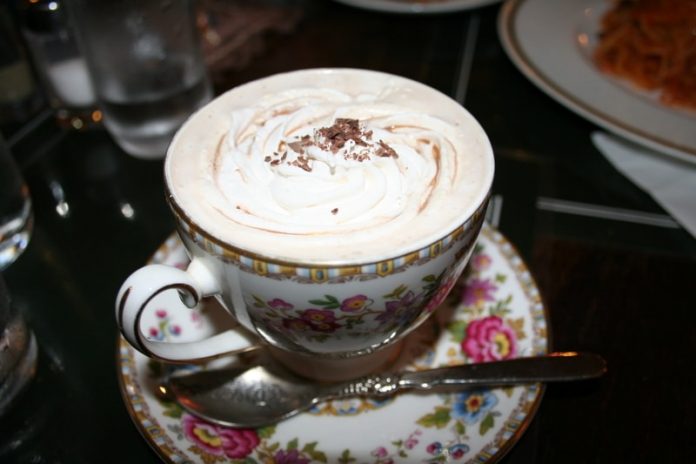 CONTRIBUTED BY KELLYERACE
The first time I went to Cafe Tiffany's was shortly after I got to the island about two years ago.  I went a few times after discovering it and then, for some reason, just stopped going and kind of forgot about it.  But now Tiffany's is back on my restaurant radar.  For two reasons, I think.  One – I recently stopped working and so have time to go out for lunch or coffee during the day.  And Cafe Tiffany (although it's open for dinner) is definitely more of a lunch and coffee place.  Also, this incessant rain.  When I'm actually feeling motivated enough to leave my house, I want nothing more than to snuggle up in a warm and cozy locale.  Like a ski lodge or something.  Well, Tiffany's scores about 10 out of 10 points in the snuggly-cozy scale.  It's even got a (fake) fireplace.
Walking into Tiffany's is kind of what I imagine walking into a Thomas Kinkade house would be like.  But the Thomas Kinkade house is located somewhere in Edwardian era England.  And is run by Japanese ladies who speak impeccable English and dress in period.  There's not one big dining area.  Instead the seating rambles from room to room, mixing together with displays of vintage and vintage style clothing, tableclothes, pictures, and furniture – all of which is for sale.  If you are a lover of textiles (particularly lace) you will be in heaven.  If you are a lover of roses, you will also be in heaven since Tiffany's seems to specialize in all things rose.  The scent even permeates the air, reminding me (unfortunately for a restaurant) distinctly of my grandmother's bathroom air freshener.  Give it a couple of minutes and you'll get over it.
The key to really enjoying your Tiffany's experience lies in knowing what food to order.  The lunch/dinner food is okay.  Think Japanese take on western food.  The soup, which comes with your meal, is quite scrumptious.  I heard the pasta with meat sauce is yummy as well.  But the real reason to eat at Cafe Tiffany is for their sweet stuff and their coffee.  Basically anything on the menu that you see comes with whipped cream.  That will be really good.  They've got cinnamon bread, waffles, scones.  Go for the scones.  They are warm and hearty and delicious.  The scones and the cafe mocha.  Definitely get the cafe mocha.  It comes in a sweet little teacup and is covered in fresh whipped cream.  It's just a little morsel of perfection.
While I was first attracted to Cafe Tiffany for its eccentricity, now I just love it for its own sake.  It's like a CD that gets better with each listen.  Definitely worth a visit, or even better, a couple of visits.
Cafe Tiffany has English menus, high chairs (without the straps), and a sweet clientele who will ooh and ahh over your little one, even if they've been crying.
Hours:  Open 11:00am-11:00pm
Phone:  098-957-1232/098-956-1258
Address:
Directions:
Cafe Tiffany's is a hop skip and a jump from Torii Station's front gate. To get there:
Take 58 north and turn left at Route 6 (or take the red bridge way to 6…notice the new Starbucks that's going up there, but don't be lured in when it's finished…keep on to Tiffany's)
Pass the Torii Station main gate and 6 will kind of slope downhill.  Start looking for a black sign with Cafe Tiffany written in cursive on the right hand side of the road.  Turn right at the sign onto a little side street.  Then make your first left.  Tiffany's will be right there on the left.  You can park in front of it.