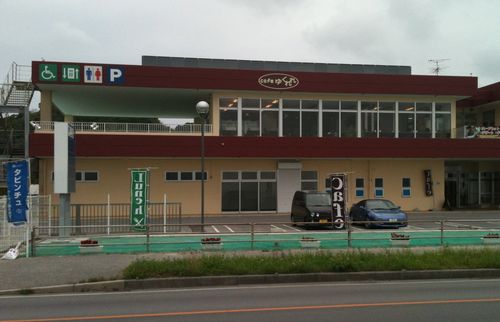 CONTRIBUTED BY KATIE CLARY
My husband and I had seen this building before on an excursion to the "Kaichu Doraibu," or the "Sea Road" that leads you across the ocean to Henza Island, Miyagi Island, and Ikei Island to the East of Okinawa, but we didn't realize that there was a restaurant inside until my husband rode past it again on his bicycle. We had been too enthralled with the ocean view directly across from the building. But if you're looking for it, you can't miss it- it's a huge tan and burgundy building with a large parking lot and several "Cafe" banners outside.
We had headed towards White Beach for lunch, but decided last minute to try Cafe Ukulele. There were also signs for the "Pan no Ki" or "Tree of Bread" Bakery, which we later discovered supplies all the bread for the sandwiches at the Cafe upstairs.
There was a cute little sign outside that listed the full menu along with prices. It was written in Japanese, but between the pictures and the little Japanese I know, we decided it looked like a really good place to try! Plus, the highest price we saw on the smaller menu was only ¥1,000 for a full meal set.
Once we made our way upstairs, we walked up to the counter, where they handed us an English menu to look at. There were a few items with interesting translations, and the staff didn't speak especially good English, but we were able to order without any problems. There were three categories of meals: light meals, which cost between ¥300 and ¥400 or so for a small lunch set; "Don" or bowl lunches that seemed to be around ¥1,000 with a few ¥850 Japanese style curry options; and Soup sets for ¥1,000 or so.
We ordered at the counter then sat down and they brought our food out to us. We chose to sit at a bar on the window, so we could admire the ocean view, but there were also tables, and even some lounge chairs that looked like a perfect place to sit down with a good book and a cup of coffee.
The lighter lunches looked like the perfect size for my smaller appetite. My husband ate through an entire bowl lunch and a small set, but he'd been cycling that morning. I barely made it through half of my bowl set, but wanted to keep eating since it was so delicious!
There was a very nice free drink bar, which offered iced tea, water, grape juice, and orange juice, along with some hot drinks (coffee and tea). They also sell sodas for ¥350, and Orion beer, though I didn't see the price.
My husband ordered the Loco-Moco meal. It was a hamburger steak with garnish over rice, and it also came with a Japanese salad and an egg over easy. He got a small bowl of soup with it as well. The soup was a cross between a typical egg drop soup and a Japanese seaweed soup. It was different than he expected, but he said it tasted good.
I ordered a Tonkatsu Don, or pork cutlet bowl. The pork cutlet is deep fried in a special batter, and served piping hot over steamed rice and sautéed onions, with an egg cracked over top. The food is hot enough to cook the egg to an over-medium consistency. It was on par for a Tonkatsu Don- there isn't really too much a restaurant can do to make this dish uniquely their own, since the pork cutlets have such a distinctive taste, but I really enjoyed it. I got a bowl of soup as well.
My husband's second lunch was a ham sandwich from the light meal menu. It was small, but with the side salad and potatoes, it makes a decent sized lunch if you have a smaller appetite. The bread was very good, but my husband said there wasn't much meat to the sandwich. The salad had a nice sesame dressing.
I would love to go back and try their curry, or some of their light lunches, like the pizza bread. Luckily, it's cheap (we got out for ¥3,000 exactly for 3 meal sets and 2 sodas) and only a short 10-15 minute drive from Courtney!
Hours: Breakfast 9:00 a.m. – 11:00 am, Lunch 11:00 a.m. – 3:00 p.m., "Relaxed Menu" 3:00 p.m. – 6:00 p.m.
Payment: Yen only, as far as I could tell.
Phone: (098)983-0160
Address: 1860 Yonashiroteruma, Uruma
Google Maps Coordinates: 26.338538, 127.890987
Directions: From Courtney Housing gate, turn right onto Route 224. Continue around the curve and over the bridge. You'll make a left on Route 8. Continue on this road until you come to a Y intersection. Keep left onto Route 37. Continue along this road until you see a tan and burgundy building on the right. From McTureous, turn right out the gate onto Route 8. Stay on Route 8 across Route 75 and across Route 224. At the Y intersection, keep left onto Route 37. You'll see Cafe Ukulele on the right.
From Kadena or Foster, I would recommend taking the Okinawa Expressway north to Exit 5, Okinawa-Kita. After you exit there, continue straight on Route 36 for a while. Turn left onto Route 75, and continue north until you find Route 8, and turn right. Follow that road until the Y intersection, and then bear left onto Route 37. Follow this road straight until you see Cafe Ukulele on the right.