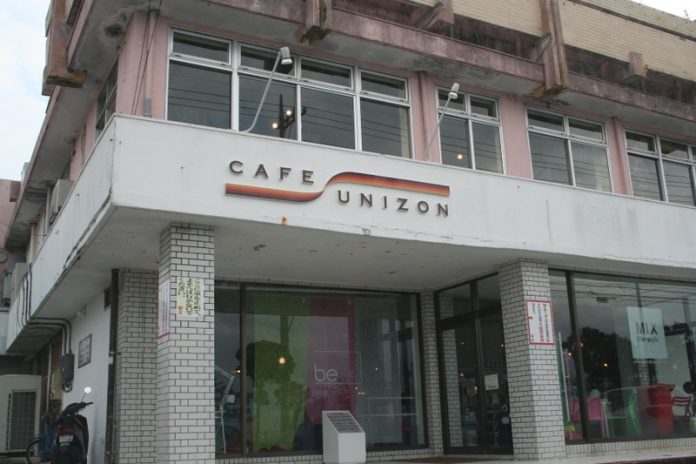 CONTRIBUTED BY KELLYERACE
So.  You're on Camp Foster.  You're shopping at the PX.  You suddenly find yourself A:  hungry  B:  tired as hell of looking at the same linens, candles, clothing, and housing goods that you find yourself browsing through again in the vain hope that you'll find something even remotely approaching cool.
What do you do?
Drop your Yankee Candle and get out of there is what you do, and take your butt to the Café Unizon / Mix Style-Life store.  It's only about 3 minutes outside of Legion Gate, right near the House of 66 Cents on 81.  If you haven't gone, you need to.  It's a breath of stylish, sophisticated, air.  Ummm…inhale… is that a hint of William-Sonoma I detect?  Laced perhaps with a trace of Crate and Barrel?  Good stuff.
When you step inside the Mix store, you might not be able to resist the urge to fondle pretty home goods, but if you can then head upstairs to the cafe.  It's a vast open space with mismatched sofas and coffee tables and an unexpectedly stunning view of Chatan and the ocean beyond.  Order from their menu of the typical café fare – soups, sandwiches, muffins and such…then get back up and take a look around while you await your food.  Run your fingers over the display of beautiful books; then walk through the showroom adjacent to the café and drool over the smooth wood dining tables and modern furniture pieces.  Swing back into the café making sure to pass the glass encased cakes and muffins on your way, so that you'll know what to order for desert.
I've never had dessert at Unizon, but friends I've gone there with had good things to say about the peanut butter muffin, a fruity pear kind of tart, and what I think was a chocolate-rum cookie.  My desert was hot chocolate, which was good but not memorable. I also ordered a very tasty little avocado-bacon sandwich, made in a skinny baguette which called to mind a cigar.  It came with a side of fresh fluffy greens.
In my opinion though, the reason to visit Unizon is less for the food and more for the chance to bask in the hip vibes downstairs at the Mix store.  So when you go, remember to allot a little time to "walk off the food" and do some shopping. Or, as is often the case with me, simply a little window shopping.  While the design (mostly, it seems, European) is beautiful and interesting, it tends toward the pricey side.  But, hey who cares?  There are hats and bags and sofas and lamps to be inspired by. Rugs and picture frames.  Pots and baby toys.  Soaps and postcards.  Shoot, you might even want to go ahead and splurge on a groovy kitchen sponge for yourself, or a sexy Italian paperweight.  You're worth it, right?
And now for some details…
Hours:
11:30-22:00, Closed Tuesdays (MIX Life-Style is open on Tuesdays though)
*The Website says it opens at 12:00 and the businesscard says 11:30*
Address: 2 Chome-39-8 Aragusuku, Ginowan
Google Maps Coordinates: 26.2880828, 127.76798759999997
Directions: Take a right out of Foster's Legion Gate (that's the Taco Bell one) and onto 330 (which becomes 81…that's the House of 66 Cents Road)  Look for two things.  First a building with a big 'ole sunflower painted on the side.  Second a building with a big 'ole taco coming out of it. (These are on the left hand side of the road.)  UNIZON/MIX Life-style is a white brick building between the two of them.