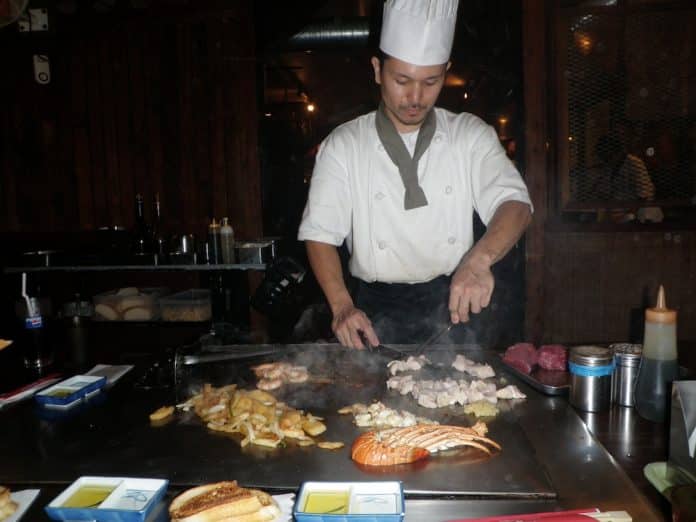 Capital Front
CONTRIBUTED BY JESSICA RODRIGUEZ
There have been many posts on here that mention Capital Steakhouse, but no post on Capital Steakhouse; I am here to fix that! Capital steakhouse has been my favorite restaurant on Okinawa since the first time my family and I went to this YUMMY location!
Capital steakhouse serves teppanyaki and sushi, all that is VERY good and inexpensive for the quality. The food is quick, and the people are friendly.
When you get there you will be seated at a teppanyaki table, you have a choice of teppanyaki, sushi, or both. The teppanyaki meal sets come with a delicious mushroom/potato soup (this is my favorite part), the regular cabbage salad that can be found anywhere on island with your choice of dressing, and either an iced tea or iced coffee.

Capital Soup

Capital Salad
You can choose beef, chicken, lobster, shrimp, or all. The meals come with the meat of choice, either bread or rice, bean sprouts with green beans and potatoes with onions.

Capital Chef

Capital Plate
I have had the sushi here before and it is good. Not as good as the just-sushi joints around the island, but the fish is still very fresh and tasty. They serve traditional Japanese sushi rolls, plus the Americanized ones like California roll and shrimp tempura.
They also have a nice assortment of appetizers!
Hours: 11:30-16:00 (lunch) and 16:00-23:00 (dinner)
Phone: 098-936-9192

Payment: Yen and American dollars, no credit cards


Capital Arrow
Directions: From Kadena gate 1: Make a left onto 58, keep going until you see 23 on your left, make a left. Keep going straight and you will see capital steakhouse (I have included a picture of what it looks like ftom the road) on your right.
From Kadena gate 2: Make a right out the gate onto 23, keep going straight and you will see Capital on your left.
From Foster BX or Legion gate: Make a left onto 330, until you get to the plaza housing gate or 85, make a left and go down until you reach 23. Make a left at 23 and keep going until you see Capital on your left.
Menu:  Click to enlarge

Capital Menu 1
Capital Menu 2
Capital Menu 3

Capital Menu 4

Capital Menu 5

Capital Menu 6