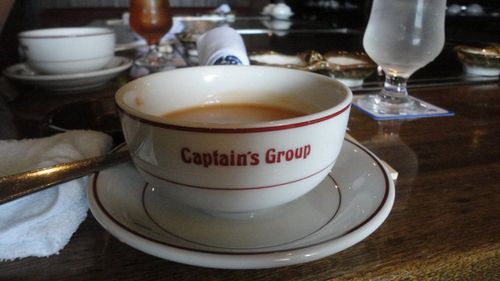 CONTRIBUTED BY KATHRYN CALAGUI
If you are familiar with Four Seasons or Sam's Anchor Inn and love it, I suggest you give Captain's Inn a try. Their prices are similar, ranging from 1700 to 8800 yen per meal. I know it sounds expensive, but it's one of those restaurants you should go to at least once before leaving the island.
The atmosphere is very welcoming and spacious, however I wouldn't recommend bringing children who are in need of a high chair because most of the tables have bench seating, and the cooking area is very close and easily reachable. Wouldn't want those kids to burn their lil tiny hands!
I have only been to Captain's Inn during their lunch hours. There is only one special option of beef tenderloin which comes with a soup, a salad, cooked vegetables, and a choice of bread or rice for 1700 yen. If you decide not to go with the lunch special, you can pick from their dinner menu.
The food was absolutely delish, and it's always entertaining to watch the cook prepare your food right in front of you.
Captain's Inn is located in American Village and is a perfect place to enjoy a meal after a long day of shopping. Their motto is: "Delicious, joyful, and happily." Who can say no to that?!
Directions:  From Kadena Gate 1, make a left onto 58. Make a right at the light between Lawson's and Four Seasons. Make a right at the next light, then your first left. Enter the first parking lot on your left, and Captain's Table is located on the 2nd floor by Jan Jan's.
Hours: 11:30 – 23:00. Last Order: 22:15, Lunch hours: 11:30-15:00, Dinner hours: 17:00-23:00
Telephone: 098-926-3053
Payment:  Yen and Credit Cards accepted.