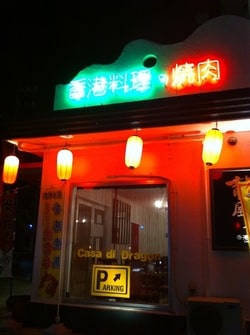 Dragon Front 1
CONTRIBUTED BY LEAH MAGID
"Where do you want to eat?"
"I don't know. Where do you want to eat?"
"How about this place?"
"No, I'm tired of that place. Plus, there is never parking. What about the other place, the one with the things and the people?"
"It's good and all, but really? We ate there last time."
(Lather, Rinse, Repeat).
Sound like your typical drive around the American Village/Mihama area? Mine too. Some of our favorite restaurants are in Mihama, but sometimes we just want to try something new. Last night, on our way home from a fabulous baby shower on Lester that lasted well beyond dinner time, we were ready to pack it in to one of our old stand-bys when I spotted a "different thing". Gone was the odd little children's clothing store kitty-corner from Starbuck's and in its place, neon shining in the night, was Casa di Dragon, a Hong Kong style restaurant. We were sold.

Dragon Interior 1
Parking is around back, and it's a tight little turn, so be careful. The modern décor and clean, minimalistic furnishings made the place feel light and sophisticated. The menu is simple – just a few appetizers and sides, a couple of set offerings and entrees divided into chicken, seafood and rice bowls. There is a small selection of non-alcoholic beverages as well as adult beverages, and three desserts. We ordered pickled vegetables and "bang bang chicken" to start. The vegetables were sliced paper-thin and were earthy and very lightly spiced; there were beautifully marinated mushrooms in the mix, lending a different texture to the crispiness of the onions and root vegetables. (My daughter said it reminded her of a bagel sandwich). The "bang bang chicken" was reminiscent of pad thai because of the matchstick cucumbers and peanut sauce, and the underlying chili taste further pushed that thought, but the flavor was more subtle than a pad thai, and the textures were completely different. It was a great, flavorful start to a lovely meal.
There is a window from the kitchen into the dining area, so we could watch them working at our meals. The looks on their faces told me that they were not messing around and that we would be in for a treat.
Entrees are offered in Small or Large and the set option (adding a cup of amazing mushroom-egg drop soup and a bowl of white rice) is only Y250. They also have a Yakiniku BBQ set and dim sum. Because we had appetizers, we all ordered the small size entrée. My husband had an Orion draft, I had a ginger ale and the kid had hot milk tea.

Dragon Food
My husband ordered Seafood Chop Suey and was incredibly pleased with it. It tasted just like the Chinese food we grew up with, but with better seafood and crisper vegetables. Scallops, shrimp, squid, chopped scallions, carrots and celery were in an oyster sauce that was delicate but deep in flavor. My daughter, who has been on a hunt for either General's Chicken or Almond Boneless (Cantonese style) for nearly a year, ordered Fried Chicken in a Pungent Sauce. The dish was gorgeous – a large cutlet, breaded and fried atop a lovely, thin sauce that was fragrant and mild, like a very light teriyaki. My Sweet and Sour Fish was a generous portion (six pieces) of firm white fish that was lightly breaded and covered in a tangy, slightly sweet dark sauce. I have not been so pleased with a sweet and sour in a long time, usually finding them too sticky and overly sweet. The balance was really nice.
The truly important stuff:
Our meal cost Y4,600 (2 appetizers, 3 entrees with sets, a beer, a soft drink and a tea).
The staff does not speak much English at all, but the menu is in English. Very basic descriptions, but familiar terms.
The restroom is clean as a whistle and has basic decoration – there is a Women's only and a unisex bathroom (both Western Style) and the hand-washing sink is in the shared area.
 When you leave, the door says push. My husband pulled. Don't do that – he broke the door. A staff member quickly came and fixed it, though.
Pay:  Yen and JCB cards. No Visa or MC that I saw.
Hours:  Lunch: 12-2:30; Dinner 5-11:30 pm. Open every day.
Directions:  From 58 turn toward the ocean at the Starbucks by the Lester gate (or, from Lester, just exit the main gate). Casa de Dragon will be in your right at the first Light.