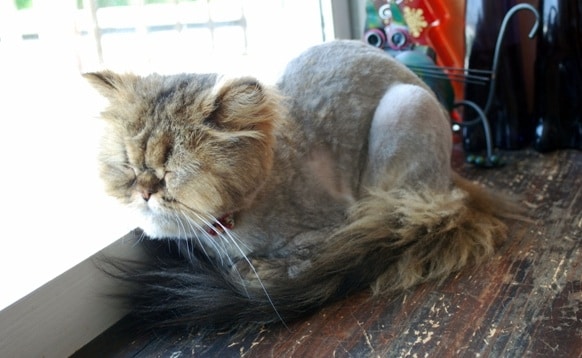 CONTRIBUTED BY ASHLEY CONNOLLY

Cat Cafe 1

Cat Cafe
First of all, I love cats. I have even been referred to as a crazy cat lady. So when I heard there was a café where cats just hung out with you I was amazed and had to go. If you love cats, too, then this is a place you must go to. Especially if you love cats but may have a family member who is allergic so cannot have one as a pet. It's also a great place for someone who may live in a house that is not pet friendly. You can go spend as much time as you want with these cats and never have to scoop a litter box. The cats here have been rescued and for some of them, this is their permanent home. I have been told that some cats are brought in then adopted out. I have been twice and almost all the cats from the first time were still there.
When you walk inside you will need to take your shoes off and grab a pair of slippers to wear. Also the lady will spray your hands with a disinfectant when you walk in to make sure you are not passing germs to the cats. If you go up the stairs where the tables are you must remove the slippers.

Cat Cafe Menu
There is a menu; however, it is in Japanese only. The only English the owner has written down are some drinks. She does not speak any English at all. The drinks are Pineapple Juice, Mango Smoothie, Pineapple Smoothie, Lemonade, Banana Milk, Cocoa Milk, Green Tea, and Coffee. She calls it a "drink set" and you pay 720Yen. All you get is the drink and the reason the price is high is because it's also like a sitting fee that goes towards the cats' care. I believe some of the other things are cheaper.

Cat Cafe Drinks
There is food, but I you should have someone to translate the menu because I think it may change sometimes. I know there is Omelet Rice, Taco Rice, Mushroom Pasta, and some other pastas; but you'd need to know exactly which one to point to on the menu since the lady does not speak English at all. I have always just gone there to hang out with the cats so I only get a drink anyways.

Cat Cafe Inside
The cats will be all over the place. They love to hang out in the bowls on the floor, on the pink couch, in the cradle, and even on the table you may be drinking or eating at. So if a cat lying beside your drink is a problem for you I wouldn't go here. The cats are very well taken care of and clean though, so don't worry.

Cat Cafe 3
You are allowed to take photos, but do not use a flash!

Cat Cafe 2
There are also some items for purchase such as bags with cats on them, magnets, pens, and random cat knick knacks.

Cat Cafe Exterior
Directions: From Foster Commissary Gate take a left. Go up to the light at 81 and take a left. Make your first right(it's at a light), it'll be like a sharp turn… like a U-turn almost. Start looking UP and you will see at the top of a white building "CAT CAFÉ" in red letters with an arrow. BEFORE you get to that building you will make a left. It'll be the first left and it's a tiny road (it looks like it's going into a parking lot almost, but it's a tiny road). Make a right at the next road (it'll be pretty immediate). The café will be shortly up on the right. There are parking spots right in front and the wall is painted with some cats.
Payment: Yen
Hours: CLOSED on holidays
Tuesday, Thursday, Friday: 1200-2000 (final visiting 1900)
Wednesday 1200-1800 (final visiting 1100)
Saturday&  Sunday 1100 to 2000 (final visiting 1900)
Note: Last time I went she did not open the place until 1:30pm for some reason, probably had a personal reason. So just know mainly one person runs this place.
Website:  http://www.nekomarucafe.com/okinawa/
PLEASE REMEMBER the lady does NOT speak English AT ALL so if not being able to communicate bothers you then you should not go here. She will understand if you say drink and show you the list of drinks. Last time I went I just said "Pineapple" and she understood.