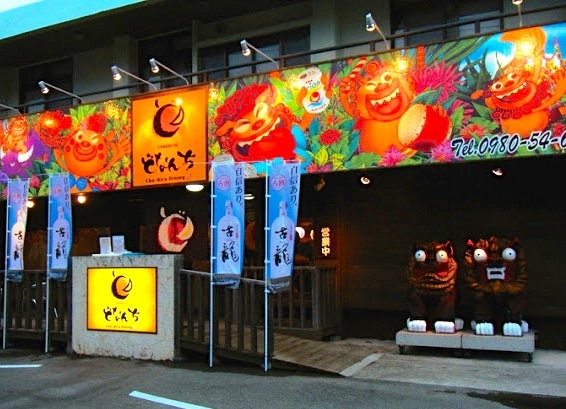 CONTRIBUTED BY ELIZA GROFF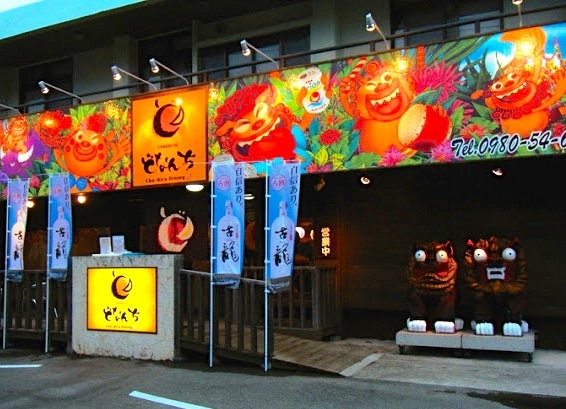 If you're looking for a fun atmosphere and some real Okinawan cuisine, check out Cha-Bira Dining on 58 near Nago. The colorful awning is painted with jovial drinking shisa dogs. My husband and I got out of our car in the main parking lot to be greeted by lively Okinawan music. The sign of the restaurant is impossible to miss due to its bright orange colors, and serial accent lights lining the top of the entire front of the building.
Inside, it is very casual. The wooden tables and chairs are clean and nicely kept, but there is nothing much in the way of decoration. The walls are painted with large murals of fish, children's drawings, and an eclectic mix of wall adornments that emphasize the restaurant's appreciation of marine life, which is an integral part of the Okinawan way of life.
We had been hiking through various trails in the northern part of the island, and we were on our way home to Okinawa City. Ready for a bite, we were pleased to find the service prompt and the food delicious. Cha-Bira offers a limited selection of Awamori, beer and cocktails, but we did not partake since we still had a drive ahead of us. The ice-water was quite tasty, and plentiful. They actually gave us American-sized glasses instead of the tiny 3 sip-size water glasses.
We ordered one tuna-avocado salad and a tasty noodle dish made with really thin Japanese-style noodles. I was impressed with the large size, and quality of the salad, made with fresh mizuna, lots of raw tuna, and lots of avocado. The dressing was a miso sesame glaze, which paired nicely with the tuna. It was one of the best salads I have had on Okinawa. The noodles were unique and also delicious. They were reminiscent of angel hair pasta, only made from rice instead of wheat. This restaurant is very affordable – our meals together cost less than 1,800 yen.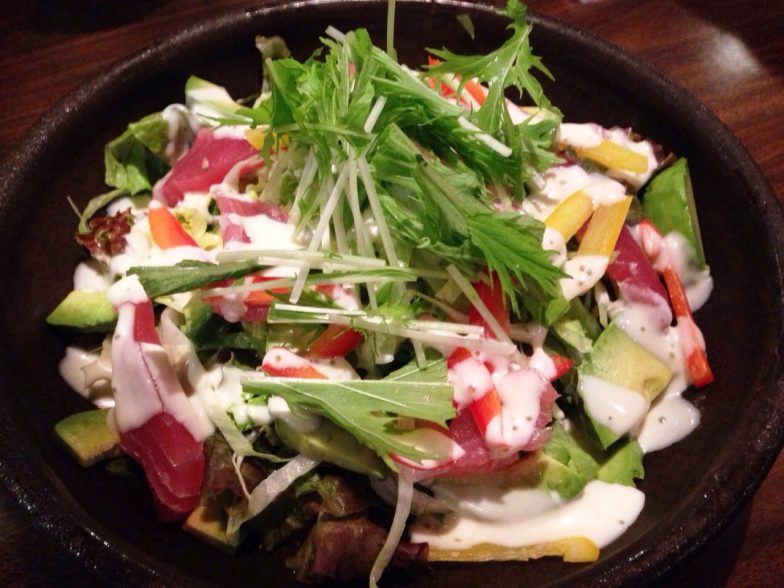 Unfortunately, we did get a bit of dish envy watching two other families order the meal special. Apparently, this restaurant's specialty is making a pile of fresh vegetables, pork and fish that you cook yourself on a portable grill. It comes out looking like a mountain of food 18' inches tall, but eventually reduces down to a sizeable meal for four people. This special was 3,500 yen, and looked well worth the meal price.
Cha-Bira also offers many local specialties such as a sushi plate with salmon and umibudo, whitefish and flying fish eggs, the Okinawan "bar food" silken tofu with cucumber and rabbit fish, goya champuru, and various other Okinawan pork, soba and seafood dishes. This restaurant is fun and casual if you are looking for a quick bite to eat, or a relaxing place to drink with pals.
Address: 1398-1 Koki, Nago, Okinawa 905-0025
Phone: 098-054-6300
Directions: If you are driving north on 58 from Kadena, you will pass Busena Terrace Beach resort on your left-hand side.  Drive past the Okinawa Suncoast Hotel in the small town of Koki, and then Cha-Bira is on the right-hand side just before the JA-SS gas station.  If you get to Kyoda Port, you have gone too far.  Or you can navigate there using Google Maps Ap by copying and pasting the phone number (0980546300) into the search bar.
Map Coordinates: 26.5411773, 127.95123060000003