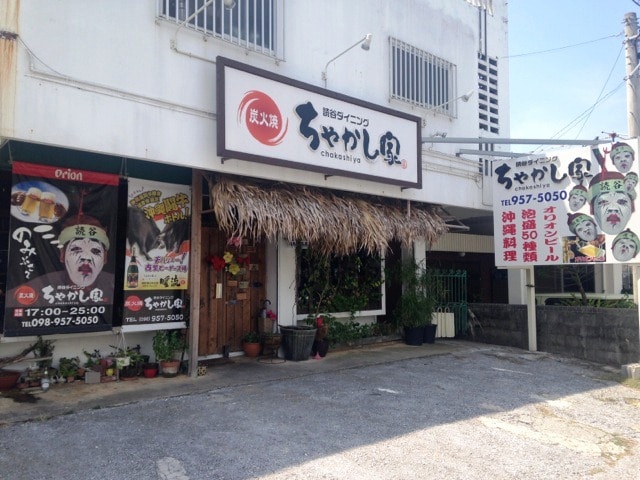 CONTRIBUTED BY ELIZA GROFF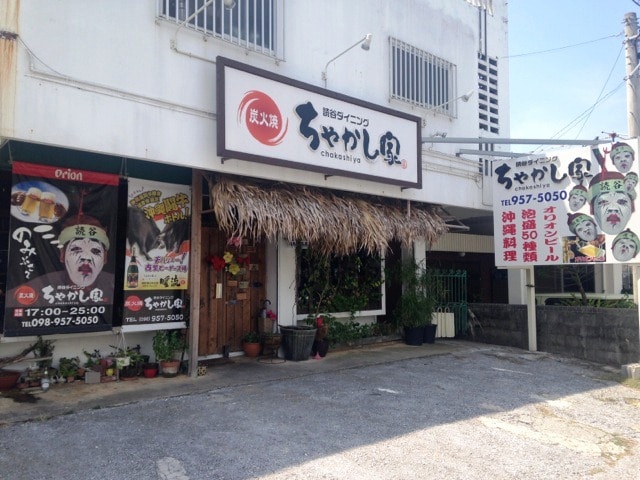 There is a new little secret tucked away on Highway 6 on the way to Maeda Point. If you live in Yomitan, I guarantee that you want to know more about it. It is an Okinawan dinner joint named Chakashiya, only open from 5:00 p.m. to 1:00 a.m. They serve Okinawan food with a twist, and have a huge selection of drinks.
I was on a selfie date, and in search of dinner on Friday night. At 7:30 p.m., this place was lit up with festive twinkle lights, up-and down the front doors, so much so that it was hard to tell where the handle was to the entrance.
This café is new and crispy clean on the inside, with island music humming a flirty tune. Carefully hung posters cover the wall on the left, and Awamori bottles stack to the ceiling on the right, showcasing Chakashiya's elegant yet social personality. One room makes up the entirety of the café dining area. Although small, it can seat a party of up to eight people, in Japanese or American-style seating. The bar, directly in front of you as you walk in, has a window into the kitchen. This makes it easy talk to the chef about any questions you have about the expansive (English) menu.
A wide variety of food selections are available, from the chef's salad, to their specialty, grilled mussels with urchin sauce. They have local Okinawan specialties such as the daily catch sashimi, plum gyoza, Japanese style noodle bowls, and more universal chicken, beef, pork and rice dishes.
The service was excellent. I was seated immediately, and given just the right amount of time to look at the menu. My meal came out within minutes of ordering, which surprised me since I am used to the slower island pace, from traffic to food service. I ordered two of the local specialties, the silken tofu with rabbit fish and the grilled mussels with urchin sauce.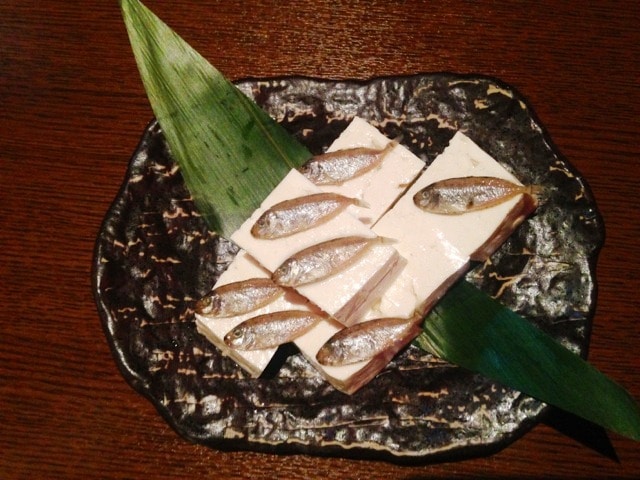 The chef was so concerned about my satisfaction that he came out to show me the bottle of rabbit fish in salty fish sauce to make sure that I knew what I was ordering. Both dishes were heavenly, and unlike anything I have seen on menus elsewhere in Okinawa. The grilled mussels came out on a piping hot fajita-style plate.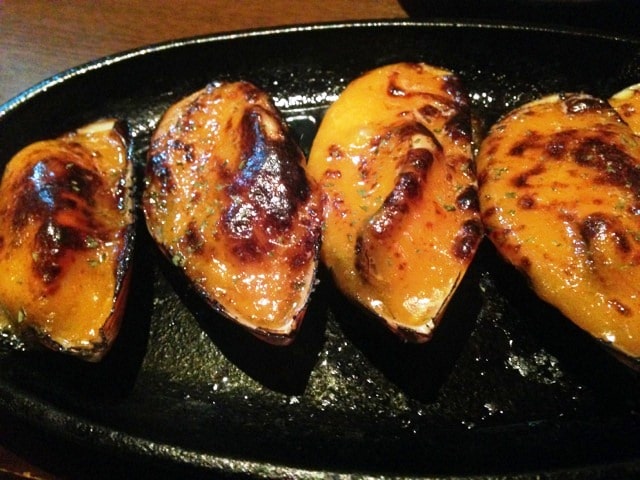 The brûléed urchin sauce was so good that I was slurping it from the shells after finishing the five perfectly grilled mussels.
The cost of my meal totaled less than 1000 yen. This affordable café offers tapas-style dishes that are perfect for sharing. Most plates cost under 500 yen. They offer a large specialty drink menu, and a small selection of specialty desserts to include a honey toast with ice cream. It was a perfect way to end my working week!
Directions: This tiny treasure can be found on the left side of Highway 6 as you are driving north towards Maeda Point. It is located in Yomitan, within walking distance from Torii Station gate one. It is right next to the brightly lit Toytoy sweets shop with the orange oval sign. You can type their phone number (098-957-5050) into Google maps, and the location will pull right up for you.
Address: 2256 Sobe, Yomitan, Nakagami District, Okinawa, Japan
GPS Coordinates: 26.38626500818726, 127.73420804257512
Phone: 098-957-5050
Hours: 5:00 p.m. – 1:00 a.m.
Payment: Yen