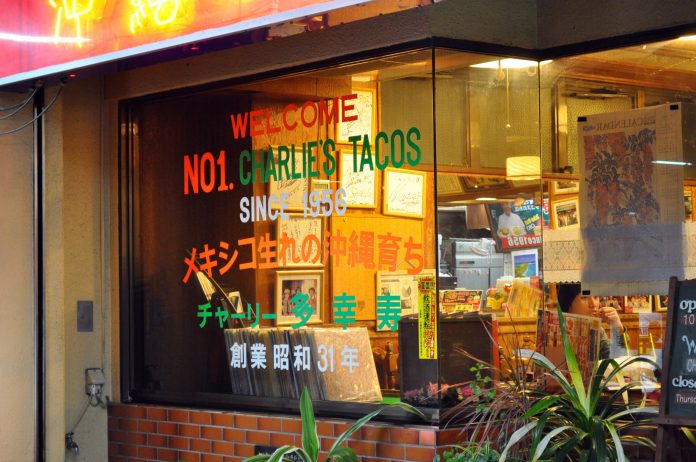 CONTRIBUTED BY HEATHER GELORMINE
The book club that I belong to here on Okinawa has been meeting for longer than I've been on-island, but when the founder and organizer PCS'd I took over.  At first I made few changes; we continued to have our members take turns choosing the books we read each month but rather than always meeting at my house we moved the location between our homes for each discussion.  And then one of us had a great idea – when discussing Honeymoon in Tehran we should try out the Persian Restaurant down near Araha Beach to get us in the spirit.  So we geared up for some authentic food, toting our books with us… only to discover that the restaurant wasn't open that night.  (It's okay, we headed a block down the street to Genki Izakaya instead.  We didn't go home hungry.)
We loved the concept of having an actual excuse to hire babysitters and go out to eat with friends so much, we thought we'd give it a go again in February.  This month's reading selection was The Guernsey Literary and Potato Peel Pie Society, and though we would have loved to travel up past Nago to the British Wine and Tea Shop, it's a bit too far to travel on a Tuesday night.  So we settled on a cuisine from the same general region of the world: Patty Macs Irish Pub right outside Kadena Gate 2.  Again, we made plans to meet with our books and our appetites… and wouldn't you know?  Although that pub is generally open on Tuesday nights it was closed on this particular one.
So we stood in front of the locked bar, stomachs rumbling and growing thirstier by the minute.  We looked left and right, and then one of us said, "Well, my kids and I like Charlie's Tacos right over there.  Wanna try that?"  And we did.
I wasn't expecting much.  They're tacos, after all.  So when my "Ladies' Set" showed up with a mildly spiced chicken taco in a homemade, freshly fried taco shell with tomatoes and shredded lettuce piled on top, along with beef taco rice, french fries, a drink and even a tiny scoop of ice cream, I was more than pleasantly surprised.
My friends mostly stuck to versions of this set, though we were given the option of beef, chicken or tuna tacos with mild or spicy seasonings, all meats which were well-received.  For 850 yen (mine was 900 yen with a slightly larger soft drink) this seemed like a great deal, especially since I walked away full.
Two of my friends opted for the three taco set, which in combination with a drink cost 780 yen, and had one of each type.  Other options on the menu were enchiladas, chili, soup, pasta, hamburgers and hotdogs, and steak sandwiches, in sets or a la carte.  And – much to the happy surprise of my friends – there's a small beer menu as well, offering Orion and Corona among others.
It might not have been fish and chips or traditional minced meat shepherd's pie like we were expecting, but it was a delightful surprise to find a restaurant that I can bring not only my husband, but also my kids, to again sometime… probably soon.  I've been told that Charlie's can get busy at lunchtime, but on a Tuesday night at 7pm we mostly had the place to ourselves.  It seemed kid-friendly, but I didn't notice any high chairs (though that may have been because – for once – I didn't actually need to grab one!).
---
Charlie's Tacos
Operating Times:
Open from 10am to 9pm, Friday through Wednesday.  Closed Thursdays.
Charlie's Tacos accepts Yen and Dollars, No credit cards
Address: 沖縄県沖縄市中央4丁目11−5
GPS Coordinates: 26.3401648, 127.7993253
Directions:
Coming out Kadena Gate 2, drive straight through to the Koza Music City intersection (four corners) at 330.  Take a left onto 330 and travel for five blocks to Park Avenue (BC Street).  Take a left onto this street and travel almost all the way to the end, with a 100 Yen Plaza in front of you.  Charlie's Tacos will be on your right on the last block.
Parking isn't abundant here, so if you're traveling with a group, carpooling would be a great idea.  It's within walking distance of the USO, and I'm sure there are side streets that will take you here faster than the driving directions.  Maybe one of our readers can help with those?
Update: They also have a location on Kokusai Street in Naha.