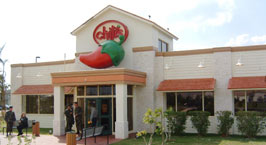 We've recently asked our writers to submit posts about on-base restaurants. These maybe obvious to most of you, but for those PSCing to Oki, it's fun to know what "home food" they can expect.
CONTRIBUTED BY LEEANN STEVENS
Chili's Grill & Bar: Like no place else! 
Chili's is one of our favorite restaurants. Since it's close to us, we go there often! It is always busy, so make reservations or be there early.
The restaurant has a fun atmosphere. They have an open bar, booths, and the usual tables. Their staff is also very friendly. I usually get strawberry lemonade or a coke or occasionally a margarita. (Taxis are available to drive you home, if needed.)
We have tried all their appetizers (guilty!). My favorite is chips with the Artichoke and Spinach dip which also comes with salsa.  The dip is very creamy and cheesy. Another favorite of ours is the chips with queso. I also enjoy their buffalo wings.
They have a wide variety of items for lunch/dinner. We have tried some of their sandwiches, burgers (all of them actually – and YUM!), quesadillas, fajitas (brought out on a hot, sizzling platter that tells everyone at the restaurant you ordered Fajitas!). Our favorite chicken meal is the Crispy Honey-Chipotle Chicken Crispers. My husband's favorite burger is the southern smokehouse bacon burger.
I recently ordered the huge Chicken Mesquite salad. I really enjoyed it even though I am not much of a salad person!
For desert, we have tried their chocolate molten cake and the white chocolate molten cake – both are delicious. We found the white chocolate one a lot sweeter than the chocolate one. But our favorite is the chocolate chip paradise pie — and it is truly paradise! It has a chocolate brownie base with cake on top- which has some coconut and it is topped with a scoop of ice cream and drizzled with nuts and chocolate. The brownie at the bottom is warm and has a slight chewy texture. To die for. Makes my mouth water just to write about it!
The "Bottomless Express Lunch" is back by popular demand! $8.95, Mondays – Fridays , 11 am – 2 pm (Enjoy Chili's bottomless soup and salad served with our house-made chips and salsa. Choose from our Baked Potato, Southwest Vegetable, or Chicken Enchilada soups and pair it up with our Caesar or House salad. Unlimited refills! Extra charge for chili)
Chili's is where you get your money's worth. My husband and I eat really well under $30. They also have a breakfast menu. But I have never seen it. We always show up around 11am and have the regular meals. But I have heard from my neighbor that their pancakes are delicious!
Chili's provides car seat slings & high chairs and a kid's menu. Your child gets coloring sheets and crayons to keep him busy.
They also have catering service.
Hours:   Monday – Sunday, 1100 – 2200
Phone Numbers:   To contact Chili's or place a To Go order call 959-4454.
Chili's Too
A smaller version (with a more limited menu) is located in the USO near Kadena Gate 2.
Hours: Monday-Thursday, 7 a.m. – 9 p.m, Open 24 hours from Friday, 7 a.m. to Sunday, 9 p.m.
Phone:  For Chili's Too or place a To Go order call 959-6495.
We have never been here but since it's open 24 hours on week ends, we will surely give it a try. You can look up their to-go menu and more information at the following websites!