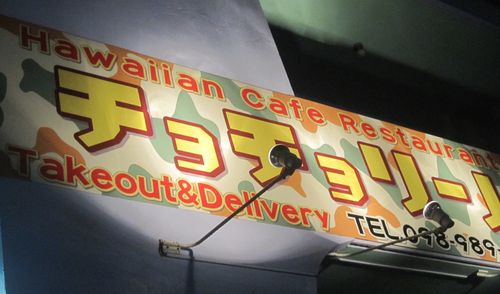 CONTRIBUTED BY MONETTE EAMES
Okay, I'll admit.  We visited this place because I was expecting full on Hawaiian fare. I was expecting plate lunches with a choice of meat, two scoops of rice and mac salad on the side.  I was drooling at the thought of having something barbecued, or maybe lau-lau or kalua pig.  I was a bit disappointed at the small amount of actual Hawaiian things they had here.  They did have the Poke, the Poke Bowl, Mac Salad, Hawaiian Burger, Loco Moco and Hawaiian Fried Rice.  The rest of the menu included non-Hawaiian chicken plates, burgers, and steak plates.
We had the steak plate, the Hawaiian Burger, a regular burger and a bowl of soup.  Everything was great and the prices weren't bad either.  What surprised me was how tiny the kitchen was.  The man who made our dinner worked out of a little kitchen—think smaller than a ½ bathroom (you know, those bathrooms with just a potty and sink).  I was amazed.  Never will I again complain about how small our kitchen is.  The man did wonders in that little kitchen.  That goes to show that you don't need to a huge kitchen to prepare good food.
Seeing the man create his wonders there reminded me of Theodore Roosevelt's quote, "Do what you can, with what you have, where you are."  They definitely practice this here.
Directions: From the Foster Commissary Gate, take a right and take an immediate left.  It's right behind Lawson's.
Telephone:  098-98-5444
Hours: 12:00 PM to 9:00 PM. Closed Mondays.
Payment:  Yen and credit cards
Menu:  Click to enlarge