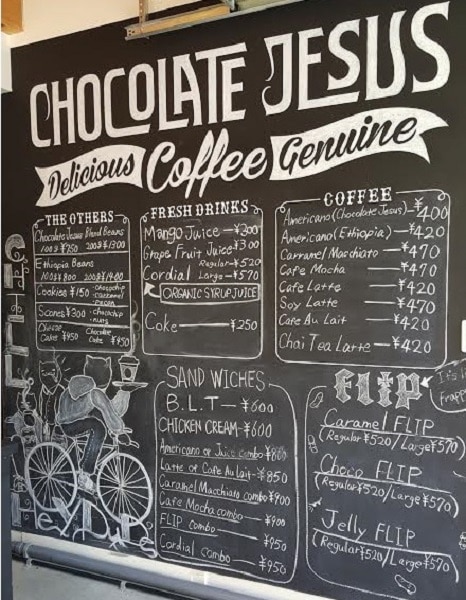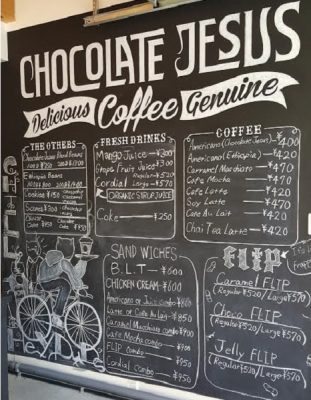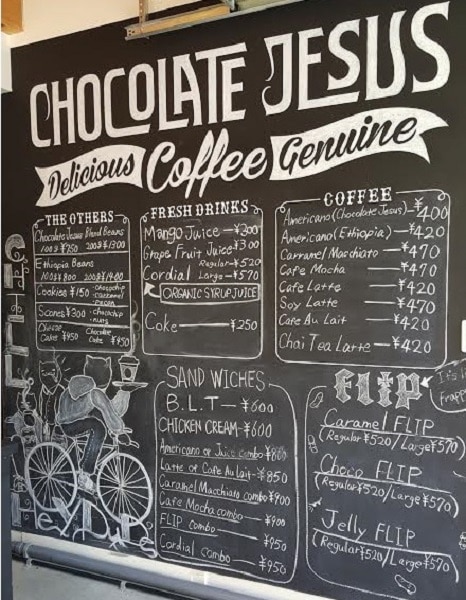 Contributed By: Charity L.
When my husband and I have a morning off together, we like to get out and see what new café we can find that day. Well, today we found this great coffee shop down near the seawall. It's called Chocolate Jesus Coffee. The name alone is intriguing, so we knew we had to check it out.
Decor
When we walked in, the décor instantly spoke to us. It was very chill and low key. There were skateboards hanging on the wall, turned into a bench seat, and used as a gate for behind the counter. There were cat images and stuffed animals giving you the finger as well. Aside from everything you see decorating the walls, a lot of the items are for sale. There are coffee mugs, stickers, and even winter caps, with hilarious, explicit writing on them. It is a really refreshing environment. The vibe really speaks to a youthful crowd, but the menu speaks to all.
Menu
Now, let's get to the menu. You will notice the menu written on the wall to the right. For beverages, you will find hot or iced coffees, flips (which are like Frappuccino's), and fruit juices. For food, they have sandwiches and baked goodies. My husband and I both got coffee, one Iced Americano, and one hot Café Latte. They were both very good and strong.
The guys working there were very friendly. While we were enjoying our coffee, our toddler played catch with a beach ball with one of them. This shop is a must visit.
There is only one parking spot. Be thoughtful and aware of where you are allowed to park if it is busy.
Hours: :10:00-7:00pm everyday/ CLOSED WEDNESDAY
Payment: Yen 
Yomitan-son Nakagami-gun, Okinawa, Japan
Phone Number: 098-955-7998
Directions: From Kadena Gate 1, go left onto 58. Get in the far-right lane and turn right at that first light. Follow that road down till you hit the second stop light. Turn left at the light. Follow that road till it splits, veering to the left. Chocolate Jesus Coffee will be down the road, on the left-hand side.