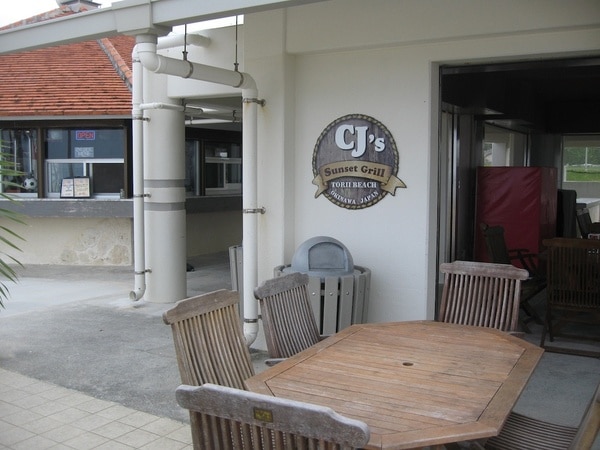 CONTRIBUTED BY MARIE INDYK

CJs Exterior
When we first arrived to the island a few weeks ago, jetlagged and still scoping out our new surroundings, the familiar was a comfort. This was what we found and more at CJ's Sunset Grill at Torii Station.
CJ's food is American style – burgers, hotdogs, pulled pork sandwiches, ribs, fries, pizzas – for those times when you're just not feeling adventurous and crave a taste of home. My favorites are the tender pulled pork sandwich and the soft crust pizza loaded with bubbling sauce and cheese. My kids also love their jumbo sized hotdogs and fries. One hot dog is enough food for two hungry little ones! Customers order at a window and pick up their food when it is ready. Service is quick and friendly and plenty of seating is available either under an adjoining pavilion adorned with tropical ceiling fans or outside on the patio.

CJs Sandwich
Now let's talk about the view. Wow! You can't get any closer to oceanfront dining than at CJ's. The restaurant is situated directly on a gorgeous white sandy beach. Coming from the parched plains of Kansas, I drank in the sky blue sea and salty breeze until my head started to spin. And if gazing at the sea isn't enough enjoyable enough, you will be entertained by the occasional military plane or pair of helicopters flying overhead.

CJs Torii Beach
For those with children, CJ's is my dream play land come true. We are all familiar with grueling, head splitting hours spent in stuffy fast food restaurants trying to wear our kids out. When the waterslide next to the restaurant is open (Fri -Sun 1000-1800), I am able to enjoy a tasty lunch at a table with a clear view of my little ones while they cruise up and down the slide as many times as they please. Two hours later, they are ready for a nap and I am rejuvenated by some much needed quiet time by the sea.

CJs Pizza
Website: www.toriimwr.com/cjs.html
Directions: Head straight through Torii Station's main gate (on Hwy 6 – 2 km west of Hwy 58). Turn left at the t- intersection. Continue to follow the road as it veers to the right towards the beach. Parking lot is through the beach gates. Walk through the playground to reach CJ's.
Phone: 644-4008
Hours: 1100-2000 Mon-Sun
Payment: Dollars preferred, but yen and credit cards are also accepted.
Menu:  Click for larger view

CJs Menu