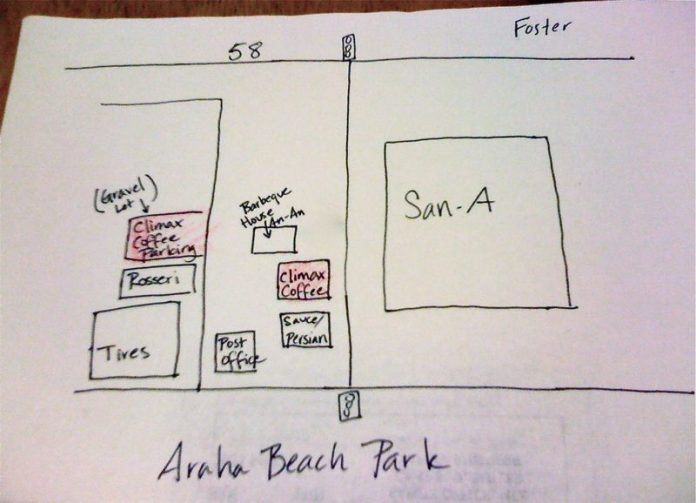 CONTRIBUTED BY JENNIFER SHUE
This is one of my favorite places on Okinawa to go for coffee. They are a little bit cheaper than Starbucks, extremely delicious, have a lunch menu, and free wi-fi. Can't shake a stick at that. Well, you could… but why would you?
I first saw this place just after we moved here, but wasn't sure what their story was. What went on in there? Was it family-friendly or did you have to be like 18 and up to go in? Or was my mind just stuck in the gutter? Turns out the story is that they just make really good coffee drinks. And whatever they do to the whipped cream on the top, it is absolutely sinful.
My favorite are the mochas, which in my mind, are better than the ones at Starbucks (and bit cheaper, too). I don't even like chai all that much, but I like it there. The milk shakes look a-ma-zing. That matcha milk is pretty darn delicious, too. One thing to note though, is that they do not do drip coffee — but trust me, it is no great loss.
After 11:30am they offer a lunch menu (and dinner later on). I've had the burgers and I liked them better than Gordies, though they were a little heavy on the mayo. The taco rice is pretty tasty, too. I keep promising myself that I am going to order the berry pancakes, but I always seem to wind up with something else.
When you order a lunch you can pay 100Y extra to get the "American set" which gives you a choice of 3 sides (5 to chose from, including drink) to go along with your meal. It is a ton of food! Granted, the portions of the side items are small, but if you can eat all of your main item, plus all of your sides, well, more power to you.
---
Climax Coffee
Hours: 8:30AM- Midnight, daily
Payment: dollars and yen
Phone: 098-989-1500
Address: 2 Chome-13-7 Chatan
GPS Coordinates: 26.3024123, 127.75977910000006
Directions: There are several locations, but the one most convenient to most of us is located across the street from the Hamby San-A (the one by Araha Beach Park). They have a reserved parking lot, but in lieu of trying to describe directions, I drew a map. Most often though, I just park at San-A and walk across the street.
Google-translated Menu webpage