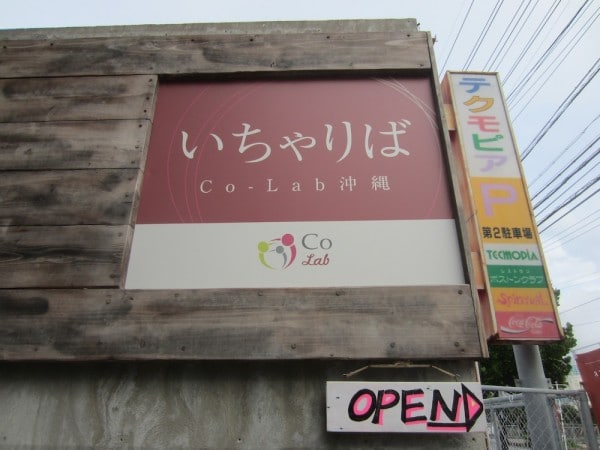 CONTRIBUTED BY MARIE LEWIS
Editor's Note: Marie enjoyed a complimentary meal at Co-Lab, but the opinions below are all hers.
I'm the kind of wife who tries to cook healthy–albeit bland–meals (read: grilled chicken or fish with veggies) on a regular basis. When I presented my husband with the option of going out for ribs, well, you know where this is going.
We followed a friend to Co-Lab and realized we must have passed this place a dozen times and never noticed it. A boxy gray cement building can be easy to miss on this island, and I'm always excited when I discover something new hidden in plain sight. There were only a few parking spaces out front but we were lucky enough to nab one.
We followed a narrow walkway along the side of the building to the restaurant entrance, which can't be seen from the road. Inside there is a large bar area, additional seating along the front window, and a large table to accommodate bigger parties. I found the atomphere to be urban-casual, well-suited for a get-together with friends or a date night.
Since we weren't sure what to order, we agreed to go with the chef's recommendations. Our appetizer was called bagna cauda (480 yen), which consisted of a small portion of chopped fresh veggies and a tangy dipping sauce. It tasted similar to Ranch dressing, but with a tangy twist.
Next up were the baby back ribs (1480 yen), served with a side of onion rings, potato salad, and small salad topped with corn and dressing (something similar to a thousand island flavor.) I'm not normally a big rib-eater, but I had to stop myself from devouring this entire plate (I had to share with a Marine, after all). The meat was fall-off-the-bone tender. The seasoning and sauce were slightly sweet and not at all spicy. (I'm not into super spicy food.)
I let my husband eat most of the onion rings, but if you're not on a diet, they're awesome. I have a slight aversion to fried foods, but these were not nearly as greasy as other places I've been (i.e. Outback, Applebee's, etc. in the states.) The potato salad was creamy and a little on the sweet side but also very good in my opinion. The dressing gave the salad some needed flavor, but it obviously was not the main attraction.
Then we shared Co-Lab's signature dish, the avocado cheese hamburger steak (1100 yen). It is essentially a hamburger topped with cheese and avocado.
As you can see from the photo, it's drenched in a sauce with melted cheese and a pretty generous slice of avocado. The meat was soft and chewy; no need for a knife to cut this. I would describe the sauce as something in between A1 sauce and honey BBQ – not anywhere near as salty as A1 (and I don't really like A1), but not as rich as honey BBQ sauce. I loved it. The cheese had melted fully into the meat, and I enjoy avocado on just about everything. This was my favorite indulgence of the meal. (It also came with a side of potato salad and light greens with dressing.)
I had a beer (Orion) with the meal, but they also have a bar offering liquor by the glass or bottle.
The owner, Shusaku Hayakawa, served us personally and joked around with us throughout the meal. He is an entrepreneur from mainland Japan, and he speaks English. He was warm and welcoming from the moment we stepped inside, and he had us laughing out loud for much of the afternoon.
Menus are available in both English and Japanese. Prices range from 280-580 yen for appetizers, and 900-1480 yen for entrees.
This makes our list of places we'd like to re-visit. I think it'd be a great place to bring a group of friends, but as there is only one large table we would definitely reserve it in advance.
Hours: 11:00 a.m. – 11:00 p.m. Daily
Phone: 098-923-2165 (Reservations recommended for large groups)
Payment: Yen
Directions: From Camp Lester's main gate, turn right on 58. Turn left at the second light (you will pass Ringer Hut on your left and McDonald's on your right). After you turn left at that second light, take your second right (you will see a Family Mart on your left at this intersection.) Co-Lab is less than two blocks down on your right.  There are only a few parking spaces out front so you may have to park nearby and walk a block or so.
Address: Chatan-cho3-3-3 Mihama
GPS: 26.3215829, 127.75711750000005