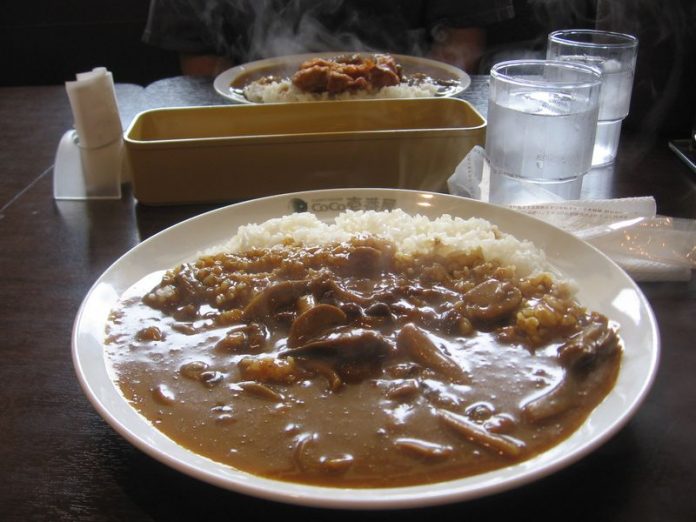 CONTRIBUTED BY SARAH FORTE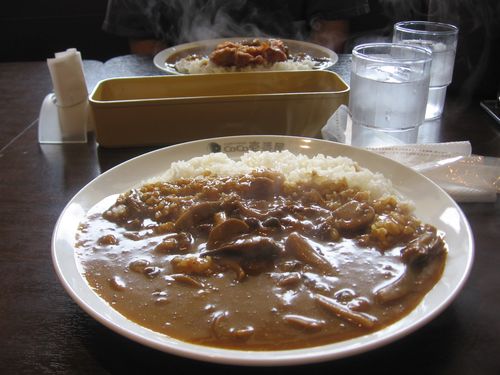 Once upon a time (about 2 ½ years ago), in a faraway land (Nebraska), a young man and a woman were on their second date. The man told of a land called Okinawa and a certain restaurant on his beloved island called Coco Ichibanya. His eyes shone with love. This love wasn't for his date (yet), but for a place that had won him over on a TDY years before. Ahhh…
Fast forward. You know how things go in the military: fast and in ironic circles. In less than two years the couple were married and headed to Okinawa. And to Coco's.
Yep, you guessed it, that woman is me. I don't know if this holds true in all circles, but in our part of the military, Okinawa is synonymous with Coco's. (No, not the nail place or the convenience store – the curry place!) If you were going to Oki, you'd better be taking orders for what kind of Coco's to bring back. Grown men go misty-eyed just thinking about it. When it was announced that our next station was on The Rock we heard wistful sighs of, "Ah Coco's."
My husband explained, "We will go. You will think it is fine or even good, but not think it has lived up to the hype. Then about 24 hours later you will wake up thinking about it. You will need Coco's." Apparently I would have to experience this myself.
And soon after we got here, my husband called me in our billeting room – he had secured transportation to Coco's! His excitement was contagious. And though our life still had that dream-like mixed with jet-lagged feeling of "Whoa, this is where I live," I can agree with those who say you never forget your first Coco's trip. Here is my experience:
We walked in to a chorus of "Irasshaimase" (which means "Welcome" or "Come in!") and were shown to our table. We were given a pitcher of ice water and menus. There were many menus, but one was translated into multiple languages (www.ichibanya.co.jp/english/info/multilingual.html). To order, we pressed the button on the table. (Since then we have pressed many buttons on many restaurant tables, but this was new to me.) The waitress rushed over I ordered the stewed chicken curry, level three. My husband had his old favorite, cuttle fish, regular spice. We also ordered a salad and some naan bread. As the food arrived I videoed my husband and his reunion with his long lost love!
As happy as I was for him, the prediction was true. I thought the food was fine, even good, but I didn't quite "get it" yet. But now a little time has passed and I too have fallen in love with Okinawa and also with Coco's. We have been back and enjoyed different kinds, different spice levels, entered contests, and even bought Coco's spoons of our own. I hate thinking about leaving this place, but you can be sure that at least one household goods crate will be filled with Coco's.
Here is a little more information: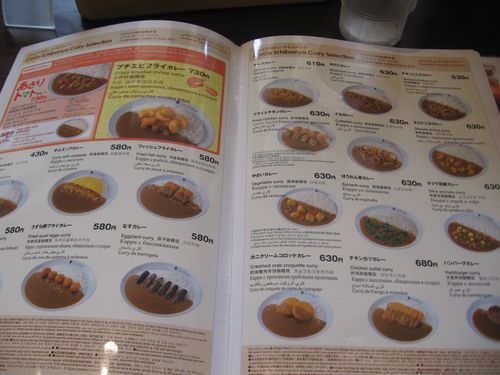 The main item on the menu is curry, but there are almost limitless ways to have your curry. You can choose the curry sauce (that is to say the main ingredient of the curry sauce), and the spice level. The curry sauce is available in just about any meat, vegetable, or combination you can imagine and some I certainly hadn't thought of (quail egg!). The spice starts at regular, then goes to a numbered system 1-10. You can also have a variety of add-ins. Each plate comes steaming hot with a half plate of rice and half a plate of curry. There are curry meals available for children also. They come with cute potato patties shaped like smiley faces.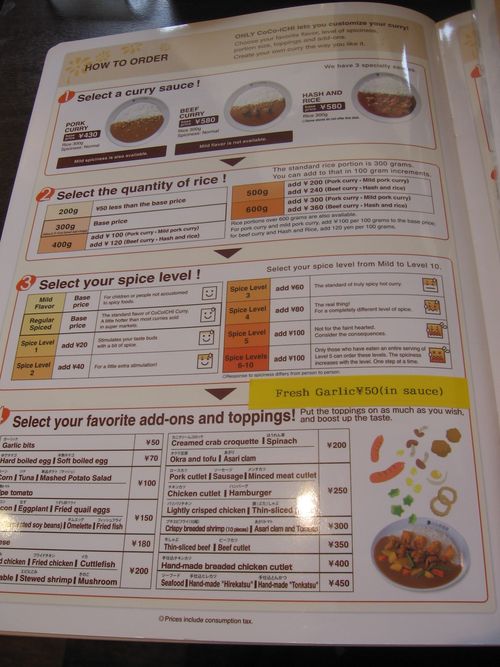 Besides curry there are side dish options. Their salads are great and they offer a good variety. The best part of the salad, in my opinion, is that it comes with a merry-go-round of dressing. Coco's sesame dressing is one of the best and tastes wonderful on rice too. They have a few varieties of nan bread, as well as an extensive drink menu. There are a few other interesting things on the menu such as a potato hurricane, but we haven't tried that yet!
Near the checkout at the Coco's we've been to is a small chest freezer with various types of ice cream treats. They also have boxes of curry to take home or share with your friends and family.
According to the Coco's website (www.ichibanya.co.jp/english) there are over 1,200 Coco's restaurants. Most of them are in Japan, but there are some locations in Hawaii, China and a few other places. Approximately 5 of these are located on Okinawa. Here are directions to get to the three located near Kadena/Lester/Foster:
#1: Turn east off of 58 onto 23. Coco's will be on the south side of 23, but you will have to make a U turn to get there. If you get to the express way entrance, you've gone too far.
#2: Located on 58, north of Kadena's gate 1. It is on the west side of the road. Kadena actually has a gate 4 that is very close to this Coco's, but alas, this gate is never open.
#3: Located on 58, just north of Foster's commissary #5 gate. It is on the west side of the road.
Hours:  Coco's are open from 10:00 a.m. until 3:00 a.m.
Payment: All Coco's Curry shops on Okinawa take Yen. Individual locations may also accept American dollars and/or credit cards, but unless you're sure this is the case, better bring local currency with you just in case.