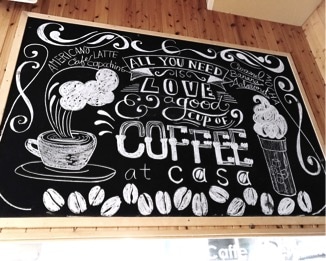 Editor's Note: Coffee Casa was originally reviewed on Okinawa Hai on April 16, 2008; you can read a PDF copy of that original review HERE. The post below is an updated take on this attraction, published December 14, 2016.
CONTRIBUTED BY ANDREA GRACE WOOD
This is my friend and me after having coffee and brunch outside of Coffee Casa.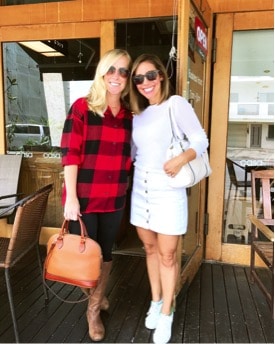 If you don't live by Kadena Air Base you may not know about Coffee Casa, but if you do live in Sunabe you may have heard of it. It's the cutest little coffee shop where you can get freshly brewed coffee, homemade bakery treats, and pasta or sandwiches for lunch. In the morning you can choose from bread plates.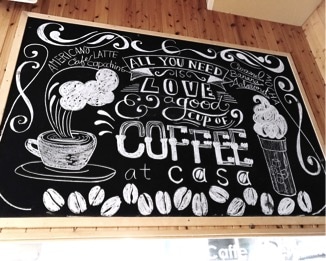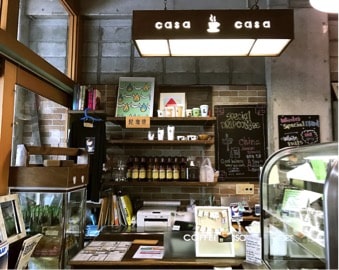 There are different types of bread options such as french toast, cheesy toast, or the homemade bread baked fresh, and it's served with scrambled eggs and your choice of bacon or sausage. I have yet to eat there for lunch, but the menu option of sandwiches and varieties of pasta especially fettuccine will have me coming back for more. For my first time, however, I ordered the lite breakfast plate which is eggs, sausage or bacon and your choice of smaller scale bread. I chose the lemon coconut and it did not disappoint!
They have hot or cold coffee, lattes, espressos, etc. My favorite part is, of course, the pretty designs on the lattes!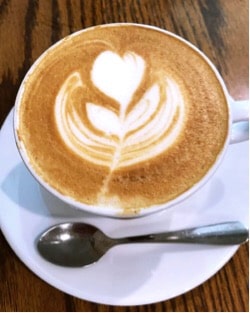 My little girl loved the "movie theater" seats while she waited for her cinnamon walnut bread. I had a taste and it was to die for! Also, there's a toy area for the kids to choose something to play with and bring it back to their table. Perfect when you want to chat with your friend and your children have something new to entertain them with! It doesn't matter what you bring it's just something new they want, right?!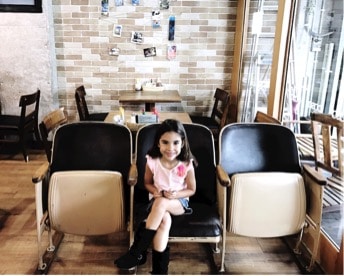 The decor is very retro and hip. Perfect little place to meet for coffee, small lunch, or sit out on the deck and get some work done.
---
Coffee Casa
Payment: US$ or yen (no credit cards)
Hours: 7am-5pm
Phone: 098-936-8141
Website: https://www.coffeecasa-okinawa.com
Facebook: https://m.facebook.com/CoffeeCasaOkinawa/
Address: 3-51 Miyagi, Chatan
Google Map
GPS Coordinates: 26.3308512, 127.74451769999996
Directions:
From Hwy. 58, turn onto the street with Lawson's and US Auto Sales Car Lot on the corner.  Go down this street past 2 stoplights.  At the 3rd stoplight (the last one before you hit the seawall), turn RIGHT.  Go down for about 2 blocks.  The street will begin to widen.  Coffee Casa will be on your left-hand side of the street.  The small bldg. will have a front wooden porch with a green awning and is next to Kebab House restaurant.
parking: Parking can be a bit of a situation. You have to find street parking that isn't blocking a driveway or entrance to a house. I was able to find a spot down the road from the shop, so keep that in mind when meeting a friend or eating with little ones!