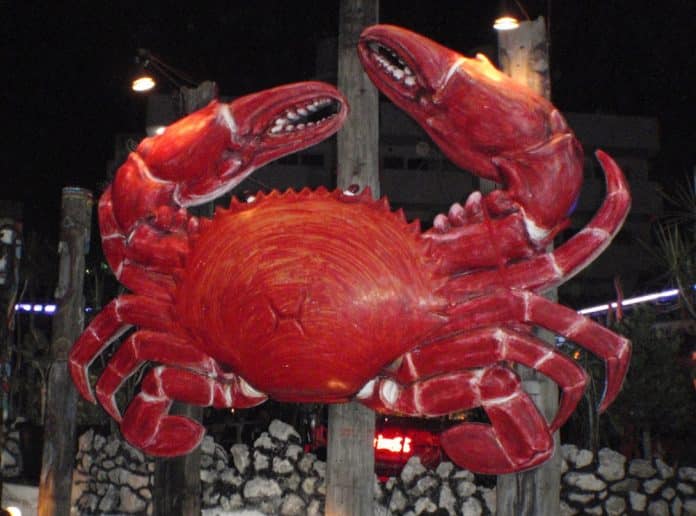 Editor's note:  We have been informed that this restaurant was closed for six months, but as of March 2015 the bar section has reopened, with the full restaurant planning to open again in summer 2015.
CONTRIBUTED BY JESSICA RODRIGUEZ

Crocs Crab
A delicious restaurant in American Village, Crocodile's is easily one of the best places that I have eaten on while on Okinawa. Its atmosphere is fun, cool, and romantic for those who are looking for it. Their menu (surf and turf) offers delicious choices such as fried crocodile, fresh salmon carpaccio (940¥), tuna carpaccio (800¥), steaks (ribeye 1950¥), filet mignon (2400¥)) and chicken, crab legs, lobster, desserts and even hot wings!

Crocs Meal
They also have a wonderful drink menu or Shirley temples, mai tais, and beer. Most of the meals come with mashed potatoes, steamed veggies and either rice or bread.

Crocs Outside
For seating, there is an indoor are that is quiet and private and has a waterfall wall to set a nice tone to the evening, or there is an outside area which includes a bar or tables around the bar.

Crocs Bar
On Friday and Saturday nights they have a live fire show (which I was lucky enough to catch!).  They also have a live crocodile outside (hence the name).

Crocs Fire
It's a little pricey, but the food is worth it. Not more expensive than any of the Sam's places that we have been. For my husband and me, the bill came to about 7000¥. I ordered Chicken Cordon bleu (1700¥), He ordered Fried chicken (1400¥) and we got an order of the fried crocodile (840¥) for an appetizer, along with 2 Shirley temples and two cokes.
All in all, this place is wonderful! We were super impressed with the service, food, and atmosphere.  ENJOY!

Crocs Front
Payment: Credit Cards, Yen, and Dollar
Website:  http://crocodile-okinawa.com/
Hours:
Sun- Thursday 5pm-1am
Fridays and Saturday 5pm-3am
Closed on Tuesdays
Phone: 098-936-9306
Directions: Go to American Village. If you are in the parking lot across from the Ferris wheel, face towards 58 and you will see the huge red crab.
**I would definitely call for a reservation if you have a large group or want to sit inside. They will sit you in the outside area without one.