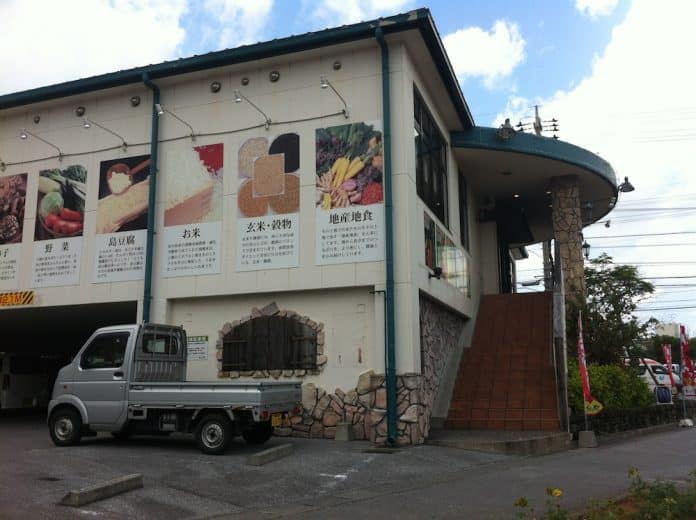 CONTRIBUTED BY LEAH MAGID

Daikon Food
When we first came to Okinawa just over a year ago, we were pretty trepidetious about trying new foods. Partially impeded by the profound language barrier and partially worried about the fact that we didn't know what was actually in some dishes, we tried our best but didn't get terribly far.
One of our strategies in finding new restaurants became to identify a destination where we knew what we were getting (Primo Kitchen to the North, King Taco to the South for instance) and then look for other options along the way. If we felt enticed, or brave enough, we might experience a new restaurant that day. If nothing caught our eye or if we were not feeling adventurous, we knew we would end up somewhere familiar that had food we enjoyed. Win-win, as it were.
On one of our many, many trips from Kombu (north of Courtney) down 75 towards "Town" (Foster), I finally turned the car into a parking lot that I had been eyeing for a while. My reasoning that it had huge, colorful pictures of food on it was well-accepted by my family and we parked. We went up the stairs and found ourselves in the welcoming ante room of Daikon No Hana (the Radish Flower). We were completely delighted to see that the food all had signs on it with little pictures indicating whether the plates included pork, chicken, fish, dairy, etc., and that each sign had English. Even more exciting was the fact that the sprawling buffets had so many choices.
Japanese people are taught to try to eat about 30 different foods a day for balance and health. At Daikon No Hana, this is absolutely possible. Each diner is given a large wooden dish. Some people load their food directly onto the dish, but almost everyone that I have seen uses the small, colorful dishes provided on the food line. This makes it easy to try new foods in small portions; there is no limit as to how many foods a person can try, or how many times they can return to the buffet.
We encountered several kinds of rice, soup and tea. There was sushi, tempura and tofu. There were Okinawan stewed pork and American-style roast beef, four kinds of salads and three gratins. There were fried chicken nuggets, tiny fried fish, fruit dishes and bright vegetables with light seasoning. Tea (hot or cold), several juice and water are all included in the price, but beer is available as well. The desserts ranged from fruit jelly to ice cream to a chocolate fountain, and there were several other selections as well The selection is different every time because the restaurant uses only organic ingredients, local whenever possible. So it's like eating in a new restaurant every time you go.
Also noteworthy – while this is not a vegetarian restaurant, there are quite a few vegetarian selections, and quite a few vegan selections as well. But just because something has tofu, doesn't mean it is devoid of pork, too. Just pay careful attention to the signs and you'll be fine if you are concerned with what you might eat.
There are three locations, two meal services and several prices. (I have only been to the location on 75, so I do not know if the others have English signs on the food).

Daikon Exterior
Hours & Price: Lunch runs from 11:30-1600 (last order at 14:30).  Adults: Y1450/Kids Y750/Under 4 yrs Y450/Over 65 Y1350. (No alcohol served at lunch).  Dinner starts 17:30-22:30 (last order at 21:00). Adults: Y1750/Kids Y950/Under 4 yrs Y500/Over 65 Y1500.
Phone:  098-929-3133
Payment:  Yen, Visa, JCB, Edy
Directions:  Just north of where 330 turns into 75 (before 85 if coming from Kadena/Foster; after 85 if coming from McT/Courtney), the Daikon no Hana is on the East side of the road, same side of 75 as an A&W. It has a stone facade on the street level and pictures of food on the upper level. Parking is underneath and behind.
The Naha location is between the Naha International Airport and the Japanese base towards Itoman.
Website:  http://okinawa-restaurant-daikon.blogspot.com/
*Map Pin below is for location on 75.  Other locations can be found on their website HERE.