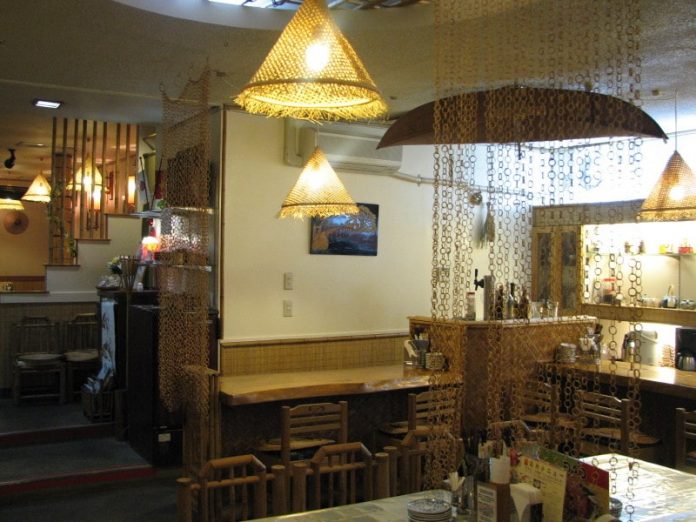 CONTRIBUTED BY KAHO

I got into Vietnamese food when I lived in Arlington, Virginia.  There are so many GREAT Vietnamese restaurants there.  My husband and I used to go to "Pho 75" near Roslyn Station.  Their Vietnamese pho noodle soup dish is what my husband would call "da bomb".  Yum.
I had lunch at this Vietnamese restaurant "DAO" with my friends last week.  It's one of my favorite restaurants in Okinawa and I like to go there for lunch when I'm in Naha.
I had the today's special lunch, which you see on the picture above.  It was with beef stew.  The set came with a spring roll, main dish, a small Vietnamese dessert and a cup of coffee or tee and cost 650 yen.  Great deal.  They also have regular dishes such as Pho, which is about 500 yen and if you want to make it a set, you pay a little more like 350 yen for a spring roll and drink or dessert.  I'm sorry that I don't remember the price so clearly.  Please don't quote me on this!  They also have Vietnamese curry on their regular menu and I had their Chicken and Lemongrass with Rice before as a lunch special.  That was really really good.
Photo of a menu taken by Aviva.
Closed: 4th Monday of each month
Hours: 11:00 – 23:00 Phone: 098-867-3751
Directions
If you drive to Kokusai Street, park somewhere near Mitsukoshi Department Store.  Look for Starbucks Coffee on Kokusai Street.  If you stand with Starbucks on your back, across the street from it is Shijo Hon Dori.  This street is next to OPA.   Walk down about 50 meters on Shijo Hondori.  DAO will be on your right.  Look for this sign below.

Sata Andagi
After you have lunch, how about some, Sata Andagi, Okinawan doughnuts?
I was told that this is one of the best places for sata andagi in Okinawa.  In fact, I remember seeing this place on a Japanese TV program.  This store tucked in on a very narrow alley.  As you walk in, you'll see two sata andagi stores right next to each other.  I bought two doughnuts from the one on the right.  There were two different sizes.  Small one was as big as my 3-year-old daughter's fist and and the big one was as big as my fist.  Huge!  I got two small ones and each was 50 yen.  The huge one is 150 yen each.  They had three different kinds: regular, kokuto (Okinawan brown sugar), and sesami.  You can tell which ones are which from their colors.  I shared the two with my daughter and we ate them as we walked around.  Soooo good!!!  They hit the spot.
Address: 2 Chome-8-28 Matsuo, Naha
Google Maps Coordinates: 26.2155789, 127.6880698
Directions: Walk further down the Shijo Hon Dori.  Look out for this sign, which says "Shijo Chuo Dori".  (Left picture below)  It's right around the corner of the "Kosetsu Market". You should find it easily, but if you can't find it, just ask "Shijo Chuo Dori wa doko desuka?"  Remember "doko (where)" lesson?  Take a right at under the sign.  Walk about 50 meters and look for a blue house with this sign on your left.  (Right picture below)