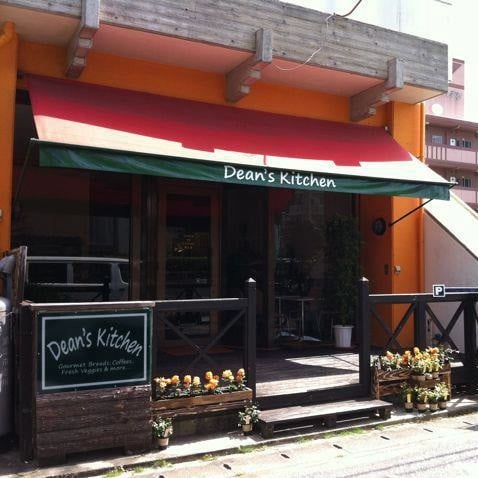 Editor's Note: We have been informed that this restaurant has moved from the location listed in this post to the Camp Foster Hospital. In its old location is E & C Turkish Kababs. We would love an updated post if anyone wants to write one for us!
CONTRIBUTED BY MICHAEL MINGIN
There are many healthy alternatives when searching for a place to eat in Okinawa. Dean's Kitchen shows that it is right there running with the pack in competition for healthy eating and lifestyle without sacrificing excellent taste. Starting as a Swiss gourmet bakery with organic coffee Dean's Kitchen proves that it has a lot more to offer. Hidden inside is a surprise of everything from fresh vegetables for sale, freshly baked breads, sugar icing cookies and more.
My first visit to Dean's Kitchen was sensory overload. The immediate smell of fresh baked breads and the intoxicating aroma of fresh organic coffee welcome you as you open the door. At first sight your eyes are working overtime to take in the sight of the many beautiful colors of fresh vegetables greeting you as you walk into the store. You can hear the blenders spinning up some delicious smoothies and Frappes.
Tucked away just a couple roads adjacent to the San A across from Camp Foster is this hidden gem packed with amazing combinations of healthy alternatives that are good for you and make you feel better overall. They serve Breakfast and Lunch with pita and croissant sandwiches, fresh veggies and fruits. You can't go wrong!
Their menu is in both English and Japanese and provides a bountiful selection of healthy combinations to satisfy your appetite for better living. The owner speaks English and is very friendly and helpful with making a selection. After a few visits now I think between my family and I, we have enjoyed just about everything Dean's Kitchen has to offer and have not been anything short of completely satisfied each time. My wife grabs a few vegetables and the kids get cookies on the way out. It is just a really great experience every time.
Hours: 6:30 AM to 7 PM daily.
Facebook: www.facebook.com/deanskitchenoki
Phone: 098-936-639
Directions: TSince the initial writing of this post, Dean's Kitchen has relocated to the Naval Hospital on Camp Foster