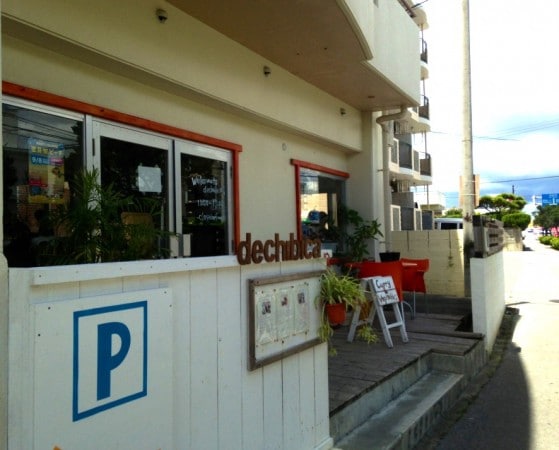 CONTRIBUTED BY HANNAH WILKES
I am very excited that within a month of our arrival, I have already found a favorite restaurant! Everything I could have asked for in a restaurant, Dechibica provides. As a vegetarian, dining out can be really difficult and I've been feeling like I miss out on some of the local flavor. However,  neither of those problems apply here! Everything is fresh and flavorful and, while they provide many vegan options, there are also chicken dishes to keep omnivores (such as the rest of my family) happy.
Getting there is mercifully easy. If you know how to get to Torii station, there should be no problem whatsoever. It has an unassuming front, with a small patio and orange trim around the windows. There are hand-painted signs, one that has the restaurant name "Dechibica" and another with "Vegetables and Curry" (of which you'll find an abundance)! They have a small designated parking area behind the restaurant, at the end of a dirt drive, marked with more hand-painted signs.
Entering the restaurant, the atmosphere is welcoming and pleasantly bright. They have wooden floors and white-washed walls, with a profusion of indoor plants. There are also books and magazines set out, which added to the atmosphere. Kids will also feel very welcomed. They have a small bookcase filled with picture books and a small selection of toys. My son was pretty pleased with that. Since he can't read yet, he didn't even mind that the books were in Japanese. The first time we went, we believed they didn't have highchairs. However, they do have booster seats that anchor onto a seat and have straps to secure the baby. Our second meal was a little more peaceful with the baby in his own chair.
The prices are reasonable. For 400 yen, my oldest child could enjoy a curry. They even shape the curry into a little star that sits atop a bed of rice.
The curry is sort of pureed, without large individual vegetables or meat poking out. This is perfect. This restaurant serves the only curry my son has ever completely devoured! For the adults, a lunch set will run about 1,000 yen. A couple of items are slightly more or less. The set includes the main dish, a scoop of rice, and a wonderful assortment of small salads, pickles, and fritters, as well as a dessert. There is an English menu and our server spoke a little bit as well, in addition to being very nice.
The first meal I had was the Singapore tofu. It's crispy deep-fried deliciousness served with a spicy peanut sauce and a sweet and sour sauce. I tried to eat it as slowly as possible, just to taste it a little longer. The second meal was the spicy vegetable curry. It wasn't my all-time favorite, but I very much appreciated that it did have a real kick to it. Both came with the tray of rice and vegetable selection, beautifully presented. Some items look unusual, but whatever hesitation I had would vanish with the first taste. I've now had bitter melon several ways! And to think, just weeks ago, I had never even tried it. Other vegetables I tried on their platters were okra, eggplant, daikon, curried sweet potato, carrot salad, and so on.
My husband's meal was presented in the same way. He tried the chicken curry, which he liked. He also tried the avocado curry (a vegan selection), which I can also say was very tasty.
For the set dessert, they give you two options (which vary by visit). We eschewed tea cookies and tofu chocolate cake respectively, and got the guava lassi both times. It is so good! Their board says all but two of their desserts are vegan – the vanilla ice cream and the cheesecake. I think the lassi is made with soy yogurt. For 100 yen (I think), you can add either chicory coffee or an herbal tea to your set. Considering drink prices around here, it is a good deal. I got the chicory coffee once, with Okinawan brown sugar and soy milk. It was pretty good. But not coffee!
Overall, I highly recommend this restaurant. No matter where you fall on the vegan to carnivore spectrum, you will be able to leave well fed!
Directions: Go north on 58 from Kadena gate one and turn where you would go to get to Torii. It will be well before the 6 and just before a big Max Valu shopping center and a Starbucks. It's on the left. (Check out the pin below!)
Address: Japan, Okinawa Prefecture, Nakagami District, Yomitan, Furugen, 648
Hours: 11:00 a.m.- 5:00 p.m. (Last order at 4:00 p.m.), closed Sundays
Phone: 098-957-0111
Payment: Yen & US dollars
Website: Dechibica