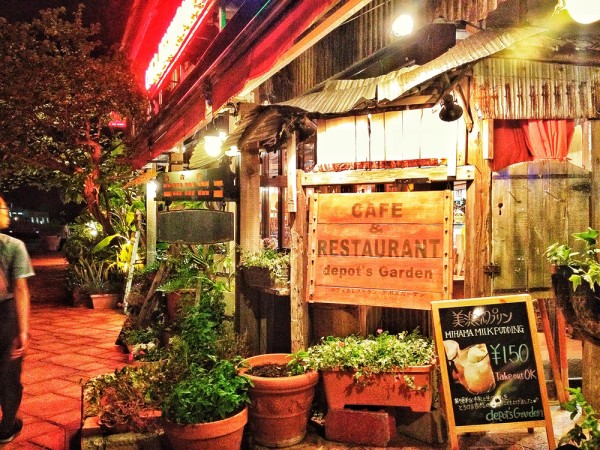 CONTRIBUTED BY SHELL BURGER
While wandering around American Village with some friends, we happened upon a very interesting and eclectic restaurant. At first glance the hidden jewel just appears to be a café for pastries and drinks, but looking through their menu, which can be found just outside the door, they have a wide variety of meal options.
Since we are always game for a place to discuss our latest book club read, we decided to give the Depot's Garden Café a try, and we were not disappointed. The hostess directed us to a nice booth were we began to peruse the menu.
The food options provide a nice variety from pasta, fish, curry, yakiniku, pizza, hamburger steak, salads, soups, specialty drinks, and decadent desserts. Once we all decided what to order we pushed the call button on the table to let our waitress know we were ready.
Our meal choices were all varied, but everything we had was delicious. For myself I ordered a small caesar salad and fried avocado and parmesan cheese.
My salad was good, but the best part was the fried avocado. I love avocado normally, but this dish was amazing; it had just enough avocado creaminess and citrus punch.
One of my friends ordered rosemary tea, which was loose petals and small rosebuds; she said it was fragrant and delicious.
As for their meal options, one ordered the pizza (which was akin to a cheese pizza) …
… and the other ordered a Short-rib Yakiniku over Rice. Both ladies said their food was delicious and cleaned their plates. If that doesn't say how good their food was, I don't know what would.
The dessert options at the Café were even better than the appetizers and main courses.
I had opted not to order dessert, but my friends both did and after tasting them, they insisted that I try some. I am glad I did. It was the perfect ending to a wonderful meal. One friend ordered the brown sugar cookie that was filled with a brown sugar cream; it was so light and airy it had my friend licking her fingers.
My other friend ordered the pumpkin pudding, which was the perfect combination of pumpkin, sugar, caramel, and spices. The taste had us feeling we like we were at a fall harvest festival.
The Depot's Garden Café offers a lunch, teatime, dinner, and party menus. You can also carry out the desserts they have to enjoy them at home.  We did see highchairs up against the wall so the place appears to be kid-friendly. If you are looking for a place to meet with friends, have a nice family meal, or just relax and enjoy a cup of tea and desert, then you should try Depot's Garden Café & Restaurant.
Hours: 11:30 a.m. – 11:00 p.m.
Phone: 098-982-7790
Payment: credit card and yen
Direction: From Kadena gate 1, turn left out the gate. After you pass route 23, you will take a right at the 3rd intersection. You will know it is correct if you see a large Ferris wheel on your right hand side. The café is located across from the Ferris wheel building next to Makeman; it is located beyond Village House along the walkway near the bridges. There is tons of parking all over American Village.
Website: Depot's Garden Café & Restaurant