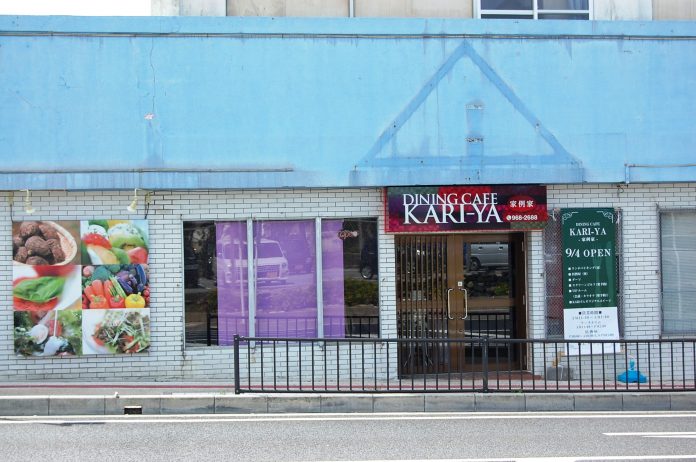 CONTRIBUTED BY ANTHONY CAMINA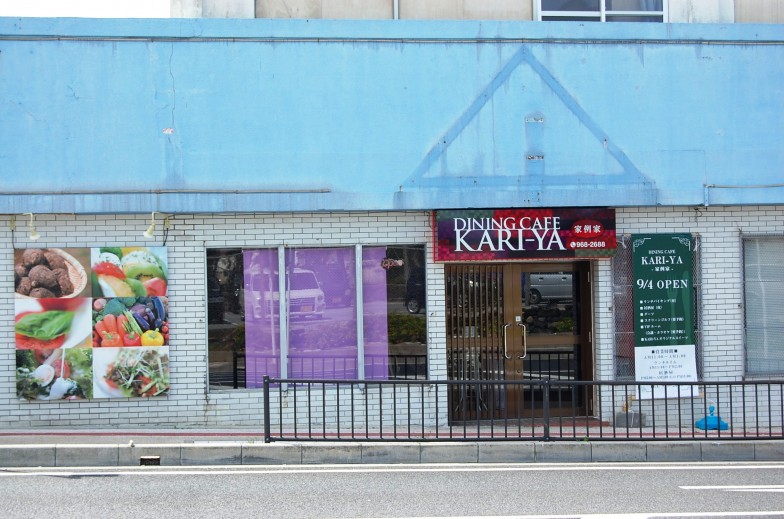 The atmosphere surrounding Kin Town outside of Camp Hansen has experienced a much-needed rebirth from a wild, single service member party town to a laid back area that now has something to offer to people of all ages and nationalities. One welcome addition to the Kin community, which has aided this transformation, is the elegant and delicious Dining Café KARI-YA. Conveniently located directly in front of the public parking lot adjacent to Camp Hansen Gate 1, this establishment's colorful and inviting décor are hard to miss.
The large interior of the café is arranged in a such a way that virtually every table provides a unique and interesting perspective of the cafe. Seating varies from traditional tatami-style tables to partitioned off dining nooks which provide a good deal of privacy amongst guests.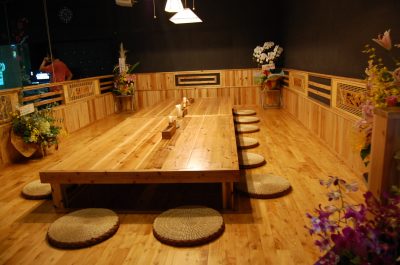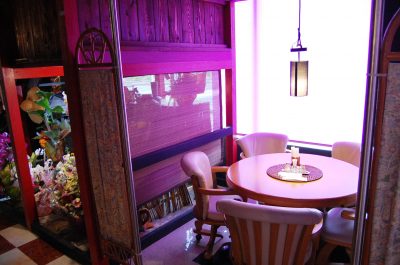 There is even a large sound-proofed dining room that can be reserved for large parties of up to twenty people. This particular space would be ideal for a unit hail and farewell or family birthday party. The large private room is even equipped with a karaoke machine, which can be rented for a modest fee of 2000 yen.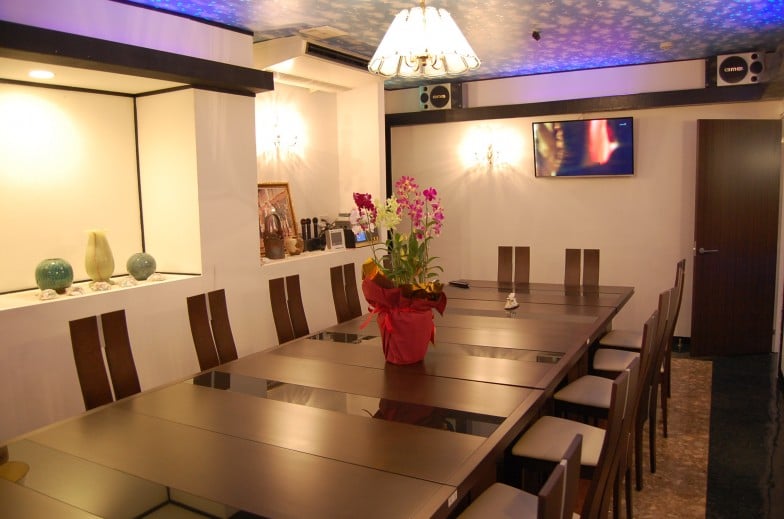 Dining Café KARI-YA offers entertainment activities that can be done for a small fee, such as darts and a very impressive Golf simulator. The Golf simulator is 6000 yen for one person per hour, or 3000 yen per person for two people per hour, or 2000 yen per person for groups of three or more per hour during the week. Weekends and holidays are slightly more expensive but ladies receive a 500 yen discount at all times.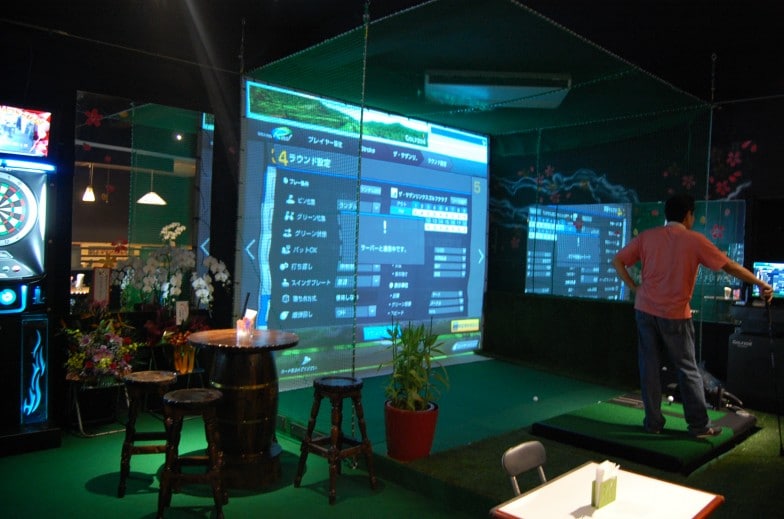 The menu items at KARI-YA are expansive, meticulously prepared and vary depending on if you arrive for dinner or lunch. At dinner time, the menu features both Japanese and Western-friendly dishes such as sushi, sashimi, pizzas, pastas, or steak to name a few. The prices also struck me as extremely reasonable, as the steak set was only about 900 yen and most other dishes were priced in the 700 yen range. My wife and I ordered the margarita pizza, stuffed fried cheese potatoes, and the maguro avocado gyoshifu salad.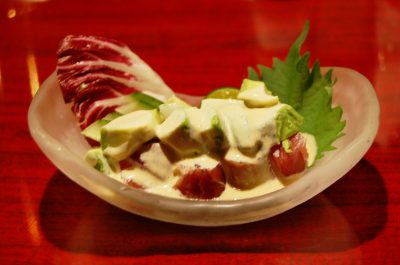 Everything was tasty and well prepared but the dish that exceptionally stood out was the marguro avocado gyoshifu salad; served with a creamy wasabi sauce drizzled on top. It was crazy good and goes on my top ten most awesome things I have had on this island list. I actually think I want to be buried with a plate of it when I die. Of note, there are two avocado marguro dishes. The one I rave about is specifically the gyoshifu dish.
Moving on, I ordered a glass of iced coffee and my wife ordered the iced tea. The tea was smooth but the coffee was that powerful concentrated variety which makes an expresso seem like chocolate milk. My wife, being the iron-clad coffee drinker in the family, thought it was just perfect; we eventually switched drinks.
I enjoyed the meal so much that my spouse and I decided to go the next day and try the lunch menu. Lunch comes with an entrée and the option of ordering the meal as a "set," which means unlimited trips to the soup, salad, drink, and dessert bar. This is what the Japanese refer to as "Viking style."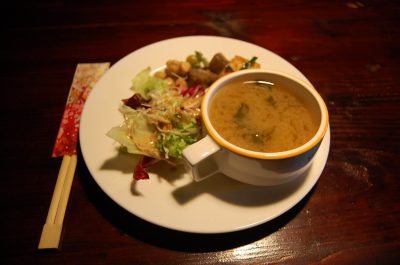 I ordered the Tandoori chicken and my wife had the agu pork plate; both meals were also ordered upgraded to sets. The total for each meal as a set was around 1400 yen which is very reasonable considering the portions and quality of the food. The tandori chicken was juicy on the inside and crispy spicy on the outside, which was perfect. The agu was tender and delicious.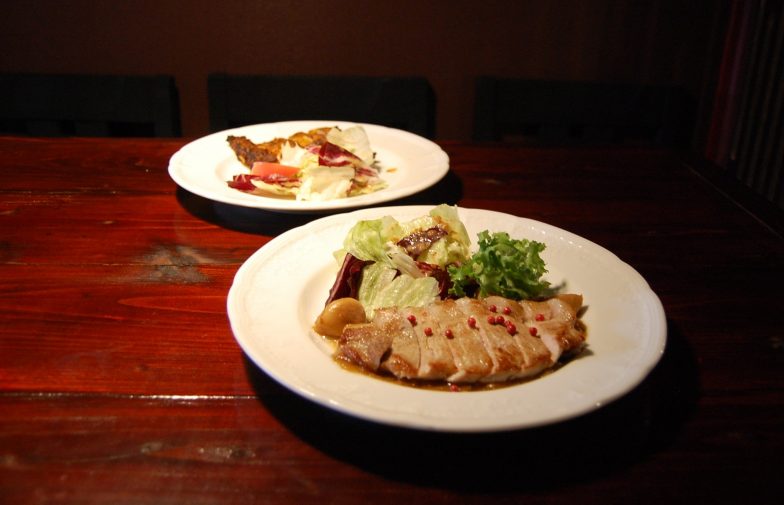 Dessert was particularly tasty, as specialty ice cream and gelato made in Motobu is delivered and available to customers. The specialty gelato comes in traditionally familiar flavors such as vanilla and chocolate but also delves into the exotic palate with choices such as sugarcane, mango, macha, and awamori raisin.
The owners, managers and proprietors of Café KARI-YA are Kosei Uehara-san and his wife Kieko Uehara-san. After years in the construction and architecture business, the couple desired to bring quality cuisine to the multicultural community of Kin and provide customers a jovial fun place to spend their valuable time. The owners and staff are extremely friendly, with about half the workers speaking conversational English.
KARI-YA opened September 4, 2014 and is still expanding services and tweaking offerings. By the time this article posts there will be an English menu with plenty of pictures. Free WiFi will be installed in October 2014 as well as the ability to pay with a credit card. The night I had dinner I paid in yen and the next day for lunch I paid in dollars to make sure I was not giving bum scoop.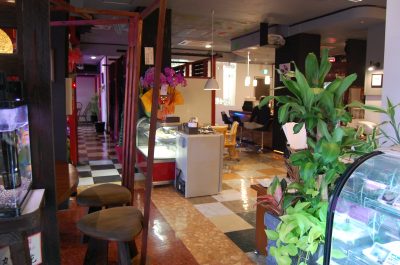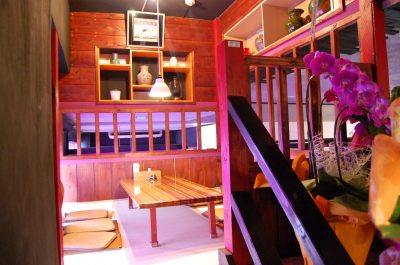 Directions: From the 8 expressway exit go north toward Camp Hansen on highway 329. Before getting to Camp Hansen Gate 1, look for a large public parking lot on the left as you go up hill. Café KARI-YA is directly across the street from the public parking lot.
Google Map Coordinates: 26.453974, 127.915426
Address: Japan, 〒904-1201 Okinawa, Kunigami District, Kin, Kin 国道329号線
Phone: 098-968-2688
Hours: Lunch 11:00 a.m. – 2:00 p.m.; Dinner 5:00 p.m. – 12:00 a.m. with the last order at 11:00 p.m.
Payment: Dollars or Yen, Credit will come online in October 2014.