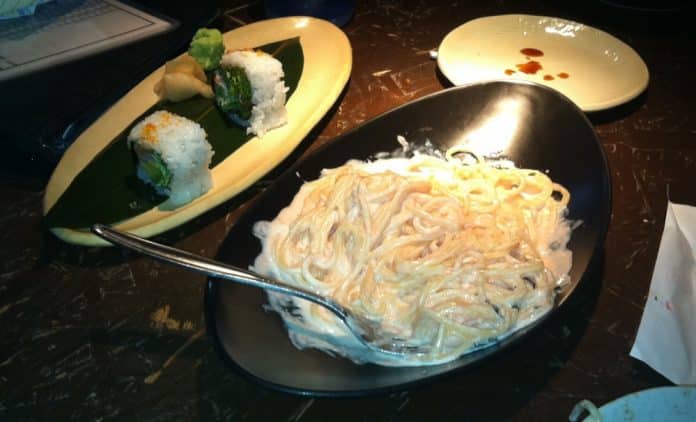 CONTRIBUTED BY CASSANDRA ABEL

Dining Nan's Front 1
While attempting to find Liberal Sushi and driving around in circles for about 25 minutes and our stomachs rumbling, we decided to give up on Liberal and stop at the first (decent) place we could find. We stopped at Dining Nan's – a quite unmistakable place only half a block off of 58.
I first ran in to see the menu and if my three year old would eat anything and if my husband who is on crutches would be able to even make it in. The staff who greeted me were extremely friendly but didn't speak a word of English; thanks to my handy iPod translator app they were able to help me out.
They had three menus, one was all in Japanese but had pictures, one was in English with no pictures, as well as a full drink menu with everything from Sake to Long Islands. They also have a full bar that looked pretty neat.

Dining Nan's Food
We ordered a California roll for 850yen (kind of pricy), stir fried noodles I think with some sort of shrimp, my husband ordered something that tasted a lot like shrimp alfredo (it was delicious!) and I ordered something from the Japanese menu because it looked good — but it wasn't my favorite because I think it was just too 'fishy'. When we paid our bill it was 4200yen, again kind of pricy but really good food.

Dining Nan's Food 2
Overall we really liked the place, the service was really great and quick. I think the chef even brought a few dishes out himself and he was very sweet. They also had tables for large parties. I'm not sure of the hours but we went at about 6pm on a Monday night and they were open.
Phone:  870-2574
Directions:  From Foster commissary gate, go left onto 58.  When you get to the light by Okinawa Acting School (on your right) you will take your next right (you'll pass an Esso gas station on the right) at the light.  It's maybe the 2nd or 3rd building on the right hand side; if you get to an intersection you've gone too far.
Menus:  Click to enlarge