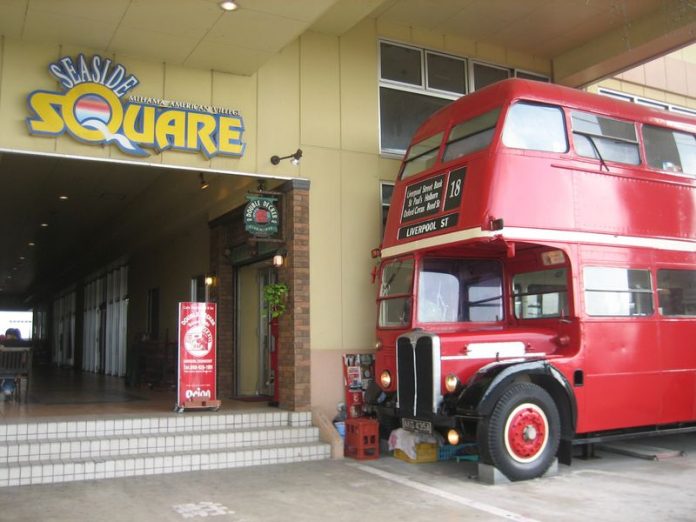 CONTRIBUTED BY KATHERINE MOORE
Do you miss going to a restaurant where you know exactly what you are ordering and/or getting?  If so, Double Decker Café bar is perfect for you.  They have a fun environment and have almost anything that you can think of.
I found out about Double Decker from a Japanese café guide.  The restaurant is located in American Village, part of the Seaside Bowl Mihama.  They have the regular restaurant dining style with two levels, and the bus as dining area also with two levels.  It is very interesting since you feel like you are riding on a bus, but dining in at the same time.
They serve appetizers, salad, rice omelet, rice casserole, rice bowl, pasta, pizza, rib steak, fish and chips, chicken nuggets, hamburger, wings, desserts, and a wide variety of drinks (alcohol and non alcohol).  Their alcohol beverages are all 500yen on Wednesdays from 5:00pm.  They also have magic shows on Wednesdays from 8:00pm to 10:00pm.
I ordered their seafood with tomato sauce pasta, and my husband ordered the curry rice omelet.  Both were really good.  Our 2 year-old daughter ate most my pasta.  I guess she really liked it.  They have friendly staff, and an American-friendly menu.  Food prices are not too bad.  They have their own parking lot, which is really nice being located in American Village.
---
Double Decker Cafe Bar
Hours:  The restaurant is open all week from 11:30am to 2:00am.  I guess it becomes a bar at night.
Payment:  They take all major credit cards (Visa, Master, American Express), yen, and dollars.
Phone:   098-926-1991
Address: 9-2 Mihama, Chatan
GPS Coordinates: 26.3159584, 127.7562566
Directions:  From Kadena Gate 1, turn left on 58 towards America Village.  After passing A&W, turn right on the next light where Terrace Garden Mihama Resort is.  Turn right on the second light where the Depot building is.  Turn left on the narrow street behind Make Man (home center with a monkey on their orange sign).  There is a sign for Double Decker on this narrow street.  You will see the red bus on your left side.  They only have about 4 parking spots (clearly marked for the customers only), so if they don't have any available spot, keep driving and turn left on the first alley after you passed the red bus.  This will connect you to the Seaside Bowl Mihama parking lot.  Park there and access the restaurant from the Seaside Mihama Bowl by following dog's paw prints on the ground.
Click on the small photos for a pop-out of the menu and a map.