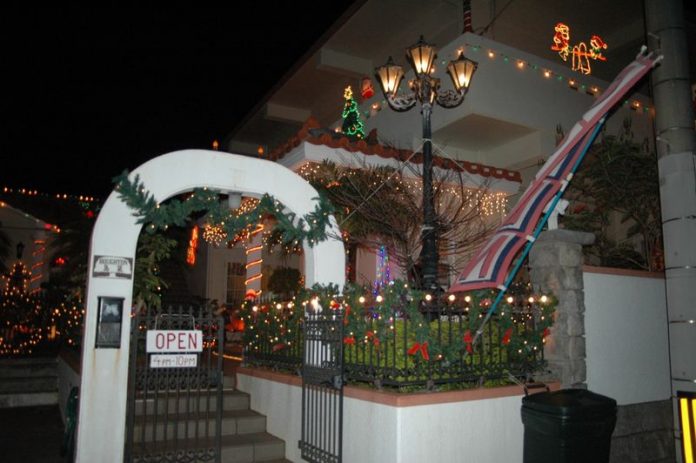 2014 Update – The owner left this information in the comments: "Yes, we are open again this year from 4:00 to 10:30 PM, through 29 December, our last day. We spoke with the MAN-IN-THE-RED-SUIT and he has agreed to stop by 6-times this year; December 11, 12, 17, 18, 19, and 22, which are by RESERVATIONS ONLY. As of this update, the 19th and 22nd of December are sold out. I highly recommend you contact my wife YOKO at 098-982-5610 to confirm remaining open dates and seat availability for Santa's visit. Other than those special days indicted above, walk-ins are the rule of thumb."
CONTRIBUTED BY LARISSA
Check out the original post on this restaurant here.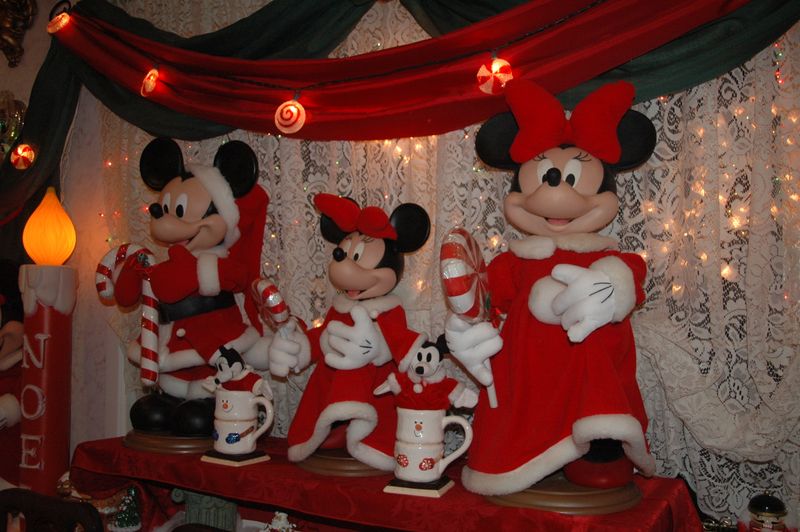 "It's beginning to look a lot like Christmas"… and we aren't kidding!  There actually is a restaurant here on-island which goes all out for Christmas, and serves up some good tidings as well.  Dreaming Angel, referred to as the Happy Dream restaurant in the original post, is a unique place to visit.  Since it is only open for the Christmas season you need to hop in your sleigh and head right over there before New Year's Eve sneaks up on you.  This Christmas wonderland is well worth the drive for any Christmas enthusiast.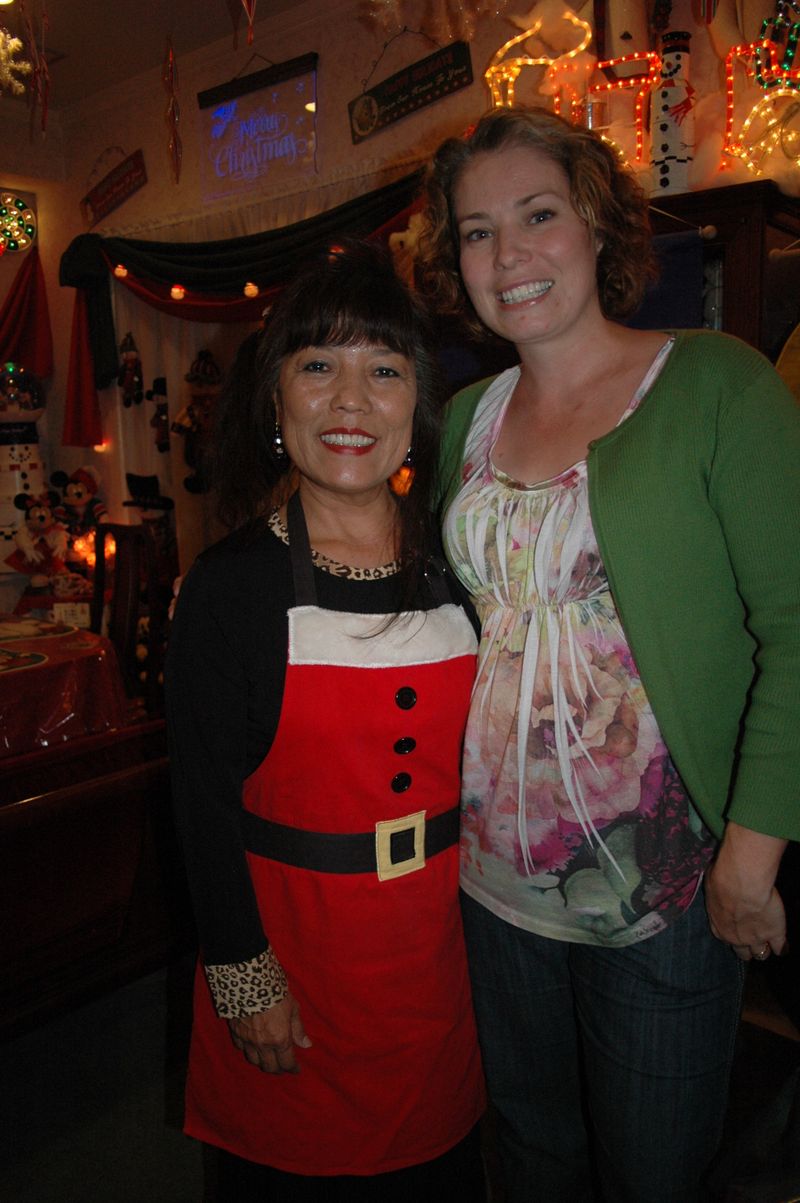 Our gracious hostess and the owner, Yoko, opened her Winter Wonderland 6 years ago after being encouraged by curious neighbors to share her home with the public.  Yoko has always gone all out when it came to decorating so all she had to do was put out an open sign and serve up dinner to her eager guests.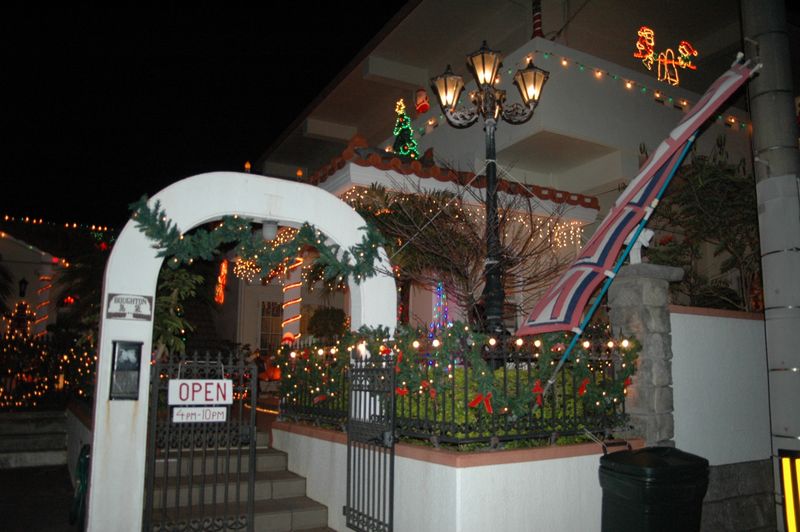 She even won a light competition when she entered to compete for a first place prize of $1,500. hosted by the Okinawa Electric company.  She was very excited to learn that she took first and once you see her place you will understand.  Her restaurant has been featured in the local paper, magazines and books as well.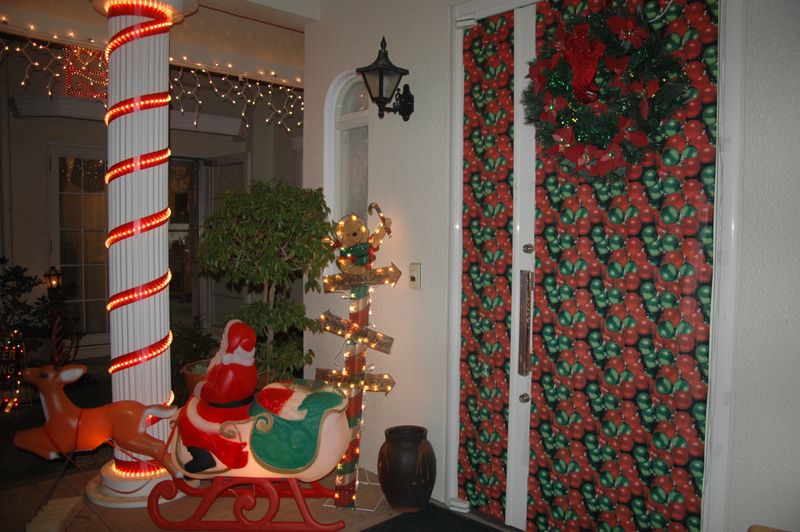 Though Dreaming Angel does not offer an English menu Yoko is more than happy to read the menu to you.  It's a little like visiting your favorite Aunt's house and Santa's workshop all at the same time.
We enjoyed several of the meal options that came as a set.  The sets ranged from Y1,250 – Y1,450 and included a salad, bread and your choice of drink.  Yoko also serves dessert – Y500 when you order a dinner set.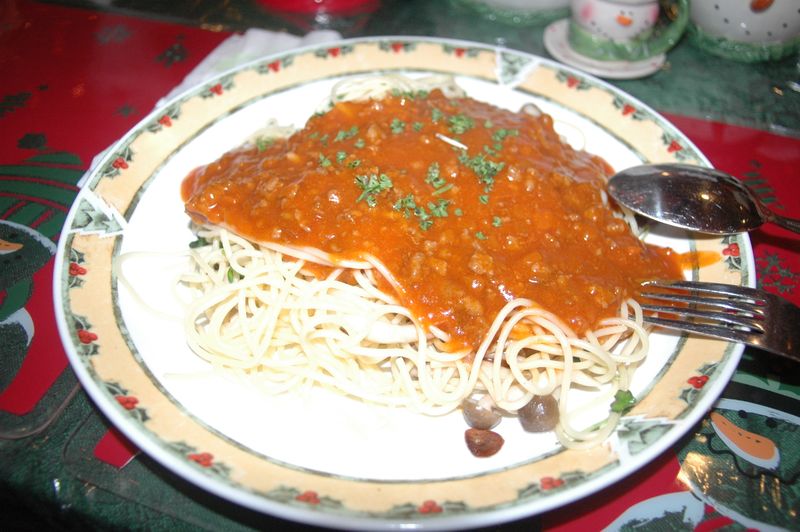 Spaghetti with meat sauce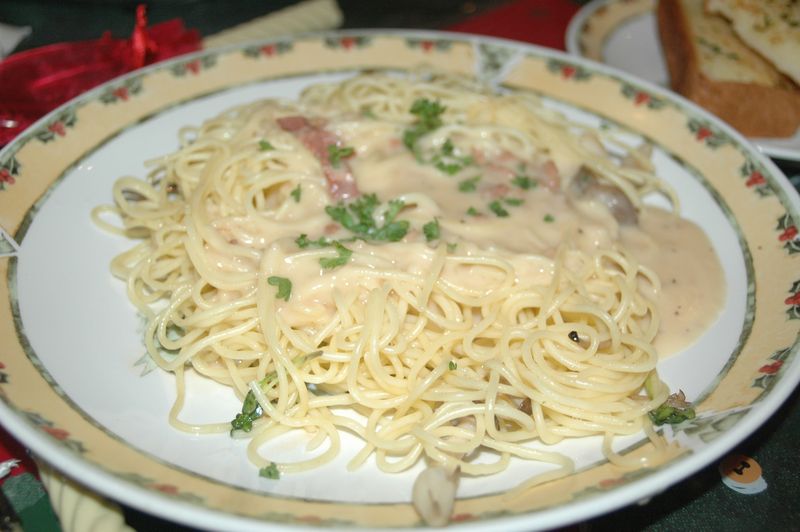 Spaghetti with bacon and cream sauce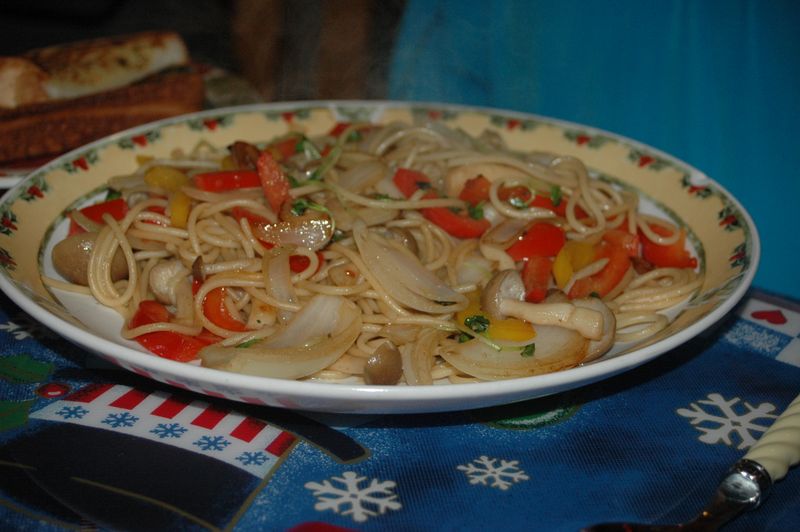 Vegetable pasta – this isn't on the menu but, if you are a vegetarian Yoko is happy to accommodate you.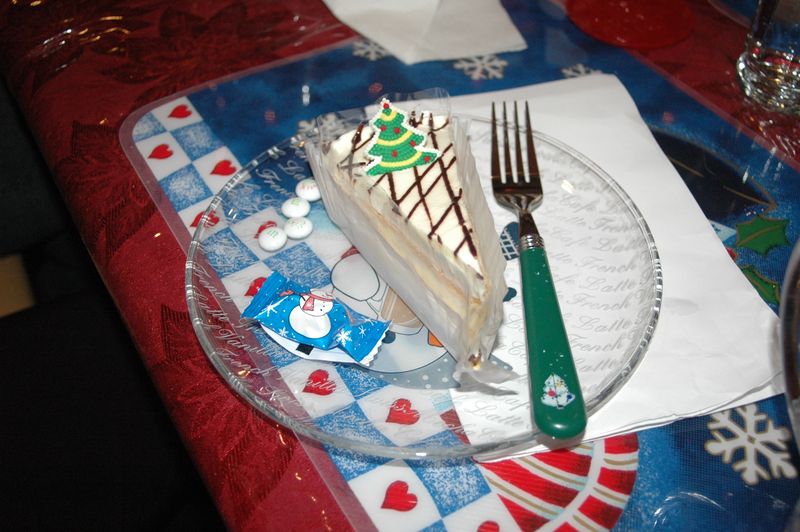 One of several cakes available.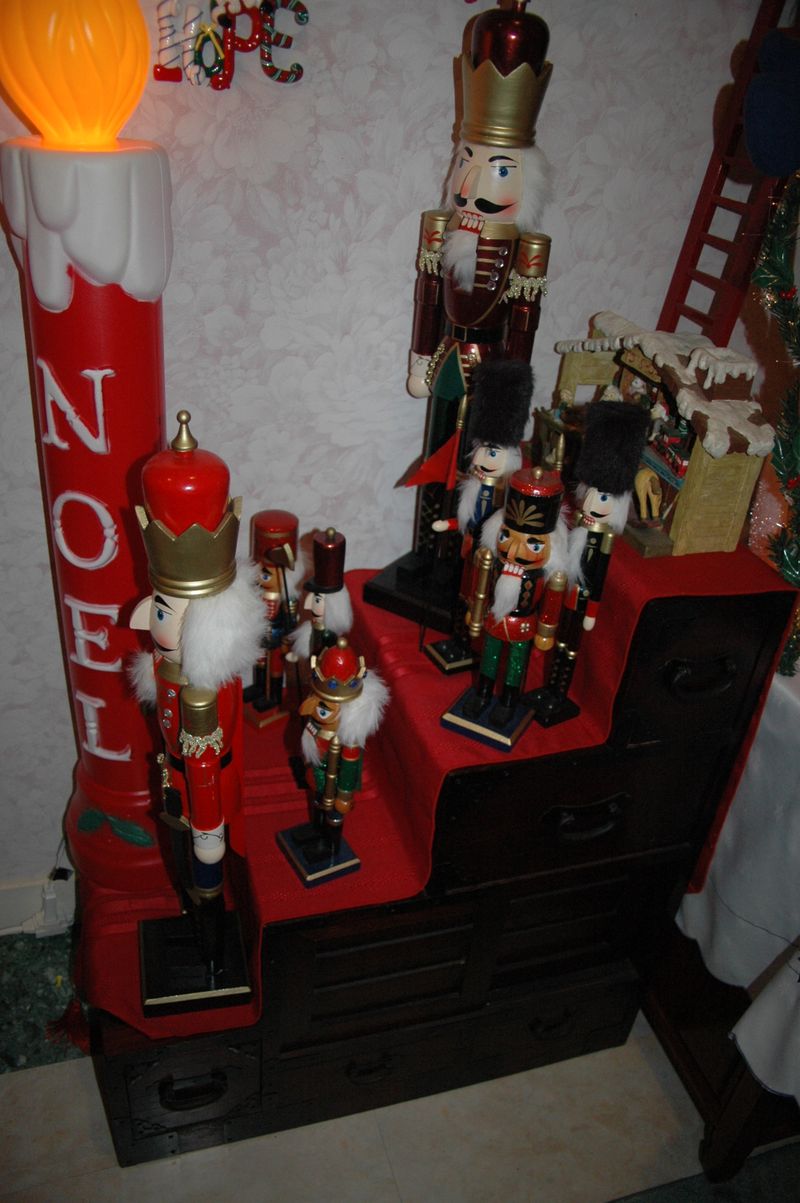 In addition to enjoying a meal in a very festive environment you can pick up some great decorating tips to incorporate your favorite Asian pieces with your traditional American Christmas decor.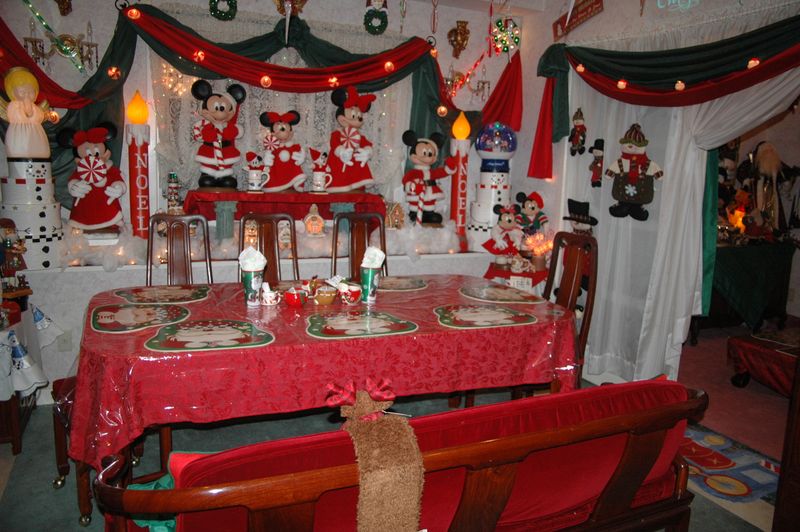 One last note – for those of you who are Santa enthusiasts make sure you check out Yoko's creation because she may not re-open her restaurant next year.
Merry Eating!
---
Dreaming Angel (Christmas) Restaurant
Payment:  This restaurant only takes Yen.
Phone: 098-982-5610 – Yoko shared that they have reserved Mondays and Tuesdays, for the rest of the season, for special seating with Santa.  Since Yoko speaks great English, calling and making reservations for any of the other 5 days of the week is easy.  Reservations are recommended as this bright little spot on a hill is small.
Hours:  Open Monday-Sunday from 4p.m. until 10 p.m.  Only open 6 weeks out of the year.
Address:  2 Chome-11-29 Ishikawa Agariyamamotomachi, Uruma
Google Maps Coordinates: 26.4371783, 127.83317490000002
Directions:  Travel on 75 North towards 329.  At the T for 75 and 329 make a right going towards Ishikawa Circle.  At the Ishikawa Circle make a right onto 329 going towards Camp Hansen.  Follow 329 for a short distance and look for the Carenex Gas Station.  You will make a left onto the street/alleyway right before the Carenex.  Follow this small road to the top and make a left – you will only be able to make a left here.  Dreaming Angel will be on your right – at night, you can't miss it.  There are several areas to park so look for the parking signs.  If you are taking the expressway take exit 6 and make a left off of the expressway.  Then at the Ishikawa Circle make another left – you will now be on 329 heading towards Camp Hansen.  Follow the above directions from there.