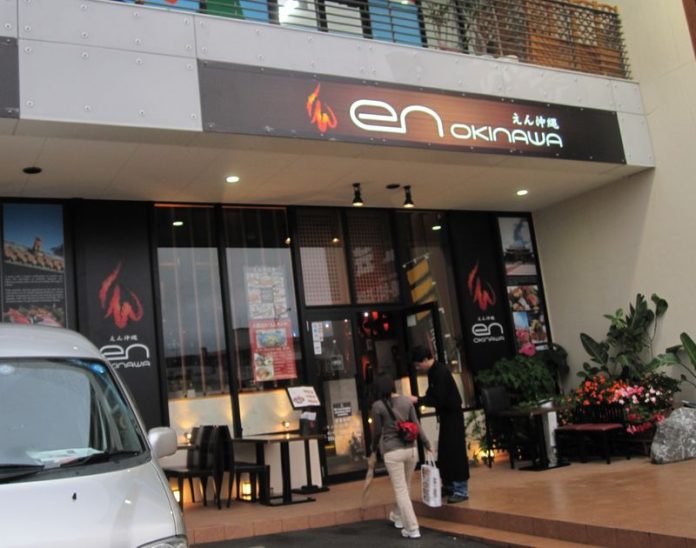 CONTRIBUTED BY MONETTE EAMES
Just when we were about ready to give up looking for this place, we see a corner restaurant with the words "en Okinawa."  We parked excitedly and started out of the car and practically by the time we set foot on the ground, we were greeted by a man holding a small notepad.  He welcomed us and asked if we had reservations.  I told him we did and followed him in.  (By the end of the night, I realized that the only people they would really seat that night were the people who made reservations unless they wanted to sit at the bar.  Maybe this is only true when the show "Zampa" Live Drum Performance happens.)
The first thing we see as we enter is this huge taiko drum made from a single piece of wood — a tree that was about 400 years old.  We were seated immediately and served glasses of water and a Japanese welcoming appetizer—tofu, shitake mushrooms, bamboo shoots, syrupy miso, topped with wasabi.

We opted to get everything ala carte instead of the typical sets that we usually get at Japanese restaurants.  We ordered the local Okinawan vegetable salad, grilled salmon with butter and soy, deep fried chicken with sauce, stir fried thin noodles with tuna flakes, prawns with garlic pepper sauce, and lots of rice.  As we waited for our food, the kids were allowed to play with the drums.  When the food arrived, we were dazzled.  Everything was artistically prepared and just delightfully delicious.
And when dinner was done, the show started, right at 8:30pm.  There was a thundering of drums that made my heart pound—hard!  There was an underlying beat while the other two performers had their own beats going on.  The three performers all had a chance to shine with their solos.  It was just amazing! There was a part where they drummed extremely fast, back and forth, back and forth, left to right…  just amazing.
Then the flute played and in came the shishi-mai.  I must say, this was the best performance I have ever seen by a shishi-mai.  It went everywhere — in the main stage area, in the back-rooms, in the upper rooms — it made a point to be seen by everyone. Its acrobatics and mannerisms were so much like a dog's or lion's.  We learned after the show that this group has travelled all over the world sharing their gift of Taiko drumming.
Service was exceptional, food was great, and the place a beauty.  Our family left semi-speechless.  My 4-year old kept talking about the yummy food, the drums and the lion, and even the bathrooms (which were beautiful).
When we left, we were told that the show was being moved to Sunday nights and we were given 4 coupons for free Orion beer.  We don't drink beer, but I'm sure we'll be back!  Make sure you RSVP a week or two in advance if you want to see the show after dinner.  We made a reservation for 7:00 for our family and that was enough time to order and not rush through dinner before the show started.
---
En Okinawa
Hours: Lunch 12 pm-3 pm (last order 2:30),  Dinner 6 pm-midnight (last order 11:30), "Zampa" Live Drum Performance – Sundays 8:30 PM
Telephone:  098-941-7588
Address:  1 Chome-20-9 Uenoya, Naha
GPS Coordinates: 26.2296411, 127.68660479999994
Website: www.en-okinawa.com