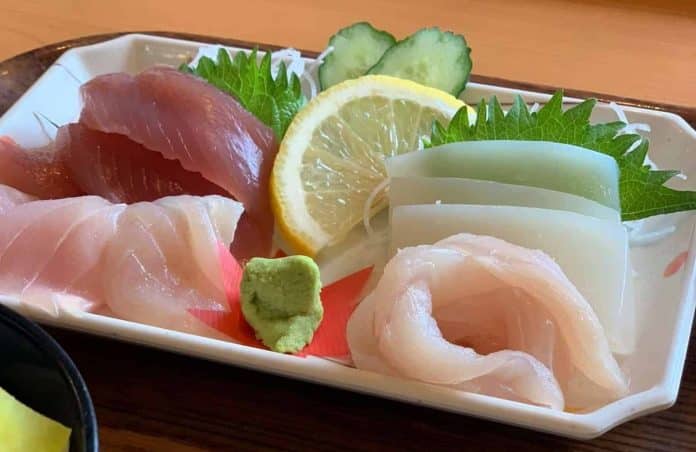 The Food of Ie Island
During my brief stay on Ie island, I picked up quite a few new Japanese words. But I found myself frequently using one word in particular:"Oishi," which means delicious. And boy did I have so much delicious food here!
My first meal once arriving on the island was at Restaurant Birdie House, which is located at the Iejima Country Club. We were served a special dish called Okinawa Soba, which is buckwheat noodles in a pork bone broth. This would be a great place to grab some lunch after playing a round of morning golf. This island activity is very affordable, at only 2000 Yen for a game, clubs and shoe rental.
That evening, we were taken to a local restaurant called Misaki that served a variety of ramen dishes. I chose the miso ramen and it did not disappoint! While I have only been in Okinawa for a few months, I have tried a number of different Ramen restaurants. This quaint shop runned by a local husband and wife was by far the best ramen that I have ever had!
The next morning, we were taken to Ie Beach where a local restaurant called Iejima Aji No Mise prepared a beautiful pancake picnic breakfast overlooking the ocean. It was the perfect start to my day! What makes this place so special is the way they prepare their pancakes. They are made with the wheat flours from the island, which has more minerals and protein than any other kind of wheat. Their wheat gives it a very different taste and texture, which is much thicker than a traditional pancake. If you interested in trying this delicious meal yourself, you must make reservations for at least a party of two ahead of time.
For lunch, we dined at Ie jima tunga( Ie island kitchen) located inside the ferry terminal building. This beautiful Bento Box included rice with Ie wheat, shrimp and vegetable tempura, cooked papaya and cabbage, fish paste, egg, mackerel and a mix of tofu and coriander with an orange lily flower on top! Lilies are very popular here on Ie. The orange lily can be found all around the island and is used in many of their food dishes. When ingested, the flower can provide you with feelings of relaxation and aid in restful sleep. No wonder I slept so well that night!

My favorite dining experience from my whole trip was the BBQ Dinner Party hosted on Ie Beach. The setting was beautiful! The picnic and buffet tables were decorated with elements from the island by a local artist. We dined under twinkling lights strung above us under the night sky full of stars. As we enjoyed the delicious meal, all prepared from ingredients from the island itself, we were treated to performances by local musicians and dancers. They played a variety of songs, including Okinawan folk music and American hits that I could sing along to! We ended the night on the beach with a guided star gazing session, where we learned how to find different constellations. It was truly a magical night!

My last meal experience on the island was a sashimi lunch at Uminchu shokudo (Fisherman Restaurant) also located at the ferry terminal building. The sashimi was very fresh and served over a bed of shredded white radish. It also included a bowl of rice, fish tempura, and a seaweed soup. It was a great dining experience, with quick service and a nice view overlooking the port. This would be a very convenient place to grab a bite to eat before taking your ferry ride back home.
When experiencing Ie island, trying the many dining experiences is a must! So make sure to bring your adventurous palette, a big appetite and practice saying the word "Oishi." You're gonna need it!