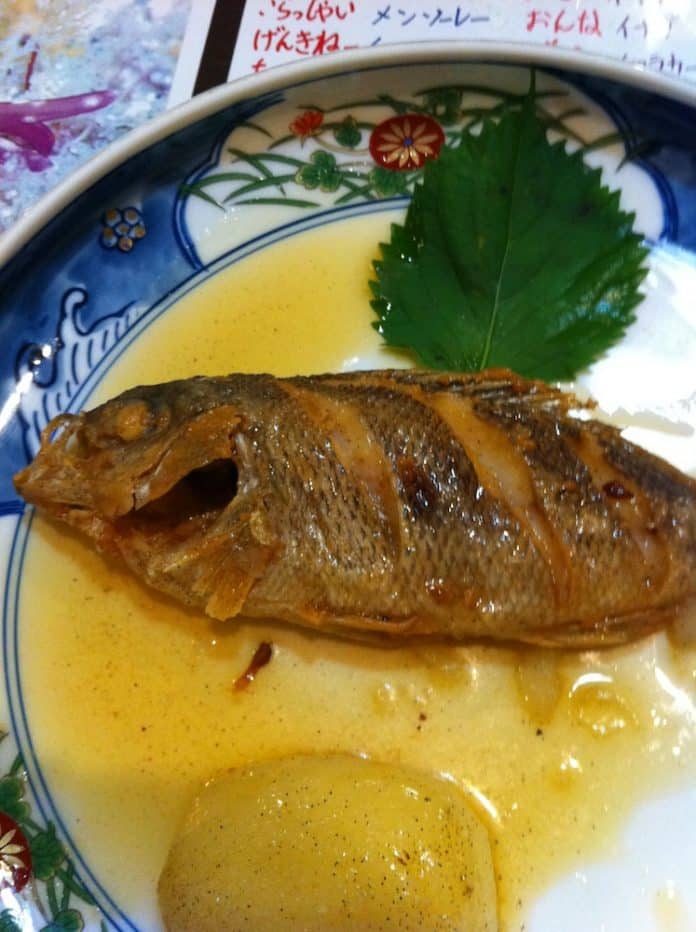 CONTRIBUTED BY LEAH MAGID
English on the awning is our signal that the restaurant we are approaching has an English menu, or at least a picture menu. We rely on the familiar characters not only to let us know that food can be found inside, but that we are encouraged to patronize the particular establishment. For months, on our way to get our brick-oven pizza fix at Pizzeria il Piccolino (sadly, now closed – the owner moved back to Kyoto), we spied Fishing Port Grill Syu Getsu's friendly sign and swore we would eat there. The Pizza (yes, with a capital "P") always won, and we didn't make it inside until last weekend. We had ventured out to the Sweet Potato Festival (fun, but strangely short on oishii beni-imo) and wanted to try a new place for dinner. The next thing we knew, we found ourselves in Onna Village in front of Fishing Port Grill Syu Getsu.
Parking was a challenge – we parked across the street in the lot of a dive shop that was closed for the day. There is no parking that is distinctly for Syu Getsu that we could see.
We were greeted with smiles and the loud, sing-song welcome that we have come to love. This is a large restaurant with many booths as well as sushi bar seating. Our waitress gave us a laminated menu with not one word of English on it, pointing out the sushi, sashimi and (something else in Japanese) selections. Also missing were photos of food. Not a wax model, a photo on the wall…the only things under the glass on the table were photos of sea life – a fish-identification poster. We were stumped. Just three months ago, we would have politely excused ourselves and found another place to eat, perhaps even (gasp!) at home.
However, this night, despite the fact that we still can't read Kanji or Kana, we ordered a meal.

Syu Getsu Recommend
Thanks to one of the myriad Japanese translation apps that we use, we had a quick solution. This phrase has worked for us a few times, and the proprietors always seem pleased that we have put the choice in their hands. "What do you recommend?" is our key to a world of amazing food. My husband also ordered "Orion d-raft, kudesai" and I was able to utter "mizu" (water).
First, we each enjoyed a small salad of sashimi with a creamy sauce that reminded me of potato salad. It was light, flavorful and fresh. Next, she brought a shared plate of sashimi and sea grapes. There were two types of tuna, both firm, fresh and beautiful. There was also a lighter fish, and I do not know what it was, but it was chewier and very nice. There were six little pieces of cooked octopus that were delicate, bright and tender. Now, I had never had sea grapes before, but they were just the most fun thing. Like little caviar on a stick, they pop with flavor and give a salty reminder that we live in the middle of the ocean.
Next, we were brought a large bowl that contained a long-stewed joint of pork in a lovely broth to share. The small amount of meat was tender and had a deep flavor that could only come from layers of spice and a long, slow braising. It was delicious. The point of the dish seemed to be the marrow, something that neither my husband nor I had interest in, so we did our best to rearrange the bones and joint components to indicate that we had given our best effort.
At this point, we noticed that the place had filled up a little – young, hip Japanese tourists enjoying a laid-back Okinawa beach town. My husband and I began to wonder how many dishes we would encounter, and whether we would have enough money to pay for the meal. We had no idea of the cost, but from the atmosphere and quality of the food we guessed that it would be quite expensive. We cut our conversation short when we saw the entrees in front of us, resigned to the fact that one of us would be in the back, doing dishes since we do not have a Japanese credit card, and the register had no sign for Visa. Totally worth it, we thought.

The final dishes were just stunning. Each had a single potato sprinkled with finely ground black pepper and salt, fork…er…hashi-tender and huge. There was a small fish on each of our plates that was grilled to a gorgeous golden brown on top of a rich sauce. The fish was tender, the skin was crisp and the sauce had the most amazing flavor. The lovely woman also brought another Orion as well as a bowl of pungent miso soup and a bowl of the best rice I have had on-island.
Stuffed to the gills (see what I did there?) with healthful, fresh foods, we extricated ourselves from the deep booth and walked to the front to pay. Two enormous beers, two sashimi salads, one plate of sashimi and seagrapes, a huge pork dish and a fish each with potatoes came to Y2,800. A screaming deal, honestly. As we said "oishii katu des" and bowed to our hostess, we felt happy, full and welcomed.
We will return to Fishing Port Grill Syu Getsu and I suggest you try it. The worst that can happen is that you don't like the food, but that can happen even if you do know what you are ordering!
Directions: In Onna Village, just south of Moon Beach Hotel.  From Courtney: Take 6 over to Onna – stay straight at the split, then make the wide right to go towards Moon Beach. Syu Getsu will be on your left just after the port entrance. From Foster/Kadena/Kinser and all points south: Pretend you are going to the Renaissance on 6, but keep driving a little. Stay on the main road towards Onna Village.
Phone:  098-989-9199
Payment: Yen, JCB Card
Map:  Click to enlarge

Syu Getsu Map