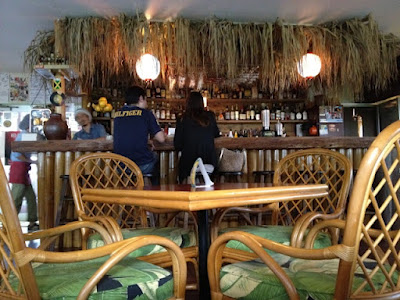 CONTRIBUTED BY REIKO MOTOBU
I saw the add for FLEX in the Okinawa Living magazine and though it looked good! So a couple days ago we finally had the chance to go and try it!

Flex Bar
The place is pretty big. They have a bar, and they also have some tables outside facing Araha beach. We sat inside, a table for two. Next to our table there was a poster about an event with live music and live painting taking place at FLEX on at the end of the month — so it seems they have a lot of fun things going on there.
We ordered a medium portion of Jerk Chicken to share, a Jerk Pork plate (the pork, salad and rice or bread) and my husband decided to try Jerk chicken taco rice.

Flex Jerk Chx Taco Rice

Flex Jerk Chx

Flex Jerk Pork Plate
As we waited, we got to listening to reggae music. The portions were generous and it was all very tasty!  And the staff was very friendly and helpful.
We really liked it and we will be back to try some other stuff from the menu.

Flex Menu

Flex MaP
Prices: Prices start from 840 yen for Jerk chicken only (M size) to 1890 for an Ox tail stew. (L size)
Payment:  Credit cards and yen.
Hours: 5 p.m.-midnight (Closed Wednesdays)
Phone:  098-926-0470
Directions: See Map