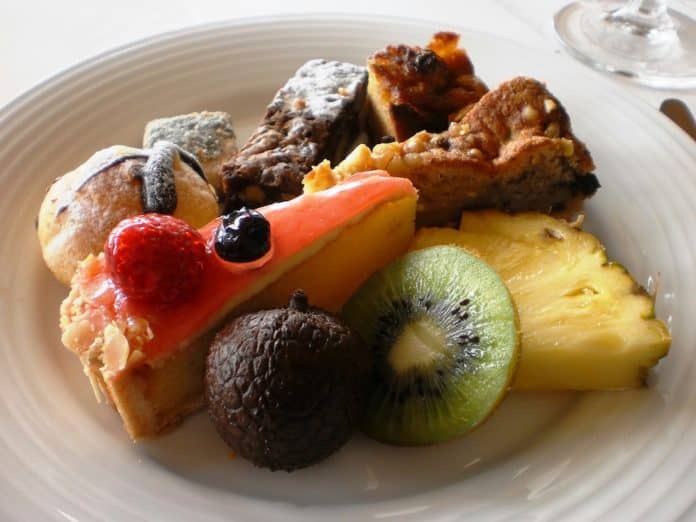 Four Seasons Lobby
CONTRIBUTED BY SARAH FORTE
Sarah enjoyed a complimentary meal at the Four Seasons, Renaissance Resort, but the opinions below are totally hers.
Take one part Okinawan customer hospitality. Blend Italian flavors. Sprinkle in wine, pasta, and teppanyaki. Add a relaxing atmosphere and a beautiful ocean view. Finish with more dessert that you can imagine. Sound enticing? This recipe for a delicious lunch is prepared at the Renaissance Resort Okinawa in Onna at their Four Seasons Italian buffet.
We recently were invited for lunch at the Four Seasons. Like a few other Okinawan names, I feel the need to be specific; not the teppanyaki steakhouse Four Seasons. This Four Seasons is a restaurant located in the Renaissance Hotel. So just like there are three kinds of Coco(k)s on our small island, there are two different kinds of Four Seasons restaurants.
The drive up to Onna took less than a half hour from Kadena via 58. Like most of the outstanding resorts in Okinawa, the Renaissance has a beautiful lobby that invites you to slow down and relax. The Four Seasons restaurant is located on the second floor and has a panoramic view of the East China Sea. We had reservations and were immediately seated near the window looking out over the resort's beach and water activity area. A glass of wine along with classical background music made the meal feel further than thirty minutes away from the stresses of life.

Four Season Buffet 1

Four Seasons Buffet 2
The meal had four main sections. We caught our first glimpse of the appetizer and side dish buffet as we were shown to our seats. There were many choices, such as seasonal vegetables, fresh salad, antipasto, margherita pizza, marinated seafood, two types of soup and an assortment of breads. I enjoyed the mixture of classic Italian choices, like the lasagna, with Okinawa influence, such as goya as a salad topper.

Four Seasons Meal
At the table was a menu with seven different types of pasta to order. There were red sauces, pesto versions and even gnocchi. If you couldn't choose just one, you could order a plate with two or more of the choices. Along with this main course, there was a teppanyaki station with a chef ready to prepare a delicious cut of beef or fish.
Then the grand finish: dessert! Their large sweets and pastry counter was stocked with more desserts than we could sample. Tiramisu, cream puffs, fruit tarts, cookies and finally a selection of tropical fruit. This is worth saving room for!

Four Seasons Dessert
Throughout the entire meal the staff was very attentive. Each time we returned from one of the buffets our chair was pulled out for us. Our used dishes were instantly removed when we were through with them. Please don't take the idea of buffet as meaning casual in this case. A few of the diners were dressed in "resort wear" but most were dressed with a little more polish and the wait staff were all in suits and ties.
Nothing drove home their attention to detail like the tea service that came with dessert. An entire tea tray was wheeled to our table and we were shown around a dozen tea choices. The waiter seeped our loose tea in individual pots and strained it directly into our tea cups before serving our choices.

Four Seasons Tea
Another unexpected bonus during our lunch was that we could see the hotel's dolphins from our seats. The Renaissance has a "swim with the dolphins" program that would be a memorable adventure for the whole family, but that, along with the other restaurants in the hotel, will have to wait for another day.
Directions: From Kinser, Foster, Lester or Kadena: Head north on 58. When you get to the Onna area, where the north side of Highway 6 meets 58, Renaissance Resort Okinawa will be on the left (west) side of 58. There are many parking areas for the hotel. If you can't find parking on the hotel's side of 58, there are more parking lots on the other side of the road.
Upon entering the hotel, the Four Seasons restaurant is on the second floor. There is a large staircase on the far end of the lobby that will take you very near the restaurant entrance.
Address: 3425-2, Yamada, Onna Village
Hours: This special lunch is available only on weekends and Japanese holidays. They open at 1200 and close at 1500. (The Four Seasons restaurants is open on weekdays and evenings too, but their menu is different.)
Prices: Adults ¥2,400; Junior high students ¥1,680; Elementary students ¥1,200
Phone: 098-965-0707
Website: http://www.renaissance-okinawa.com