CONTRIBUTED BY KARA WALTON
Most of us have probably smelled Four Seasons from the ferris wheel and movie theater, and some of us have been tempted enough to eat there. The latter will likely agree that this restaurant is a fun experience, romantic but child friendly setting, and plenty of food! Four Seasons in a teppanyaki restaurant that has many menu options ranging from cheese stick appetizers to Kobe beef main dishes and sushi sides.
Upon entering, diners are directed to a table with a grill in the middle. The nice thing about Four Seasons is that each grill only seats two to three people, unlike the grills that seat numerous parties in the States. This creates a more personal, romantic experience and also provides a personal chef for a few fun minutes. At least one of the locations has a party room as well.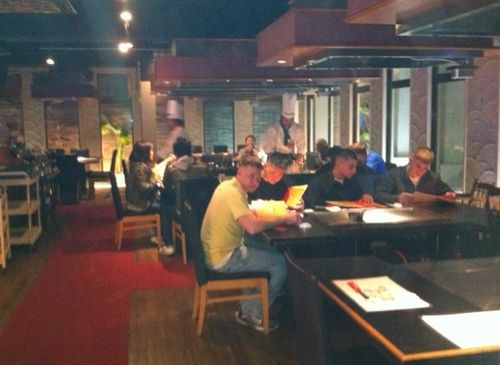 After placing an order from the English menu, guests are served a small salad and soup of the day. This is only the beginning of a barrage of food to follow. When the chef arrives, he will present a card with three side dish options: a pasta dish, a potato dish, and a vegetable dish. After picking two and requesting the steak temperature, the show begins.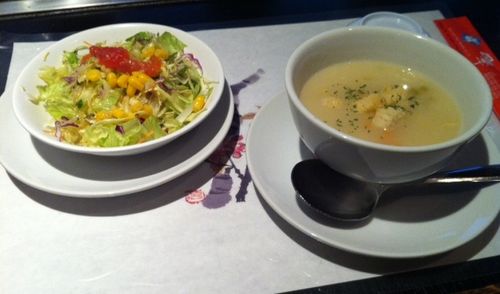 First, the side dishes are prepared and served followed by the main dish. Seasoning shakers clank and fly through the air, knives are craftily shuffled from hand to hand, and the main dish lands beside the side dishes. After the exciting show, it is time to enjoy the delicious food.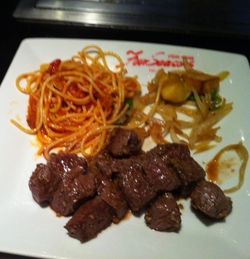 We have always ordered steak and have tried all the side dishes, never being disappointed. Being a picky steak eater, I am impressed that my steak has always been cooked perfectly Medium Rare, as requested.
The cocktails are also pretty amazing. My favorite, although a little expensive, is the Mai Tai served in a fresh pineapple who dons cherry eyeballs and a cute hat. Let's not forget the delicious pineapple chunks inside.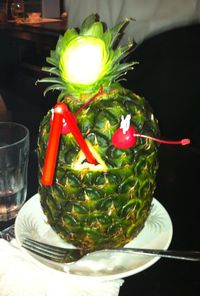 This is not a cheap restaurant, but great for a fun, romantic night out on the town. The menu on the website provides an idea of the prices alongside pictures of dishes. We usually order a steak dish each, including all the trimmings mentioned above, plus a cocktail, totaling fifty dollars.
Hours: 11am to 11pm
Phone: 098-926-1329 (Mihama Location)
Payment: They accept Yen and Credit Cards.
Address: 2 Chome-5-2 Mihama, Chatan
Google Maps Coordinates: 26.31742003493289, 127.75947413949689
Directions: There are four locations. The map below is for the location in Mihama, on the corner of 58 and the road with the Movie Theater/Ferris Wheel. The website shows the other locations on Google Maps as well.
Website: www.the4seasons.jp/    The site is mostly Japanese, but there is a mouthwatering video that needs no translation. Their locations and phone numbers are also listed with Google Maps referencing their locations.