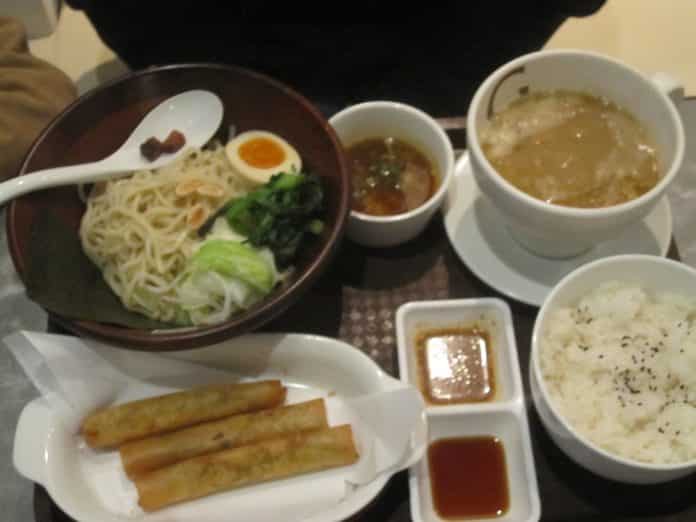 CONTRIBUTED BY MONETTE EAMES

Garyuya Exterior
We came across one of the hippest 'hole-in-the-wall' ramen shops in Awase today. As we walked to Garyu-ya, on an extremely cold night (okay 55 degrees in Okinawa IS cold), we could instantly smell the scents of the ramen broth from a block away. From the outside, you see that the restaurant is housed in a large modern looking container, and you are not sure what could be inside. But when you walk in, you find clean white walls and white classical yet modern stringed curtains serving as dividers for the tables. The restaurant probably sits about 20 people, so it's not huge.
The menu is very simple. One of the menu choices is Tsuke-men, which is noodles and soup served in separate bowls. You dip the noodles in the soup before eating them. Another choice is regular ramen (salt, soy sauce, or miso). They also have extras that you can put in your ramen like roast pork and fish flavored butter. We decided to get the two different sets. We ordered the tsuke-men set with meat spring rolls and rice. It came with two different types of broth to dip the noodles in. We also ordered the ramen set with fried chicken. Both sets were wonderful.

Garyuya Set

Garyuya Set 2
Our family tried the baked cheese which came in a see-through mug and that was also delicious.

Garyuya Drink 2
And since we were curious, we decided to ask for a hot rock which they told us could be used to reheat the soup if it gets cold. We slowly placed the hot rock in the soup and the soup started simmering and hissing. After a few seconds, the soup was hot again. Ahh… the simple things.
Note: They do not have a menu, so instead you pick and choose small tags from your tableside that you give to your server. These tags are in Japanese, but the servers speak a little English and are more than happy to explain what the tags mean.

Garyuya Tickets
Here's the breakdown:
Sets — Tsuke-men, rice, and something from the fried section OR Ramen, rice, and something from the fried section
Noodles — Tsuke-men, Salt Ramen, or Soy Sauce Ramen
Custom — Roast pork, Miso, Fish flavored butter, Second Helping, Large Serving
Fried Section — Meat Spring Rolls, Cheese Spring Rolls, Fried Chicken
Rice — White rice, Mini Roast Pork Donburi
Beer — Non-alcoholic small bottle, regular beer in a medium bottle
Sweets — Baked cheese, Pudding
Free — Hot rock, garlic, more soup, hair band
Hours: 11:30 to 23:30 Closed Thursdays
Phone: 098-934-2218
Payment: Yen
Directions: Go straight out of the Legion Gate onto 81 and continue straight for about 5 km where you'll go through two tunnels. You'll see a San-A on the left. Take a right here. Drive until you see a container looking building on the left side of the road, it is near a building with an anchor at the top. Park across the street by the Awase sea wall.
This post was featured in Stripes Okinawa!