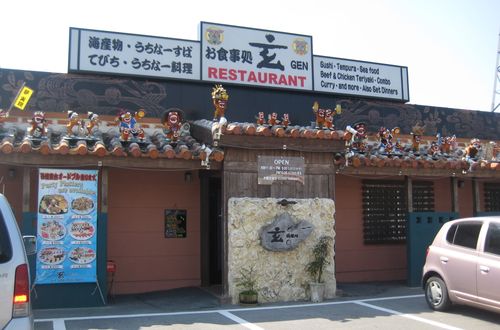 CONTRIBUTED BY CALYN PAQUIN
One thing I like when it comes to eating out in Okinawa is that I can venture far on a road trip or in this case, so close I could walk there! I've driven past Gen many times considering I live at Camp Foster. For some reason, I thought it was only opened for dinner but yesterday I jogged past it and saw that it opens at 11.30 am daily except for Thurs. When a friend agreed to go try it with me, I was very excited to finally get to eat there.
You can't miss this restaurant. It is right outside gate 3 aka fire station gate on route 130. It has many shisha dog statues on the roof of the restaurant.
We went right when it opened. It's not very big inside. Seatings are "easy" tatami style as in there is a cut out under the table for your legs. There are about 8 tables for 4. It filled up fast but service was fast, too.
True to what they advertised outside the restaurant, they have sushi, tempura, sea food, beef & chicken teriyaki, combo curry and more (much more!). They also have soba noodles. In fact, the picture filled menu in English & Japanese has so many choices we kept saying we'll have to go back again. Prices range from 280 yen for 2 pieces of egg sushi to 1500 yen set meals. There are several combo meals from 500 – 780 yen. They also have party platters from 3000 yen to 5000 yen. Children who prefer something simple can have chicken on a stick or combo meal for 780 yen.
We ordered the shrimp and asparagus appetizer, mahi mahi teriyaki roll, and chicken teriyaki fried rice to share.They also have self-service water and ice tea in the middle of the restaurant.  The food was delicious!
Just as we were about to leave, the lady at the table next to us got her order and it looked so pretty I had to take a picture of it. That is one of the 1500 yen sets.
---
Gen Restaurant
Hours: 10:30am to 10:00pm (Last call at 9:00pm)
Payment: yen and dollars accepted
Phone: 098-926-1603
Address: Japan, Okinawa, Nakagami District, Chatan, Omura 県道130号線
GPS Coordinates: 26.3053008414, 127.773291357
Directions: From 58, turn into 130 going to Camp Foster. Past gate 4/the spot gate and keep going till you past gate 3/fire station gate and make a U-turn at the next light. After you U-turned, stay on the left and you'll see Gen right before the traffic light at the gate. Parking is right outside the restaurant.