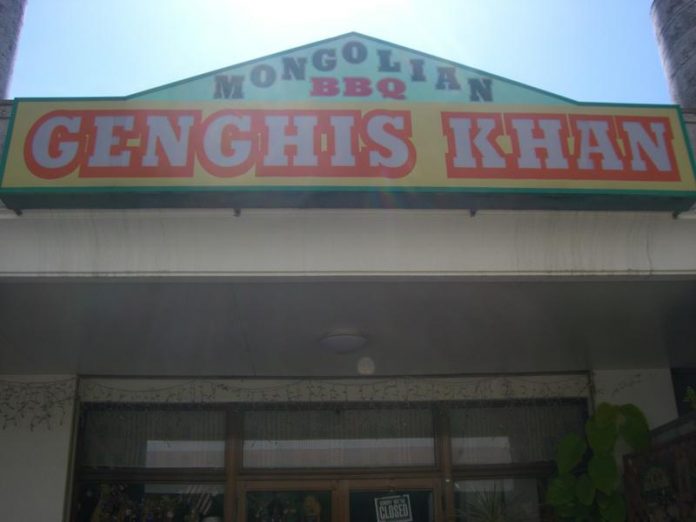 CONTRIBUTED BY CANDICE ONKEN
As our time draws to an end on this island, we begin thinking of all the places we loved best. Whether it is a restaurant, a location, or the great friends we made. As this has been one of our hot spots and is super close to base, I was amazed it had not been written about yet.
Genghis Khan is located conveniently just minutes from Kadena Gate 1. This small, hole-in-the-wall, Mom & Pop owned Mongolian BBQ is to die for! When you walk in, the sights remind me of an old antique shop or possibly your grandmother's house, since she collected everything and anything.
You are greeted at the door and directed to a table, where you are asked for your drink order and whether you would like rice or bread. Then, you simply get up, grab a bowl and fill it with all the meat and veggies you want. A cook then chops it up and grills it right in front of you. On slow nights, the owner may even assist you on the best sauce combo.
This buffet-style restaurant is perfect for the hungry husband who you can't seem to keep full. They are only open for dinner — and careful on pay day weekends, as it is hoppin!
---
Genghis Khan, Mongolian Barbeque
Hours:  Sunday- 5:00-10:00pm, Monday – Saturday- 5:00-10:30pm
Payment:  Dollars and Yen Only
Address: 304-4 Sunabe, Chatan
Google Maps Coordinates: 26.3314702592, 127.749729032
Directions from Kadena Gate 1:  Take a left and then a quick right at the first light. Then take a right at the first street (you will see a sign with a blue person and a pink person with a heart in between). You can either park in the dirt parking lot or pass the restaurant and park along the street.