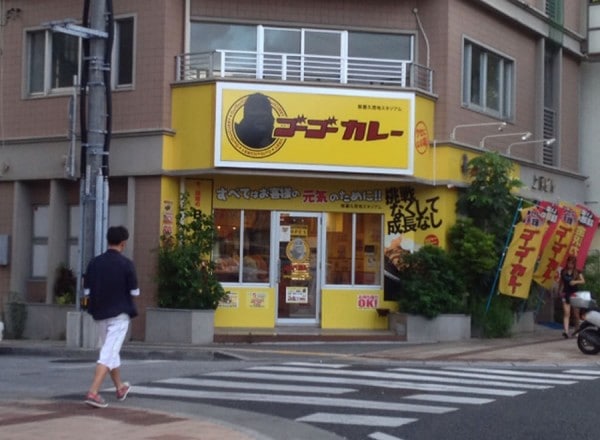 CONTRIBUTED BY EMILY BUREK
If you like curry you need to get to Go!Go! Curry. And that is not a typo. Go!Go! Curry has one location on our little island. It is right down in Naha on the southbound side of 58. Look for a bright yellow awning with a huge gorilla, who I assume is their mascot.
This is a ticket machine restaurant and from what I could tell there was no English menu. There are only about five tables and then about eight counter seats. You may want to bring a local friend, but my dining partner and I were able to order just fine by looking at the pictures on the buttons. We ordered what we thought was the chicken cutlet curry but ended up be the pork cutlet curry.
The sauce is a shiny dark brown and very smooth. This curry does not have the option of a spice level that many people are used to when ordering at similar restaurants. They keep a spicy powdered seasoning on all the tables for you to adjust the heat level. I also used the red pickled radishes that you see in the photo. Water pitchers are kept nearby for self service.
Helpful hint: The buttons increase in price by about 100 yen as you go across from left to right, which just means more rice is included in the dish. All curry dishes are served with the super thinly sliced cabbage you will find as a salad at other Japanese restaurants. This offers a nice crunch when mixed with the soft rice and sauce.
Overall I recommend it and will be going back to try a different "button" to see what comes out. The food was quick, the restaurant was clean and location convenient.
Extras: Go!Go! Curry seems to be very popular in mainland Japan and there are a few locations in New York. They even hold an annual curry eating contest! For more information check out their website.
Address: 900-0015 Okinawa Naha 14-14, Kumoji 2-Chome, Japan
(Disclaimer – On the iPhone the location shows up as a Coco Curry.)
Hours: 10:55 a.m. – 10:55 p.m.
Phone: No working phone number found. This is a ticket machine restaurant so it is probably best to go in and order.
Payment: Yen only. The largest yen bill accepted is the 1,000 so it is best to bring coin yen.
Website: Go!Go! Curry