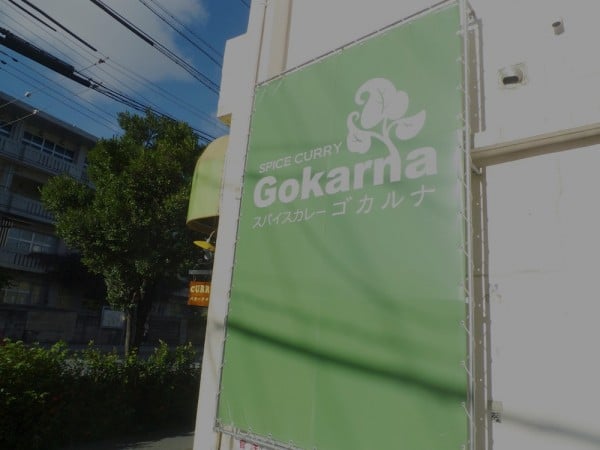 CONTRIBUTED BY ANGI BRZYCKI
Last march I was working on a project for Tohoku with a group of friends and we'd meet regularly at Naha High school. After we met for the first time, it was suggested by one of the teachers that we go out for indian curry across the street. There are a lot of curry places in Okinawa, but across from Naha high school there is a cute little curry shop called Gokarna. It's been open just a short time –  since March of last year.
The owner, Masa is pretty dedicated to the quality of his curry. Everything is freshly made with no preservatives.  There are vegetarian and gluten free options too. The menu is simple. Every time I go back, I always order the the "yasi" curry (vegetable curry). I love that it always tastes exactly the same as the last time I had it.
Chicken butter curry is the speciality, but the spinach curry is the favorite of many (my friends). As I said before I love the "yasi" curry. The broccoli always tastes crisp and fresh. The rice is always flavorful too. The menu is in Japanese, but Masa speaks a bit of English and will help you out.
Directions:  Head south on the 330 toward Naha. Make a right onto 221. Follow signs for Naha High school on Sobe Street which will mean turning left at the light by the school. Gokarna is on the opposite side of the street from the school.
Hours:  11:30~21:00, Recommend calling ahead; may close early if curry is sold out, Closed Mondays
Address:  1-1-2 Sobe, Naha, Okinawa, Japan
沖縄県那覇市楚辺1-1-2
Phone:  098-855-5558
Website: http://spicecurry.ti-da.net/
Payment:  Accepts Yen only
Menu:  Click on the right to enlarge