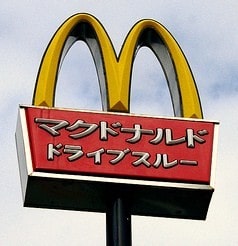 CONTRIBUTED BY DASHA GARIEPY
image courtesy of tartlime on flickr
Few visuals convey the idea of "East Meets West" quite like the one above. If you're anything like me, you were disappointed and a bit disgusted to see Golden Arches everywhere on this island. I didn't fly halfway around the world to eat at McDonalds, I wanted to experience Japan!
Hear me out, then, when I tell you to stop by your local McD's today. While the corporate trappings may resemble those in the states, eating at McDonalds in Okinawa is a completely foreign experience. Don't believe me? When's the last time a fast food worker in the states RAN to your table to deliver your food, smiling and bowing as they set it on the table? What about the entire staff happily calling out "Welcome!" when you walked in the door?
I love going to McDonalds here. It's unique. The menu options are not what you'd find in the states – from the "Shaka Shaka Chicken" to the "Teriyaki Burger" you're bound to find something very new to your palate.
Plus, they have interesting promotional items that make great souvenirs. In January it was an Anime calendar, with stickers. Another month featured collectible Coke glasses in a variety of colors. (They may have done that one in the states, but I bet the boxes weren't covered in Japanese writing!) This picture is worth a thousand words:
Still not convinced McDonald's Okinawa will be a worth-while cultural dining experience? Watch this old promo video, then. It sums up the whole "We're not in Kansas anymore" feel that I get every time I walk through the doors of my local McDonalds.
Disclaimer: I don't want to start a debate on the evils of fast food, or the negative impact it's had on the local culture. I'm just sharing info on a local eatery that I happen to like. I wouldn't have ever entered one of these places if it hadn't been for my junk-food-loving hubby. I'm so glad I did, because now I have great memories to put in my head-shaking-only-in-Japan file!
What about you, dear reader? Do you have a McDonalds Japan memory or a favorite menu item to share with us? Please do!
---
McDonald's
Payment: Each branch my vary, but the stores I've visited only accept Yen.