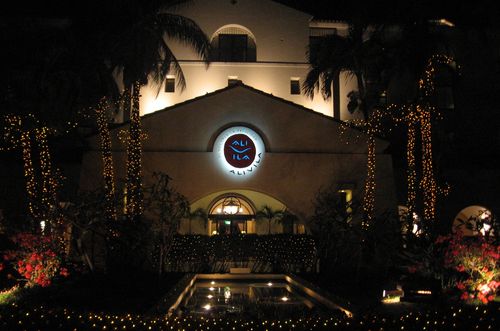 CONTRIBUTED BY SARAH FORTE
Having grown up a thousand miles from the closest ocean, I'm still amazed by the beauty of Okinawa. People travel from around the world to visit the place we have the pleasure to call home for a few years. But life here doesn't always feel like a vacation. Work, family duties, and the every day sometimes get in the way. That's when it helps to treat yourself to a mini vacation, even if it's just for one day, one evening, or even just one meal.
If you've ever driven north on Route 58 you've probably noticed all the resorts. There are many wonderful hotels all around this island. Almost all of them have at least one restaurant that is open to guests and non-guests alike. We had the pleasure of dining at Gosamaru inside Hotel Nikko Alivila. The hotel has five full restaurants including Kinshasa, a dim sum restaurant. You can find a description of each restaurant on the hotel's English web site.
Once you step onto the property your escape has begun. Hotel Nikko Alivila is located near Zampa and has beautiful grounds. Leave extra time to walk around the pools, gardens and beach area. The architecture is mostly Spanish colonial, but each of the restaurants is decorated to a theme.
Gosamaru is a teppanyaki style restaurant with an upscale Japanese feel. This restaurant comes with an upscale price-point also: You should be prepared to spend ¥11,000 – ¥21,000 per person for a full course dinner. The price makes it too expensive for an average night out, but if you decide to go for it you will notice extra amenities that go above and beyond. For instance, a side table is reserved for purses. The maitre-de discretely asked for our purses and then covered them with a cloth. We also had a child in our group who was entertained by hand towel napkins folded into animals by the staff.
The meals are locally named: Zanpa (the nearby point, lighthouse and beach area), Zakimi (the nearby castle), Mitsugu Susumu (the Ryukyuan trading ship), and Tasuku (a local hero). The restaurant's name, Gosamaru, honors a Ryukyuan lord of Zakimi castle. Each meal comes with different choices within each course. There is also an al a carte menu and a special full course meal available from 6:00 – 6:30 for ¥8,000.
The meal starts with a pre-chosen appetizer; in our case it included foie gras and shredded radish. The seafood course was direct from the local market; we had a high finned grouper and scallops. Others in our group, ordered abalone–watching it being cooked was not for the feint of heart. It wriggled and slid around in its shell as it cooked on the grill.  Grilled vegetables were next with pumpkin, radish and tofu. The salad course comes with a choice of three original dressings: a goya creamy dressing, a Japanese style dressing with apple, and a tofu-yo (Okinawan fermented tofu) dressing. For the main course we could chose from: lobster, sirloin, or beef fillet. Additionally, rice, soup, and pickled vegetables were served. The meal concluded with dessert (mango sherbet with diced fruit) and tea (jasmine or a local Okinawan tea).
Each item was served with an explanation. The staff went out of their way to make sure they told us in English and that we understood. A few times they went scrambling for a translation guide (once so that we would know the towel animal was a penguin!). Each part of the meal was masterfully prepared and artistically presented. The meat was especially succulent and practically melted. I highly suggest the garlic rice, made on the grill top with real garlic and bits of smoked meat. Gosamaru serves REAL wasabi, which dwarfed all of my previous horseradish-based green-dyed 'wasabi' paste experiences! The difference is amazing! All of this attention to detail makes the diner feel pampered and takes the meal to a level above a typical night out.
Again, Gosamaru is not your everyday fare with an everyday price, but if you are looking to splurge I recommend this upscale teppanyaki. I think you will find the food as well as the customer service exquisite. Consider it a mini-vacation!
---
Gosamaru at Hotel Nikko Alivila
Phone:  098-982-9118
Website:  http://www.jalhotels.com/domestic/okinawa/alivila_restaurant/
Hours:  Dinner is served from 1800 – 2130. It is a non-smoking restaurant.
With only 28 seats, reservations are recommended.
Payment: Yen or credit card
Address: Okinawa Yomitan-son, Nakagami-gun Gima 600
Google Maps Coordinates: 26.4153835, 127.7151202
Directions: From Kinser, Foster, Lester or Kadena: Go north on 58. Take a left at the Iramina intersection and head west on route 6. Pass Torii Station and the next Lawsons. The first traffic signal after the Lawsons, marks the Ufudo intersection: veer left. From there on: Follow the orange dots! There are many signs highlighting the way to the hotel. Each features the hotel trademark: a big orange sun stamped with "Alivia." You will be headed to the coast behind some farm fields.
Hotel Nikko Alivia is a large set of white stucco buildings with red tile roofs and can be seen from a distance. They have ample parking. The hotel is shaped like a large "U" surrounding the pool area. All of the restaurants are on the right side of the "U." There are many signs to help you find the correct restaurant on the second floor.